You are about to release your film Martyr - in a few words, what is it about?
Martyr is about a young womanís obsession with martyrdom while at the same time it is about her own empowerment.
Martyr is the story of Camille, a young French woman whoís visiting New York with Julien, her boyfriend, a hot French DJ. She has nothing much to do except be with him during his gigs. In one of those gigs, she meets another French woman, Elisa, whoís an assistant for Tadeusz, a New York photographer. Elisa offers Camille a job as a model for her boss. Julien is not happy. Julien and Camille live with Dave, a New York aspiring writer who feeds Julienís jealousy.
Camille inspires Tadeusz to work on a Martyr angle for a photoshoot. Tadeusz sets aside the work he was doing with Gabrielle, his live-in girlfriend and in-house model, to pursue this new idea. Gabrielle is not very happy.
Elisa, in the meantime, never hides her feelings for Camille.
The work sends Camille in a wild exploration of her inner self and her obsessions, particularly the one obsession she had since she was a child, St Eulalia, the Spanish virging martyr from the 3rd century.
These are the main ingredients in the story of Martyr.
The film has a religious subtext to it. Could you elaborate on that, and a few words on Saint Eulalia, the martyr central to your film?
I was raised a Catholic with a strong Jesuit influence. I was exposed to the iconography of Catholicism from a very early age. In my school, a jesuit school, there were statues and paintings of Christ and martyrs all over the place. There was an insistance in showing Christ in all his suffering.
In addition the nuns, who were our teachers those very early years of grammar school, extolled the sublime glory of martyrdom.
Did all that influence me? Yes.
Once in New York, back in the 80ís, I was browsing in an arts store where I was looking through a large number of litographies of paintings and amongst them there was one of a beautiful painting about St Eulalia by John William Waterhouse (1885), that I wouldíve loved to buy, but I didnít have the money then. Iíll do it one day.
Years later, while working in a film project in Cuba, I visited a bookstore that had books of paintings. One of them, in Spanish but published in Hungary, had medieval paintings from Spain. One of them was a reproduction of an altar piece titled The Life of St Eulalia.
Itís a step by step, graphic description of the martyrdom of the Spanish saint. A passion play.
I had to learn more about that incredibly Christ-like saint, who according to that altar piece, was crucified twice.
That martyr stuck in my mind and later on, while working on a miniseries, I began to elaborate the story of Camille, a young woman obsessed with the saint.
To what extent did the religious context influence the look of your film?
The look of the film is influenced by art, rather than by religion. Maybe some religious art, like Caravagio; or not so religious like Bosch Ö but also by less religious artists like Vermeer, Magritte and others. Some influences are intended, others just popped up from my subconciouss.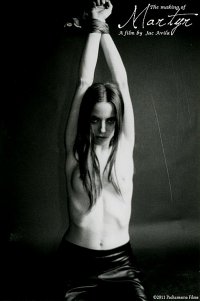 Carmen Paintoux
A few words about your lead actress Carmen Paintoux, and how easy/difficult was it for her to play this quite demanding role, and was there ever a line she just refused to cross?
Carmen is a very talented actress and an artist as well. Sheís very dedicated to the roles she plays and very disciplined in her work. The role was demanding but she had a lengthy preparation. I can say that the character grew in her over time; she turned into Camille at one point.
She previously worked with me in the TV miniseries El Hombre de la Luna, her first time acting. She played the dual role of twin sisters. It was around that time that I was thinking of another movie, similar to Martyr, but set in colonial Cuba. I wanted Carmen to play the lead role, a role as demanding as the one in Martyr. We worked on some rehearsal for some scenes for that movie. We even taped some of those rehearsals.
But money talks. I could never get around to have the funds for that movie and I wasnít going to sit and wait, so I worked on the script for Martyr and soon after we were working on it.
Carmen didnít set any limits to what she was willing to do and I didnít ask for more than what we have in the film. Does she have limits? We all do and perhaps one day Iíll learn what her limits are.
What can you tell us about audience reactions to the film so far?
The few people that have seen it in the very few public screenings I had of the film-in-progress have had mixed reactions. In one exhibition, at a festival, I was sitting in the back of the screening room and at one point one man jumped from his seat, like a bat out of hell, ran to the door and had a hard time opening it to get out. He was truly shaken by the film.
But the discussion after the film was very good. Most people were very impressed by the film and the subject.
There were four young women in charge of letting people in. One of them was working in the hotel I was staying in. She told me she loved the movie.
In another festival, I was outside the screening room and after the showing of the film a young man came to me and hugged me, thanking me for making that film.
In yet another festival, another young man asked me if he could write his University thesis about the film. I gave him a DVD copy so he could study the film to write his thesis.
And then thereís the one screening that brought Amy Hesketh to my life [Amy Hesketh interview - click here]. She saw the movie and all she wanted to do after seeing it was to work in films with me.
The real test is coming now. The official release of the film is upon us and Iím pretty sure Iíll be castigated by critics. The critics here were very displeased with SirwiŮakuy, Amyís movie, they simply didnít know what to do with it, and Iím sure these same critics will abhor Martyr.
You are currently working on a new film, Maleficarum. A few words about that one?
Maleficarum is a harder film to make and to show and to see. It deals with torture in a very graphic, elaborate and uncensored way. It takes place in the 1600ís, in an unnamed Andean city, and it deals with the Inquisition as recorded in the archives in Lima, Peru. I had access to hundreds of pages of testimonies and church records. Based on that information I made up a story. But the testimonies are real and all the characters in the movie existed. In fact, the two protagonists are based on real life characters.
The two main characters suffer all the atrocities that the Inquisition invented and some more. Itís a tough movie.
Like Martyr, Maleficarum deals with the connections between religion and violence. Your personal thoughts about this subject?
It is my conviction that religion and violence are tied together since times immemorial. One doesnít exist without the other. Thereís no religion without violence and I think itís a subject that has always been in my mind.
I believe that there are three basic ways in which we, humans, try to make sense of the universe around us. One is religion, another one is politics and the third one is Art.
Science, on the other hand is how we finally make sense of things.
With art we let our imagination fly and we interpret, express, understand, predict, the universe, life, everything. We can invent worlds, and Gods and sing praises. The bible is a big book of poetry and childrenís stories.
Religion and politics, in the other hand, create dogmas and the need to impose the ideas or beliefs we come up with in others, always with disastrous results.
Most of the work Iíve done so far has something to do with religion, politics and violence, even an experimental work like CrossOver where you donít see people, just New York buildings, a shredded book and the New York elevated subway; but the sense of dread and despair after 9/11 is present. The attack to the WTC was religious as well as political.
Religion and politics are two sides of the same coin. While in religion there are higher beings we called gods, some nice, some truly nasty, some schizophrenic, to me they are reflections of ourselves and our varied moods. In politics we enthrone some humans that we feel are like us but still superior in some ways because we expect them to be like gods, to know it all, to solve it all and if we catch their weakness we nail them up.
But weíre willing to kill for those gods, either the religious or the political ones. We believe weíre fighting for high ideals or faith, but weíre actually fighting for the illusions we create because of our fears.
Martyr goes into what can make one to want to be a martyr for God, while Maleficarum goes into how a ruling institution brings hell to someone in the name of God.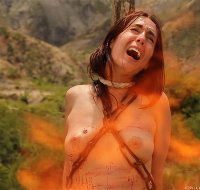 Maleficarum
Judging from the stills alone, Maleficarum somehow reminds me of the European nunsploitation films from the 1970's. Is that a comment you can at all live with, and where are the similarities, where the differences?
I can live with that. Maleficarum could be considered exploitative in many ways, but not necessarily nunsploitation. Itís already being compared to The Mark of the Devil just because of the subject matter. The same can be said about Barbazul and even Martyr.
While in mainstream movies torture is handled with white gloves, showing a little bit of the horror, maybe a few seconds, we go all the way with these movies, more like what Jess Franco did/does in his explotation movies but maybe with more finesse.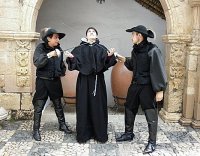 Maleficarum
The difference is that our scripts are more elaborate and less campy, or campy in a different, more sophisticated way. I donít know if Jess Franco or Roger Corman [Roger Corman bio - click here] intended to be as campy as they are. We mean to be a bit campy, while at the same time create something artistic and appealing in other ways.
The obvious similarities are in the elements of the films: Inquisition, torture, naked ladies, sex. The differences, more complex stories, different technology, we can shoot a lot more nowadays, we can have better effects, and we can work with a lot more comfort and for a target audience.
We donít need as much money to do what we do, so we have a lot of freedom, nobody is pulling the strings and all the risks are ours, and so are the benefits.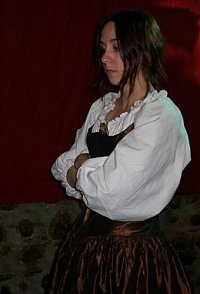 Amy Hesketh in Maleficarum
A few words about Maleficarum's leading lady (and your frequent collaborator) Amy Hesketh [Amy Hesketh interview - click here], and how did she respond to the rather violent content of your film?
Amy is a very talented, enourmously skilled, knowledgeable person. Sheís extremely dedicated as well. She was involved in the thinking of Maleficarum from the very start. I can say that this film is as much her creation as it is mine. The violent content in the film is partly her responsibility. She has a more perverted mind than mine.
When I met her she was doing some photography with a guy. The guy told me something like ďoh the things she makes me doĒ. Thatís when I knew I had to know her more and I invited the guy to go see my film at a festival in a nearby city, knowing that Amy would go too. And she did and the rest is history.
But this film would not be possible without her input and by input I mean hard work. She made the costumes, all by herself, from designing them, to cutting the fabrics, to stiching them together. For 30 people!
But thatís not all, she also built, yes built the big props, like the rack and the Spanish Horse. Sheís very handy with tools. She can fix cars, build housesÖ
So, if you want to know about her reaction to the violent nature of the film, thatís it, she made it possible for it to be so violent.
You have also played the leads in Amy Hesketh's two films, SirwiŮakuy and the upcoming Barbazul. What can you tell us about this reversal of roles, and a few words about Amy Hesketh the director?
Before working with Amy as an actor, I played lead roles in El Hombre de la Luna (The man in the moon) and Martyr. SirwiŮakuy was the first time I was directed by someone else.
It was difficult not to meddle, not to try to direct the scene. I was always, instinctively, trying to call the shots and I think I gave Amy a hard time, especially the first day of shooting in SirwiŮakuy, before she put her foot down.
A few times I would just say ďcutĒ when it wasnít my call to do so. Itís hard to be directed when youíre a director. Itís also a bit threatening. When I play a role and I direct, I tend to work a role that is close to me, where I donít have to do anything complicated or overly dramatic. I have an easy time just being natural and I donít have to prove myself to anybody. I know what to expect from myself.
But when directed by someone else you HAVE to live up to someone elseís expectations, which is almost impossible for me to do.
I had to go far beyond myself when working under Amyís direction, to meet what she demanded from me in Barbazul.
When I see myself in El Hombre de la Luna, I like that guy, heís cool, witty, charming. In Barbazul I play a monster and I truly dislike that guy, he gives me the creeps. So I think she was successful in directing me. I donít think I can direct myself to be disliked. Maybe I always try to put some redeeming qualities in the characters I play. Not in Barbazul.
In Barbazul I stayed away from the set as much as I could. I was on the set only when it was my turn to act and for the first time in my acting career I was not doing anything but act. It was good. I could concentrate on the character, a really difficult part. Iím a killer with no remorse and it had to show. I think I managed to bring that character out of me and Amy had the talent and patience to make it work. In Barbazul I have a nude scene. That was tough.
As a director Amy knows what she wants and sheís also willing to listen to suggestions. So itís nice to work with her or under her (direction). She can ask from actors and actresses things I probably would not ask. The fact that sheís a woman makes those things she wants to put on the screen more digestable.
If I asked the same from an actress, she would give me a dirty look. And I ask for a lot of hard things from actors, but not like what Amy asked from Veronica and I to do in Barbazul. And we did it. I cringe when I see it. Iím editing that film and itís hard to see myself in it doing those things to Veronica.
What can you tell us about Jac Avila, the actor?
I donít consider myself a great actor but I think I have plenty of room to grow. I played roles that I found easy to play before Barbazul. I think I can go farther now and thatís what Iím going to do in the next two movies Iíll be acting in. Iíll play two totally different characters with higher archs and in situations that are more demanding, and not very symphatetic characters either.
How did you get into filmmaking the first place?
Filmmaking is what I always wanted to do. I donít remember a time when I didnít want to do this. When I was a teenager I loved playing the drums, in a few bands, all the while dreaming about making movies.
When I was a kid I put on shows for my friends, with puppets sometimes and with movie clips at other times.
I would go to the cinema house in my neighborhood, and search in their trash for the cut pieces from the films they were showing. I made up some weird stories with those frames.
I learned how to make a projector out of a shoe box using a lens from a photo enlarger, a 150 watts bulb and voila, I had a projector. I would then make something similar to a slide show with the images I grabbed from the trash.
At other times I would stage plays in my livingroom with my cousins and siblings, one of them was The Importance of Being Earnest. We were awful, but we had fun.
That was my beginning.
What can you tell us about your native Bolivia as a filmmaking nation?
It is not a filmmaking nation. In fact it is only in the last few years that a lot of filmmakers started to produce films. Before this time, you could count with your fingers all the Bolivian films in its history.
But the country has amazing locations with easy access, enthusiastic actors and talented crews, but still, thereís a long way to go. However the cost of living here is not too high as in other countries - we can stretch our dollars.
I lived in New York for over 35 years so my Bolivian peers do not consider me a Bolivian filmmaker. They have a hard time accepting that. In their view Iím a filmmaker that worked outside of Bolivia for far too long.
I finished high school in NY, went to college and began my work in commercial photography, with a brief stint in CBS in the late 70ís. So I think I have more of a New Yorker in me than anything else. My father is Dutch so as I was growing up I was considered a gringo in Bolivia. It did something to my psyche. I feel at home in NY, anywhere else I feel like a foreigner, whether Iím in Paris, Amsterdam or La Paz.
As far as I know, you started out making experimental films. What can you tell us about your early efforts?
Actually I made a few experimental films later in my career and not too many. I collaborated in a couple of films with my neighbor and friend Tadeusz Myslowsky, a polish New Yorker, big in the avant garde world of art, I plan to do others with him. We collaborated in the short CrossOver, which is part of the permanent collection of a museum in Warsaw. That film was screened in the US and Europe a lot.
I also collaborated with Uri Katzestein in a short film: The Word is Vroom Vroom, which was shot in a loft in New York and it has a music score by Brian Eno. Uri is from Israel but has been living in New York for some time.
You have also made quite a number of documentaries, the most well-known probably being Krik? Krak! Tales of a Nightmare. A few words about that aspect of your career?
Krik? Krak! Was my first film. It took years to make and itís a collaboration between Vanyoska Gee and I. It was shot in Haiti during the times of Baby Doc but it was finished in 1988. It was a very hard film to make because of the lack of funds and because of the subject. It was filmed in 16mm, the lab costs were very high and to edit we needed editing tables and all that. Costly.
But when it was done, it changed our lives, literally. Mine certainly.
Krik? Krak! was very successful in the festival circuit and sold to TV in the US, England and Germany. It also gave me a big push in the biz. But we never really recovered the money or the time we spent doing it. It was a labor of love, mostly, and it took me around the world and transformed my life. Because of this film I have the life I have now, so I think it is the best thing that happened to me in terms of my career but it took too long, it demanded a lot but it made me tougher.
Krik? Krak! also deals with religion, politics and violence. The central theme is Papa Docís rise to power in this most poor country, manipulating religion to serve his purposes. In this case the Voodoo religion that is central to Haiti. He positioned himself as a deity, Baron Samedi, keeper of the graves. For Haitians he had power over the dead and the living. He was supported by the US for some time, Kennedy withdrew his support but Johnson backed him again after Kennedy was assasinated.
In Krik? Krak! you have all the religion, politics and violence that was part of Haiti in all of its history.
I think when you work on a film like Krik? Krak! you learn a lot. Thatís where I learned everything about being an independent filmmaker. The sacrifices one has to make. The struggle of high expectations against cold reality. How the world of financing an independent movie works and how it doesnít. Everything. And I mean everything. It was better than any college or university. I had a very exciting time making it, and more exciting time taking it around the world. But the best part of making that film is that I forged a style that is present now and itís very much my own.
What can you tell us about your miniseries El Hombre de la Luna?
El Hombre de la Luna was a compromise that turned into something more. Itís my first work in Bolivia, other than a quick documentary I made in í89. I came to Bolivia with the intention of making a very ambitious feature that was never made.
To make that feature I was looking for actors, but after seeing a couple of Bolivian movies made back then I felt that there werenít enough well trained actors for my movie.
So, I decided to give acting lessons. I got the Mayor of La Paz to sponsor my acting workshops and I had a lot of people interested in enrolling. I had four different groups of about 20 people each.
So, for about a year I trained dozens of people of all ages in the thespian arts.
Since I wasnít getting the funds for the major motion picture I wanted to make, I decided to do something else with my students, to test their new learned skills.
I was inspired by the work of David Lynch for TVÖ yes, Twin Peaks, so I felt that I should go that way, that I should shoot a strange mini series. I wrote the script and gave a role to almost everyone that participated in the workshops. In fact, it was everybodyís first acting experience in front of cameras, including mine.
I think I managed to raise around 3,000 dollars, from relatives, mostly, I borrowed a 3/4 inch Sony camera and bought a couple of patio lights of 500 watts each, and with that I shot the miniseries in about 56 days spaced over 5 months. The cash went to cover the tapes, 20 dollars for each 20 minute tape. I managed to get a taxi company to sponsor us so we had free transportation. We also had a free hair stylist.
It took almost a year to find a place to edit it.
When the miniseries was finally done, surprise of surprises, it was well received by the audience and I got a lot of press. It looked very good, the acting was great, the photography was very nice, the music amazing. We made the cover of the TV guide of a major newspaper each weekend while we were on the air. We gave tons of interviews and received a lot of press and it launched the careers of a few of my newly trained actors. One of them is a filmmaker now, another went on to be in many films, and not to mention Carmen, the star of Martyr.
Weíre going to release the miniseries as a two hour film this year. The new technologies make it possible to make a really cool film with the story and the footage I have.
El Hombre de la Luna was also shown on a commercial cable TV station in New York.
Any other films you have made you want to talk about, any future projects?
I produced and did the cinematography for Nocturnia, my sonís first film. A very good movie, also shot in New York. Heís writing another script weíre planning to produce this year. Amy is writing another script in which I also have a lead role and Veronica, of SirwiŮakuy fame, will play my wife. Itís set in the forties. And Iím preparing to shoot another feature as well. And thatís just for this year. Iím hoping that I will finally make the movie that I wanted to make since 1984, the one I wanted Carmen to take the lead role for.
I have a few scripts in mind and Iíll see what the future brings. But at this very moment, Iím just extremely happy that we have the films we have in the can.
Weíre working like a mini studio, with in-house directors, three of them, in-house editors, cinematographers and even exclusive actorsÖ kind of coolÖ and the best part is that we all get paid. Not a lot, mind you, but not awful either.
What made you go from experimental filmmaking to documentaries and finally to feature films, and which do you prefer to make?
I started with Krik? Krak!, which is not a traditional documentary. It doesnít have a narrator in the traditional sense. It doesnít have talking heads or a very linear, facts-filled, narrative.
Itís a more impressionistic, almost surreal work. Thatís why it was successful where other documentaries canít be.
I have some recreations of historical events in it so there was no big jump to fiction in my career. My training and passion is in fiction. I worked in other documentaries but they all have a non-traditional narrative and the experimental work has a narrative as well.
In fact, thereís something experimental in the documentaries and in the features. I play with the images, the sounds in ways that cross the line between genres.
Thereís one thing I remember from my days of being a film student. One profesor once said that thereís no such things as non-fiction. The moment you decide what to show in a movie, even if itís a documentary, you are making fiction; you are controlling what you say and how you want to say it. And I believe that, thatís my experience. In Krik? Krak! I take pieces of reality to create a narrative, to create characters, to tell a story and to manipulate the audience into feeling something for what they see. Very much like what a painter does. Does a painter make a true portrait of reality? No. The artist creates a work of art, an expression of that reality, an interpretation of that reality.
What can you tell us about your production company Pachamama Films?
I formed it with Henriette Szabo, whom I met in Hungary, and who worked with me in many of the documentaries and in El Hombre de la Luna. I formed it when I broke away from Mountain Top Films, the production organization I worked with for Krik? Krak! and other films. I named it Pachamama Films taking the title of the film I was intending to produce: Pachamama. It means Mother Earth in Aymara.
I never made that film, I might make it one day, but changing the script a lot because now itís passť.
I was about to sign a contract with a major TV station in Europe for that film. The day I had an appointment to meet with the producer and legal department to sign the contract, the 90's Gulf War started and all the funds of the station were directed to cover the war. I lost out.
Filmmakers who inspire you?
Thatís a hard question to answer because at different times I was inspired or taught by different filmmakers. Some that come to mind are Jodorowski, BuŮuel, Antonioni, Bertolucci, Pasolini, Leone, Godard, Truffaut, Woody Allen, Richard Lester, Roger Corman [Roger Corman bio - click here] and even Jess Franco.
Your favourite movies?

Feeling lucky ?
Want to
search
any of my partnershops yourself
for more, better results ?

The links below
will take you
just there!!!

Find Jac Avila
at the amazons ...

amazon.com

amazon.co.uk

amazon.de
Looking for imports ?
Find Jac Avila here ...
Something naughty ?
(Must be over 18 to go there !)

Again, at different times different movies. But I love The Life of Brian, Love and Death, Ö but I could make a long list of the films I loveÖ lots of French movies like Romance or Jules and Jim, or Last Tango in Paris, or Blow UpÖ lots.
... and of course, films you really deplored?
Really deplore? None. Iím a sucker for movies. I might find some films boring, or badly made, but even those films I find interesting. I know whatís behind making a movie; I know what those people went through to make it, so I appreciate every film because of the effort. But then those films that impact me, because they are so amazingly goodÖ I appreciate them a lot better. There are some films that just make me cry, they are so good.
Your website, Facebook, whatever else?
- http://www.facebook.com/?ref=home#!/jac.avila
- http://www.facebook.com/?ref=home#!/pages/Barbazul/140641005971307
- http://www.facebook.com/?ref=home#!/pages/Maleficarum/107859912613669
- http://www.facebook.com/?ref=home#!/pages/Martyr/143949412290279
- http://www.facebook.com/?ref=home#!/pages/SirwiŮakuy/126412857375802
- http://www.facebook.com/?ref=home#!/
video/video.php?v=1832034834465&oid=126412857375802&comments
- http://www.facebook.com/?ref=home#!/
video/video.phpv=1809610233864&oid=143949412290279&comments
- http://www.facebook.com/?ref=home#!/
video/video.php?v=1809610233864&oid=143949412290279&comments
- http://www.youtube.com/watch?v=1UorXSU06wk
- http://www.youtube.com/watch?v=MZmL2iJc1oc&feature=related
- http://www.youtube.com/watch?v=4KlVPgZhDr8&feature=related
Anything else you are dying to mention I have merely forgotten to ask?
I consider myself very fortunate to be doing what Iím doing and even more fortunate because of the people Iím doing it with. Making moviesÖ all of the movies I make, has become a way of life for me, not just making a living. In fact itís less about making a living than living a life.
The best part of this is that weíre independent, truly independent, which is great when we want to make the films we want to make. The audiences are the last word for us and the truth is that a lot of people like what we do and a lot of people hate it, but no one is indifferent.
Thanks for the interview!