Your new film is called Sirwiñakuy. In a few words, what is the film about?
Sirwiñakuy is an Aymara and Quechua (two indigenous groups of Bolivia) word that refers to a state of living together as a test before marriage. Often in the act practiced among indigenous groups, the woman is kidnapped by the man and taken to live with him.
My film loosely uses this outline for the plot of the movie, but about an upper class man from La Paz and a French woman. They meet in a cafe and Luis immediately takes Anouk to live with him in his house where they begin a sadomasochistic relationship.
What were your main inspirations for the film's story, and is it in any way based on real-life exeriences?
The initial inspiration came to me years ago. I first started writing the script while living in France, then took it up years later, in 2007, and adapted the story to Bolivia.
All creative works draw upon real-life experiences for inspiration, even if it's just in small ways, or details. The things I do, see, or think about influence my work.
Your personal take on sadomasochistic relationships like the one depicted in Sirwiñakuy?
Sadomasochistic relationships, or relationships that include sadomasochism as part of sexual play, are part of many cultures and have been depicted in movies, books, and television for years. I believe that who we are as sexual beings relates a great deal to who we are as people. Sometimes our happiness can depend on fulfilling certain needs we have or exploring them to find out more about ourselves.
How far do you go in terms of bringing the sexual aspects of your story to the screen?
Some viewers and critics have seen the sex act in the film as rape, others have seen it as a turning point when Anouk accepts Luis into her heart and starts to enjoy their life together. There has been a similar polemic with the other scenes involving sadomasochism. Some viewers and critics have seen these scenes as domestic violence, others as acts of love. From that I can glean that the way I show the sex and sadomasochistic elements in the story are realistic enough for the viewer to have a strong reaction to them.
As far as I know, you have started out as an actress, but Sirwiñakuy is your directorial debut. What made you decide to step behind the camera?
My career in film began behind the camera.Sirwiñakuy is my directorial debut, before that I worked for years in various aspects of production with other films, commercials, and documentaries.
Being an actress, have you ever considered playing the lead in your film yourself?
It would be very difficult to direct and act in a film at the same time if I were in the lead role, so no.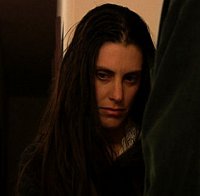 Veronica Paintoux
A few words about your lead actress Veronica Paintoux?
Veronica is a pleasure to work with. She's an amazing actress who is able to fully embody a character. I love seeing her transform into another person, it's almost metaphysical. I'm very excited to be working with her again in my second feature film, Barbazul.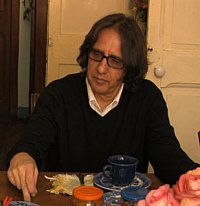 Jac Avila
What can you tell us about Jac Avila [Jac Avila interview - click here], who not only starred in your film but also produced it together with yourself?
Jac is a filmmaker with years of experience in documentaries, fiction films, experimental films, and television. In his works of fiction he often casts himself. In this instance Jac was directed by someone else for the first time. The very first day of shooting was a challenge for us both, but we worked through it and he was able to step back and be directed.
Even though you are originally from the USA, you shot Sirwiñakuy in Bolivia. How come, and to what extent have the Bolivian locations influenced the look and feel of your film?
I have been working and living in Bolivia for almost 5 years. The elements that I love most about Bolivia are its beauty and chaos. The two go together in a sort of symbiosis. For those coming from the USA or Europe, where everything is more orderly and controlled, it can be a bit overwhelming.
The light in Bolivia is different, La Paz is 3,500 meters above sea level. The sounds, smells, the look of everything influence my work and provide a framework for the visual aspects of the film. Most of the film is shot in a very old house in La Paz. The decadence of the upper class is seen in the disorder, the jumble of objects, and decaying beauty of the house.
A few words about Sirwiñakuy's production company, Pachamama Films?
Pachamama Films was founded in 1992 by Jac Avila [Jac Avila interview - click here] and Henriette Szabo. I've been working with the company since 2005. We're a very tight-knit group of people who love making cinema happen. We embrace the spirit of independent cinema and take on different roles when making films. For all of us, it's not enough to fill just one role, actors are also directors, writers, cinematographers. We're not above holding a boom or taping down an electrical cord if that's what is needed to make the film happen.
The film's topic is somewhat controversial, and it's said to be the first locally produced fim to ever receive an over 18-rating in Bolivia. What can you tell us about the immediate audience reaction?
Some of the critics have had very strong negative reactions to the film. What I find very telling is that all of these criticisms I have received in Bolivia have been very personal and the critics talk more about their feelings toward the film rather than actually writing constructive criticism. Much of their problem with the film lies in their idea of what a "Bolivian" film should be. They don't seem to like that a controversial film like mine is going out in the world and representing Bolivian cinema.
I did, however, receive one critique to date that was interesting, well written, and thoughtful, and that I liked more than the others, by Mary Linda Dewitt. She talks about how the film reveals a lot about the viewer and one's own perceptions, how the film acts as a mirror of the self. I posted it on my blog, for those interested.
Also, a Bolivian cine-file, Gon Alroc, wrote an extremely nice piece about the film in Castellano, he doesn't miss any details. It's a very rich analysis. Those interested can find it on the Facebook page of Sirwiñakuy.
Many filmmakers here have contacted me and think the film is great. They like it that someone has opened up the way for more controversial films in Bolivia. I think that sometimes what is needed for change is someone to be hated. If that one person is hated, it frees others to do their own creative work without being afraid. There are a great deal of young filmmakers in Bolivia producing a new kind of "cinema d'autor". It has been hard for the old guard and a lot of the press and critics to accept this growth.
Audiences have had very strong reactions. Many have loved the film and contacted me (or stopped me in the street) saying how much they love it. Others have had a strong reaction to the content, but still like and respect the film. And there are a few who really hate it.
We had a surprise discussion with one audience. Jac and I appeared at the end of a showing of the film and engaged the audience in discussion. They had a lot of very interesting things to say about the movie, especially two ladies of a certain age. They were two friends who frequently go to the movies together. One felt that Anouk was being abused by Luis. Her friend felt the opposite, that Anouk was manipulating and using Luis in order to change herself. The feedback was fantastic.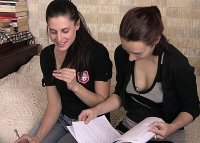 Veronica Paintoux and Amy Hesketh on the set of Sirwiñakuy
All in all, it seems to be the most controversial and polemic film Bolivia has seen in a long time.
Sirwiñakuy only recently premiered in Bolivia. Will it ever be released internationally, and will there be a (preferably subtitled) DVD release in the forseeable future?
To date, Sirwiñakuy continues in the cinema (week 15 and counting). We plan to show the film in select cinemas internationally, and after that it will be released to DVD, with subtitles.
The film's website, MySpace, Facebook, whatever else?
http://www.facebook.com/home.php?sk=h#!/pages/Sirwinakuy/126412857375802?ref=ts
http://amyhesketh.blogspot.com
After your experiences on Sirwiñakuy, will you ever return to the director's chair? And are there any other future projects you'd like to talk about?
Yes, I'm directing my 2nd feature film in in November. In fact, the extreme reactions I've received from my first film have liberated me to go farther and express more on the big screen.
My second film is called Barbazul, and is based on the children's story La barbe bleu (1697) by Charles Perrault in which a man kills his wives.
I'm also acting in a film based on the heinous acts committed during the Peruvian Inquisition. It has a Facebook page, the provisional name of the film is Santo Oficio [later released as Maleficarum].
What can you tell us about your movie career prior to Sirwiñakuy?
I began working in film as a production assistant, actress, sound person, assistant editor, and gaffer, among other things. I truly believe that being multi-talented or multi-skilled helps a great deal in a film career.

Feeling lucky ?
Want to
search
any of my partnershops yourself
for more, better results ?

The links below
will take you
just there!!!

Find Amy Hesketh
at the amazons ...

amazon.com

amazon.co.uk

amazon.de
Looking for imports ?
Find Amy Hesketh here ...
Something naughty ?
(Must be over 18 to go there !)

You have pretty much done it all one time or another, acting, writing, producing and directing. What do you prefer, actually?
I prefer directing, writing and producing, but I think it's also good to act, it helps me to connect better with my actors when I'm directing.
Directors who have influenced you?
Liliana Cavani, Jess Franco, Lina Wertmüller, Claire Denis, Catherine Breillat, Lars von Trier. There are so many others, I believe that film is an ever-changing medium and that we all influence each other, like an artistic ancestry.
Your favourite films?
The Night Porter, Jules et Jim, Antichrist, and Last Tango in Paris are some of my favorites. The entire list is too long for an interview.
And of course, movies you have really deplored
I prefer cinema d'auteur, or independent cinema, to commercial films.
Thanks for the interview!