Your webseries Fragments of Fear - in a few words, what is it about?
Imagine a cross between Jackanory and Tales from the Crypt where each week a creepy narrator tells you an original horror story. Our incredible narrators range from up and coming stars in the making like Kurt Wylde and Guy Barnes all the way through to established icons like Hammer legend Caroline Munro. We also include sound effects, music, and creative filmmaking to enhance the experience.
What were your sources of inspiration for creating Fragments of Fear, and how did the whole thing fall together? And what can you tell us about your co-creator Richard Gladman, and what was your collaboration with him like?
Rick and I loved the old TV series like Tales of the Unexpected, Beasts, and Thriller, but couldn't find a modern day equivalent. We also knew so many gifted writers, actors, and crew who found it hard to showcase their talents, so decided to bring them all together. We met in a pub down a side street in Brighton, brainstormed, made some calls, and a month later we started filming the first episode Coronation in a barn in Hassocks.
Rick passed away in February of this year and no one in the world can replace him. He was my baby brother from another mother, my partner in crime, my best friend. I had some of the best fun ever working with him, and I carry his spirit and his naughty wit with me to this day. We shared a passion for horror and for good writing, and a firm belief that our friends deserve a chance to shine. I've worked around the clock both prior to, and since his death to make that happen.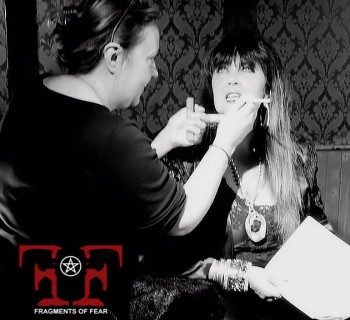 Georgina with Caroline Munro
How do you choose the stories you tell in Fragments of Fear, and what do you look for in a story for it to qualify for your series? And do talk about some of the writers on your show for a bit?
All of the Fragments of Fear stories have to meet three very important criteria:
1. Originality: For example, The Little Teeth by Sara Boyle takes the well-worn tale of the ancient vampire and puts him into a fresh context. Not all monsters are windswept and interesting - they have flaws and faults and Achilles' heels, and for want of a better word, souls. Fragments of Fear treads a less familiar path. E.B. Stark, Nicoletta Wylde, and Charles E. Butler also gave us intensely personal stories with so much soul in them.
2. The Element of Surprise: Bull by James Stanger takes place post nucear war, but veers away from Mad Max style survival and instead focuses on the human element of the apocalypse, which compelled me to read all of it. Chrissy Derbyshire turned a grimm little fairytale on its head for us, and Carole Gill went all out with demonic dolls.
3. It sounds obvious, but they have to be short stories. We had a number of submissions that lasted a good half hour in the read through, and we wanted sharp writing that told a good story but was to the point. Proper campfire tales! Short story writing is incredibly difficult to pull off - you have to be a really disciplined writer who can fully sell an idea. John Paul Fitch and Rick Nightmare are both brilliant at that. John Forth and Paul Flewitt also have immense skill at drawing you in immediately and then punching you in the face from out of nowhere.
I'm in contact with all the authors and have interviewed them for our blog which gets updated every week. Every writer comes from a different standpoint, every writer approaches the art of storytelling differently - this never ceases to amaze me, and they are all thoroughly nice people, too.
The directorial approach to the individual episodes of Fragments of Fear isn't exactly conventional and differs from one episode to the next - so do talk about that for a bit, and do you have any guidelines at all for your directors?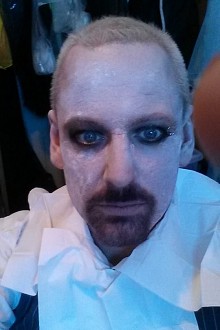 Richard Gladman
We give the directors carte blanche - creativity is the key, and you end up with something marvellous and artistic and interesting!
With Fragments of Fear being a horror series, is that a genre at all dear to you, and some of your genre favourites, in whatever medium?
I love horror - I have a penchant for old cheesy, camp horror, but for me the story and the characters have always been key. I genuinely believe that the horror genre is a tremendous barometer for the social climate, and can be a highly therapeutic and cathartic arena for peoples' fears and worries. After all, it's only a movie ;-)
Do talk about the actors and actresses on your show for a bit, and what made each perfect for their respective episodes?
The actors chose the stories they wanted to tell out of the shortlist, so it was a very personal relationship which I think works really well.
Rick loved horror - it was his happy place. And he had such a compelling voice - both soothing and unsettling at the same time.
Lucy Clements has that wonderful old-fashioned Hollywood quality about her and so was perfect for a glamorous tale of ancient, forbidden, and somewhat decadent love!
Craig Johnson is immensely gifted at storytelling. He has a natural sense of pacing and rhythm, and a wonderfully theatrical use of his full body to bring everything to life.
I've always loved reading aloud. I've done voiceover, have DJ'ed on the radio, and held story sessions.
Kurt Wylde is a genuinely exciting talent in the raw, who brings his experience and energy as a rock musician to acting. I've never seen anyone grow so fast or take on as many new challenges as him - he has a very bright future ahead of him!
Emma Dark [Emma Dark interview - click here] has had a meteoric rise over the last few years both in front and behind the camera. She's a filmmaker's filmmaker and just innately gets both the craft of acting and the craft of committing that to film. She's an absolute delight.
Caroline Munro [Caroline Munro bio - click here] is simply a legend writ large. She has that wonderful mix of sexiness and devilishness that completely draws you in, and she's also a seasoned professional so knws exactly how to play horror.
Dani Thompson [Dani Thompson interview - click here] is another meteoric star who understands the entire process of filmmaking and knows how to deliver.
Guy Barnes, like Kurt Wylde, also comes from a rock music background, and has such a powerful screen presence. He really knows how to work that camera!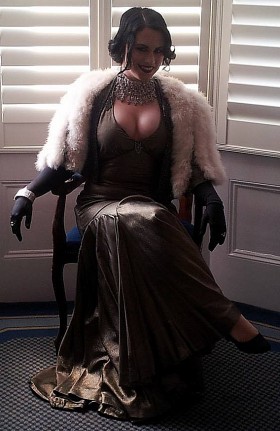 Lucy Clements
The $64-question of course, where can Fragments of Fear be seen?
I made the decision to go with YouTube because I wanted EVERYONE to be able to watch, whenever, wherever, and however they wanted. We're the Martini of Horror shows - anytime, anyplace, anywhere ;-) You can find our channel at: https://www.youtube.com/channel/UCReROBHUlnIY_
66Qur4DqRQ
What can you tell us about audience and critical reception of Fragments of Fear so far?
Pretty much positive! My mum, who's 74 and absolutely isn't a horror fan in any way, shape or form watches every week and thoroughly enjoys it. I put that down to the quality of the writing - they may be horror but they're solid stories :-)
Any future plans for the series? And/or other future projects you'd like to share?
Series One finishes in January next year, with Series Two premiering in October 2017. We've already filmed about half of it so I'll let my team enjoy the Christmas break before we head back to the grindstone! ;-)
As far as I know, you initially entered the filmworld as a makeup artist - so what can you tell us about that aspect of your career, and did you receive any formal education on the subject?
I came from the theatre - I'm particularly proud of the work I did for Hedwig and the Angry Inch at the Brighton Fringe Festival in 2014 - and I try and bring that sense of the spectacle and the show with me to Fragments of Fear. I studied at City College Brighton but my real education came from working backstage in theatre - I honestly believe that there's no finer training. I also have a background in journalism, PR, music work, theatrical management, and sound editing, so have brought all those skills to the table.
What can you tell us about your filmwork prior to Fragments of Fear, in whatever position?
Alongside the theatre I've done make up for fashion shows - you learn how to be fast! - and I've worked on a number of short films including Meat Market, Johnny Boy, and Grand Macabre doing make up, voice work, sound, and editing.
What made you go into production with Fragments of Fear eventually?
I'm a 24/7 creative person - if I'm not writing I'm painting, if I'm not painting I'm DJing, if I'm not DJing I'm editing, if I'm not editing I'm filming... you get the picture. I get to play dress-up with my friends all day - it's the most fun in the world. :-)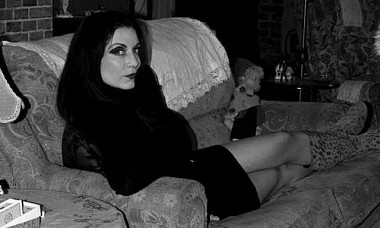 Dani Thompson
Besides working on movies, you're also the artistic director of Rainbow Carnage - care to elaborate?
Rainbow Carnage is a rock and roll theatre company that I set up in 2015, and although it's currently on the back burner, we have very big plans for the future ;-)
Filmmakers who inspire you?
Rick always used to joke that I was the "arty-farty one"! I seem to be drawn to anything that's out there and off the wall. I love John Cassavetes' early work - Shadows is a particular favourite - and am obsessed with Ben Wheatley. I also love Incubus, which was filmed entirely in Esperanto. Wim Wenders. You can't go wrong with Hitchcock. And I do love an Amicus portmanteau film - the colour palette alone is my ultimate goal in life. Kubrick - God, Kubrick. There was a man who knew what a camera was for. Anyone arty, really ;-)
Your favourite movies?
If I ruled the world, everyone would watch Morgan A Suitable Case for Treatment starring David Warner and directed by Karel Reicz at least once. Every single second of that film is perfection. I'm biased.
... and of course, films you really deplore?

Feeling lucky ?
Want to
search
any of my partnershops yourself
for more, better results ?

The links below
will take you
just there!!!


I absolutely hate, loathe, and despise so-called "chick flicks". For me they're the cinematic equivalent of someone running their fingernails down a chalkboard. Ugh.
Your/your movie's website, Facebook, whatever else?
Anything else you're dying to mention and I have merely forgotten to ask?
I have a theory that washing machines spin fast enough to create a rip in the time/space continuum, and this creates a vortex whereby single socks get sucked into a parallel dimension and mutate into those weird metal hangers you find in hotel closets.
Other than that, watch Fragments of Fear because it's bloody brilliant! :-)
Thanks for the interview!