Your new movie Disintegration - in a few words, what is it about?
Disintegration is a pyschosexual pornodelic fever-dream that plunges the viewer deep into a twisted world of hallucinogenic masturbatory madness and sexual depravity. Or something like that. That's the promotional copy. But it's pretty accurate. It's a film about a woman who suffers some severely traumatic event and as a result her mind shatters. Her grasp of reality is completely lost. She enters a nightmare world and must find her way through it. Must find herself through it.
What were your sources of inspiration when dreaming up Disintegration?
Like most of my Red Scream films, Disintegration started with an image. In this case the image was that of a woman, naked, drenched in blood and gore, walking trance-like through a forest. Immediately I wanted to know, who is this woman, what happened to her, where is she going, what happens next? The primary frame of reference was Polanski's Repulsion, but a grindhouse version. When we shot the film we did shoot flashback material that sort of explained some of that, that showed who she was and where she came from but as I was reviewing the first edit I realized, I didn't care about any of that. I really didn't care who she was or had been. I didn't care where she had come from or even where she was going to. What I wanted to show, what I wanted to experience was her experience - her fragmented reality, the terrible twisted reality she now existed within. So anything that did not address that, that did not depict that experience, all that came out. And as I began to rework the material I saw that it was becoming a trance film, a darkly surrealistic trance film. There's a great deal of Eisenstein's theory of montage in this, how you can take two completely disparate images and by putting them together form a third image, the "tertium quid". The clash of images. Assaultive cinema. There's also Burrough's cut up technique at work here. Again jarring disparate cuts like a slap in the eyeball.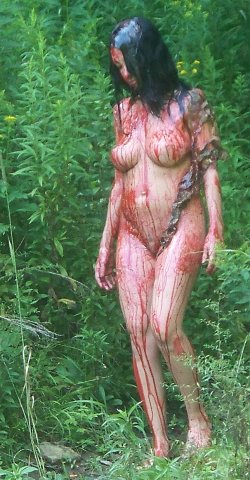 Your film's narrative approach is rather non-linear and associative - so how much of a challenge was it to not just get lost in your story, and was the film based on a fixed screenplay from the get-go or rather improvised on the spot?
There was never a fixed screenplay per se. I knew that we would open with the woman wandering naked and bloody through the forest. She comes to the cabin and there washes off the blood and gore. She finds clothes and something to eat. But the memories of her terrible ordeal quickly return to haunt her. She experiences strange visions and bizarre sounds. She relives her trauma over and over again, yet each time in a different form as her mind seeks to find a way to understand it and survive it. Perhaps even to heal. Most "scenes" were a couple of sentences, the woman goes here, the woman does that. We fleshed it out on the set. The first cut was much more linear, much more straight forward. But as I began the re-edit, understanding that everything was now driven by nightmare logic and free from the confines of linearity or the need to "make sense" I was able to take the material into many dark and troubling corners. Alex Murur who did the visual effects for the film was key. I would ask him, hey can you do this with this footage, and he would say, let me see what I can do and he would come back with imagery that was even more nightmarish than I had asked. And that imagery influenced me to take the material even further. There's an old filmmaking adage, you make a movie three times, once with the screenplay, once when you film it and then finally when you edit it. This film was made in the edit. It is a very different film and yet it is the same film. It's as if a filmmaker took acid and was able to record their trip. Not a recreation of their trip but the actual trip while it was happening. I think we captured that.
How would you describe your directorial approach to your story at hand?
I don't like to have things too well planned. I like to build scenes organically. I like to give the actors an idea and let them run with that, see how far they can take it. That can get you in trouble sometimes, but this time, it worked very well. Angelina really understood her character and took her character places even I hadn't considered. I don't want to tell my actors what to do and what to say and how to act. I suggest. I guide. I point. They then must decide what their character would do. They must decide how far their character will go. I'm not an actor. That's not my job. You have to trust your actors.
Your lead and only actress Angelina Leigh - why her, and what was your collaboration like?
Well, as soon as I had my vision for this film and knew basically what I wanted to do, I knew I needed an actress who could both act and who had no issues with nudity or sexuality. I knew Angelina from the Cleric shoot, I knew she had no issues with nudity, she has appeared in Playboy and Hustler and did fetish and nude modeling. I contacted her and pitched the story over lunch. She loved the concept and immediately accepted the role. She was perfect. No drama. No bullshit. I told her what I wanted and she did it. Perfectly. Time after time. I've never seen anyone so comfortable in their skin. No drama.
You just have to talk about Disintegration's soundscapes by Frederic Mauerhofer, and were they created specifically for the movie, and what was your collaboration like?
I have been working with Frederic for quite a few years now. Since I think Red Scream Nosferatu. He is a Paris based composer, music producer and DJ. His music ranges from classic to club. Like Alex and Angelina, Frederic instinctively, intuitively understands what I am looking for. I really only have to fire off a few words and he goes off and works his magic. And time after time his sonicscapes work perfectly with my images. And yes his work was created specifically for the film.
Also do talk about your locations for a bit, and what were the advantages and challenges of filming there?
An old friend of mine, his brother owns a large hunting cabin up on the top of a small mountain. Very isolated. Surrounded by acres of densely wooded area. Perfect place to make a serial killer movie or an Evil Dead joint. Of course I did something else. There really were no challenges other than getting there which did require a large four wheel drive truck but once there, you had everything. Maybe the "toilets" which were really buckets with a plank seat with a hole in the middle but other than that...the perfect place to lose your mind.
What can you tell us about the shoot as such, and the on-set atmosphere?
We shot over a weekend. It was Angelina and Katy Saul who did the makeup effects, the cameraman, my friend Ron and at one point his nephew who brought in supplies as needed, and of course myself. It was like a fun camping trip except there was a naked bloody woman walking around most of the time.
The $64-question of course, when and where will Disintegration be released onto the general public?
This Friday. On Vimeo. I expect free of charge. I want this film to be seen.
Any future projects you'd like to share?
I see Disintegration as both a look back and a step forward. A look back in that most of my earlier films and all my university films were experimental in nature. I was very influenced by the surrealist filmmakers of the 20s, so people like Germain Duluc, Man Ray and of course Bunuelís Un Chien Andalou and L'Age díOr. And also classic underground works by Maya Deren, Kenneth Anger and even Jack Smith. Also those I studied film under like Tony Conrad and Lawrence Brose. And Peter Tscherkassy. This to me has always been the most creative filmmaking aesthetic unbound by convention or structure. It is also a step forward in that this is the type of film I want to make going forward. Not necessarily this abstract or surreal, but film again unbound by convention or structure or confined by expectations of genre. I think I have said everything I need to say regards horror. The world does not need another zombie film or werewolf film or horror comedy. Or whatever. Iím in a place where I can make the micro-budget films that interest me. That doesnít mean these films wonít have aspects of horror, I am a life long horror fan after all but they will not be bound by those expectations. Not that my work ever was. In every film I made an effort to defy expectation, to make a film that went against the grain. Anyone can remake Friday the 13th. And many do. I donít. My next film will be very 60s French New Wave, influenced by Godard and Resnais. Also Antonioni. But also very much my own film. Itís about two people who meet possibly for the first time and yet, they may have known each other before. Possibly in the past, possibly in a different life. There are unresolved issues that need to be resolved but that doesnít mean they are resolved. Itís about loneliness and distance. Itís about how, no matter how well you know someone, or think you know someone, you really can never know them because all you can really see is surface. You can never see beneath the surface. You can never pierce that barrier. It is non-horror but it continues the trance-like aesthetic begun with Disintegration, although not as visually assaultive. Looking to shoot in October 2015. Iím also looking at something called Winterfallen, which is a post-apocalyptic gothic. Possibly 2016 depending on financing. Hopefully shooting that with Sean-Michael Argo.
Your/your movie's website, Facebook, whatever else?

Feeling lucky ?
Want to
search
any of my partnershops yourself
for more, better results ?

The links below
will take you
just there!!!

Find David R. Williams
at the amazons ...

amazon.com

amazon.co.uk

amazon.de
Looking for imports ?
Find David R. Williams here ...
Something naughty ?
(Must be over 18 to go there !)

Facebook: https://www.facebook.com/redscreamfilmsstudio
Disintegration: not live yet.
Anything else you are dying to mention and I have merely forgotten to ask?
I think we covered it all.
Thanks for the interview!
Thank you Mike!