First of all, could you introduce yourself to those of us who don't already know you?
Well, my name is David Hayes and I am a writer/actor/producer, mainly in the horror and scifi genre, of film and multimedia. I am the President of Abnormal Entertainment, a production company, and teach film production, screenwriting and acting at a few different universities in the Phoenix area. I have a Bachelor's degree from Michigan State University and an MFA from National University and am currently pursuing another Bachelor's from Grand Canyon University and a degree in Paranormal Studies from Flamel College. I think that about does it.
A few words about Abnormal Entertainment, the production company you run with Kevin Moyers?
Abnormal Entertainment is a low-budget film and comic production house. Kevin and I began the company after meeting when working at Dead Alive Productions, a now-defunct horror movie distributor. The interests of Abnormal Entertainment run the gamut from feature films to comic books. The company has produced a few micro-budget feature films but we have recently ramped up production and are officially moving into higher-quality low budget fare.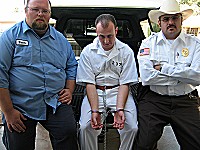 Still from Undone
The last film by Abnormal Entertainment is the short Undone, which you not only star in but also co-wrote, co-produced and co-directed. A few words about that one?
Undone was an interesting little animal to tackle. It clocks in at a lean, mean 22 minutes and is currently on a festival run. It recently premiered at the 2008 International Horror and Sci Fi Film Festival and played at the 2008 Deadly Event. Right now we are slated to appear at the 2009 Phoenix Comicon and 2009 Xanadu Las Vegas Festival. Undone was an interesting shoot. It started with an idea: What would you do if you got 24 hours alone with the man that raped and murdered your daughter? It is a cautionary tale, almost a morality fable, that has an ending that never fails to gross most of the audience out! The entire short was improvised from a story by John Scott Mills, the co-director, and myself. Kevin, being the creepy bastard he is, filled the role of our pedophilic villain nicely. We will have copies available on DVD soon.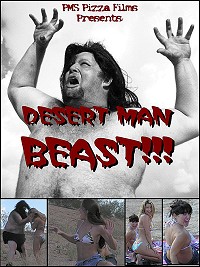 Abnormal Entertainment's last feature was Return to Yucca Flats: Desert Man Beast (2007), in which you play the lead and which you have also written - and which pays hommage to the schlock classic Beast of Yucca Flats (1961). What made you make this film in the first place?
Desert Man Beast was another experiment, that is an homage to the Japanese Kaiju films of the 50s and 60s. It is still in post-production getting some sound fixes and a treatment from the editors, Dave and Tony Sabal. The entire film was shot in 16 hours (we were trying for the world's first 24 hour feature) and it shows! That is why the post is taking so long! I have always been fascinated with Anthony Cardozas (Beast of Yucca Flats) work. The original Beast of Yucca Flats was shot without sync sound so everything was either a voice over or foley work. At no time is that a good idea but Cardoza could not be stopped! The Return to Yucca Flats is our homage to that.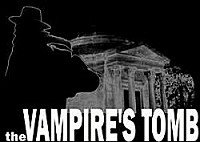 In Return to Yucca Flats, your character is based on Tor Johnson's monster in Beast of Yucca Flats, whose character Lobo you have also played in two Ed Wood adaptations by Andre Perkowski, Devil Girls and The Vampire's Tomb (both 1999) [Ed Wood bio - click here, Tor Johnson bio - click here, Andre Perkowski interview - click here]. Now I don't know how to make a question out of this set-up, but would you like to talk about Tor Johnson as well as the two Ed Wood-adaptations for a bit anyhow?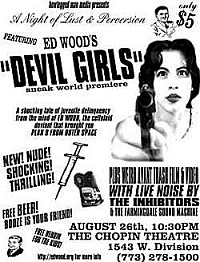 The 2 Wood adaptations were, really, the first feature films I worked on. I had been fascinated with Wood and his use of Tor Johnson for many years. Who would cast a guy, especially in Plan 9 from Outer Space, that had such a terrible command of the English language? Ed Wood, that's who! I never thought Ed was the worst director of all time. The cardinal sin of filmmaking is to make a boring movie and Ed never did that. I was cast, for the most part, because I'm a big fat ass that was willing to shave his head. The films were really a good time. Standing, shirtless, in the freezing rain near Chicago's Natural History Museum is a fond memory. I enjoyed working with Andre Perkowski, the director. He had a preternatural grasp, seriously, of what Ed Wood was all about. Unending enthusiasm and determination coupled with financing issues are a hallmark of both Ed and Perkowski.
A few words about Blown (2005), which you starred in, wrote and directed?
Blown was a mistake! We started with an incredibly funny script that was only about 1/4 shot. About halfway through production the camera crew quit and the main location dropped out so we were left with some footage and question marks. If anyone is interested in watching a movie about a posessed blow up doll on a rampage, feel free, but I don't recommend it. Enough said. We might shoot the real script one day, but I wouldn't hold my breath. Although I do have a soft spot for the fat guy/blow up doll shower sex scene and the strangling of the 36EE Stripper by 3 foot, double-ended dildo scenes. Genius.
Dark Places (2005) did receive an incredibly number of positive reviews for an independent low budget feature. Could you elaborate on that one?
Dark Places was more an homage to Requiem for a Dream than a horror film. Darrin at Brain Damage Films approached Guy Crawford and I to make the project. We did and it turned out well. There are some hitches in the film (mostly at the 50 minute mark) but we did what we could with it. The budget was incredibly low but Nessa Hawkins turned in a masterful performance that really solidified the movie.
On Abnormal Entertainmant's website, the lead character of Back Woods is described as "the world's first 300 pound retarded-redneck transvestite serial killer" ... a role which you wrote for yourself. A few words about this film and your role in it?
Hmmm. Back Woods. To this day I get a few e-mails a week from people who love this movie. It sucks. Seriously. It was a bunch of idiot friends that said, "Hey, there's a three day weekend coming up. Dave fits into a prom dress so let's make a movie!" We had a great time, shot the film for $900 and the rest is infamy. The script was jammed out in 12 hours prior to the shoot. I recently got a fan request to shoot a Back Woods Christmas greeting video card for his friends. I've also gotten marraige proposals from Finnish men. I will never escape the Back Woods!
Your directorial debut was the short Rainbow Warrior (1998). What can you tell us about that one?
I was attending Columbia College at the time and we needed to shoot a 10 minute silent film on 16mm. I was the token straight guy in an apartment complex we called Gayrose Place and decided that the world's first silent gay superhero epic should be shot by yours truly. It turned out ok and I got distribution on the Filling the Gap Boxer Shorts compilation DVD.
A few words about your yet unreleased films, Tales of Terror and Love and The Perfect Cut?
The less said the better. Ran out of money. Lots of angry people.
Speaking of unreleased films ... what about the Santo-inspired El Cerebro de Hitler (2001) by Andre Perkowski [Andre Perkowski interview - click here, Santo bio - click here]?
I'm not sure. I lost touch with Perkowski after he left Chicago and have heard absolutely nothing about the film. I would like to see it, though. I wrestle as Joe Broni from time to time on the indie circuit and love the Santo movies. We had a good time shooting it, though.
Any of your films I didn't mention you would like to talk about?
Well, Machined was released by Lionsgate in 2006 and we recently finished the sequel, Machined Reborn for them. That should be fun to see. Those were written and directed by Craig McMahon as well as Orville and Sportkill. Both of those are out internationally (Sportkill ran in theaters in Japan) and should be out this year from Lionsgate.
Your movies often mix comedy and horror. Why do you think these two go together that well?
I think they are flip sides of the same coin. Both are escapist forms of entertainment.
Any future projects?
Jeez. Let's get out the list! We are in post production on a film that we signed with Triumphant Pictures to be put out via Universal called Blood Moon Rising. I produced it and we called in Ron Jeremy on that one. I am in the middle of an anthology film called Thrift and the guys over at Trout Creative are finishing shooting Vampegeddon from my script. Currently most of my energy is going into fundraising for Greasepaint. This should be killer and really set Abnormal up once we get it done. I wrote and am directing. If you know anyone with some spare change, I could use it to get this one off the ground!
Besides making movies, you have also written several comicbooks. Would you like to elaborate on those?
Most recently I signed a deal for Arcana Studios to relase my 3-issue mini-series Rottentail in 2009. A giant, murderous, mutant half-man/half-Easter bunny tale. I really dig it. Other than that I've been pitching series with not too much luck. I have begun serializing the adventures of The Rainbow Avenger in Queerbait Comics, done one-shot stories appearing in Bound, Starship Troopers and Lucky Creatures, though. I'm still looking for a home for my true-crime anthology series Serial if anyone is interested.
Of all the characters you created, I think at least one deserves special mention, Ann Gora, an adults only creation for my good friends at Carnal Comics [Interview with Carnal Comics' SS Crompton - click here]. Please tell us a little more about her ... well, him actually?
Ann will never see the light of day. She was supposed to debut in Demi's Strange Bedfellows but the series was cancelled. I know the first story is pencilled. What more could you ask for? A transvestite private eye in the 1950s with a huge penis fighting evil Martian Nazi Lesbians... pure schlock!
You have also written a book on Ed Wood, the writer [Ed Wood bio - click here] - and since Ed Wood is one of my favourite subjects as it is, could you talk for a bit about this man's books?
Ed Wood was a genius. Sure, he wasn't very adept at the English language but he could type like the wind! Ed wrote around 100 novels and 500 short stories after the film career ended. He plucked those out for a variety of companies under a variety of pseudonyms (like Ann Gora and Dick Trent) and ALL of the books are smutty, sex-filled porn. I love them. Some of his favorite themes, though, find their way through the smut. Ed wrote a bunch of horror sex stories (like Sex, Shrouds and Caskets), tranny stories (like Death of a Transvestite) and crime stories (like Devil Girls). Ramble House, my publisher, has put together a good thirty or forty of them and they are available at www.ramblehouse.com.
Besides that, you also have a career in standup comedy, right?
I'm retired. I think I just wanted to do it to say that I did it. Does that make sense? All I know is that comedians are depressing! Bitter, infated egos... uugh. It makes dealing with actors almost pleasant.
And then of course you are involved in professional wrestling ...
On the fringe. I sometimes wrestle as Joe Broni, ultimate loser on the indies. I'm kind of lazy so Broni loses EVERY match in 2 minutes or less. Makes for some funny comedy, though!

Feeling lucky ?
Want to
search
any of my partnershops yourself
for more, better results ?

The links below
will take you
just there!!!

Find David C. Hayes
at the amazons ...

amazon.com

amazon.co.uk

amazon.de
Looking for imports ?
Find David C. Hayes here ...
Something naughty ?
(Must be over 18 to go there !)

Your website, mySpace, etc?
Ooooh. www.abnormalent.com, www.davidhayesonline.com and www.myspace.com/davidchayes.
Directors, actors, writers (and maybe wrestlers) who have inspired you?
Wow. Here goes: David Cronenberg, Alfred Hitchcock, Alan Moore, Clive Barker, Steve Niles, Joe R. Lansdale, Rex Miller, Robert Devereaux, Ed Wood Jr, Kevin Smith, David Fincher, Joss Whedon, Neil Marshall, Stephen Sondheim... it goes on and on!
What kind of movies do you watch privately, and your favourites?
Horror movies, of course! Seriously, I love 'em. Good, bad... any of them! My favorite is the 1978 Halloween. It's nearly perfect. Others high on the list are: Jaws, The Howling and Silent Night, Deadly Night.
And some films you really hated?
I don't think I really HATE anything. Maybe re-makes. I can't stand re-makes.
Your favourite comicbooks?
Easy. Watchmen, Swamp Thing, Preacher, anything by Alan Moore, Warren Ellis, Garth Ennis and Steve Niles.
Thanks for the interview!
My pleasure!