I know we've talked about this before, but do give us a recap: What's your new movie Toxic Alien Zombie Babes from Outer Space about, and what can you tell us about its creation?
Toxic Alien Zombie Babes from Outer Space is a comedic sci-fi/ horror film that pays homage to the great B grade cult movies of the 50's - 70's, while covering a number of the strange issues that have come up during this pandemic year.
You now want to put Toxic Alien Zombie Babes from Outer Space into cinemas around the world for free - was this the intention from the get-go or was it triggered by current events?
All of my past films have been released for free - however, those are all short films and a hosted horror TV series. I was always unsure of what I was going to do with distribution and revenue when I released my first feature film. The fact that Toxic Alien Zombie Babes from Outer Space was being made during the pandemic and theatres were already suffering meant that from the very start, we were both in this together.
I did look at other options before making the decision to release this for free, and the problem isnít really the lack of revenue coming back to me. The big obstacle is distribution. The releasing companies who put films into cinemas, on TV, DVD and VOD sites need to make money, so they canít take on something that any outlet can get free via other means. Releasing this at no cost could actually reduce the amount of outlets the film goes out on, and means that fewer people see it.
Iím taking the risk anyway because I believe that the system is broken and I refuse to sign a 5 year agreement with any releasing company when I believe that the cracks are going to open up long before that. If I sign and they donít manage to place the film in many places, then I have a movie sitting around that I can do nothing with until the contract expires.
Now let's focus for this question on the theatrical situation almost worldwide before Corona, and its (maybe fatal) dependence on the major Hollywood studios - your thoughts?
Many cinemas have been held to ransom by Hollywood for decades because their business model is based around showing the latest blockbuster movies. Bit by bit, the theatres have had their deals eroded over the years. Theyíve become so reliant on blockbusters that during this pandemic a delay in releasing just one James Bond movie had many closing their doors for 6 months.
Cinemas now get as little back on the ticket sales as 10% with the big studios getting the lion's share. The amount was reduced gradually over the years. Even the time that the theatres have blockbusters exclusively has been cut back as the big studios realised that there is more money to be made in going direct to VOD.
The Hollywood trend has been to keep finding ways to take more and it has gotten so bad that now itís time for the movie houses to wake up before it is too late. Gone are the days of 2,500 seat cinemas being packed to the rafters with crowds around the block. Theatres have shrunk along with the deals they are given and that cannot continue indefinitely.
To what extent do you see the current situation as a chance to break that stranglehold?
If the theatre owners can change their way of thinking to realise that they are more of a community centre for film lovers, then a whole new world will open to them. Due to the pandemic, people are becoming more open-minded to businesses having to make changes, so the current mindset of the general public is perfect.
The theatre owners' real job is to get people through their doors so that they can market to them. Most of the revenue a cinema makes is via food sales and not ticket sales anyway. Another chunk of revenue comes from the showing of advertising before the feature. Basically a cinemaís business is only based around movies and not purely from the showing of films themselves. Now, the theatre owners need to work out other ways to get people through the doors rather than relying only on the latest release blockbusters as the drawcard.
There is a whole industry out there based on films that is making money hand over foot. Iím referring to the big conventions. Many of the most popular actors today can make more money from signing autographs at these over a year than they do for appearing in a ten show series. These conventions donít even have the latest blockbusters showing and yet they can charge $150 a ticket instead of the cinema ticket price of $20.
If theatres change their business model, they could be incorporating merchandise sales and personal appearances to a film night. This is just one idea of many but it illustrates that the theatres do not have to just sit idly back and allow themselves to be strangled to death.
As for what extent this situation gives the cinemas a chance to break the stranglehold, well, many cinema owners that knocked back my short films in the past were afraid that if they showed one of my movies that they would upset the distributors and be at risk of not getting the next Hollywood blockbuster. For those that could elect to stay open, they arenít getting any blockbusters for at least 6 months anyway, so that gives them a good chunk of time to try things out and a perfectly valid reason to do so.
I'd like to turn the last question right onto its head, to what degree do you think the general public is ready for indie productions?
I think the general public has always been ready for indie productions but the fault in them not getting out there as much as they should falls to the producers themselves. Theyíve been trapped into the belief that they are competing with Hollywood, so many have pitched themselves against that standard. Without a multi-million dollar budget, a filmmaker is not going to be able to have the costumes, sets, props, fx etc of the biggies. In the 60ís Ė 80ís, B grade moviemakers could take advantage of Hollywood being limited by codes and push the bar with boobs and blood, but the big companies no longer follow those codes and caught up with that over 20 years ago.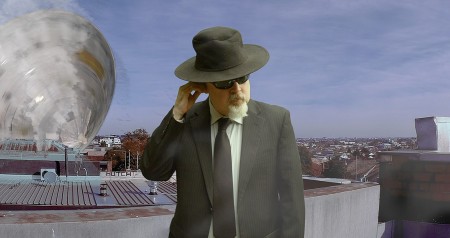 I find it strange that the concept of honesty hasnít dawned on too many indie filmmakers. I think that as a no budget filmmaker, what I have going for me is that the films donít have to follow an economic formula. We donít have investors to kowtow to by following market trends. The strength for indie filmmakers lies in realising what the restrictions are for the biggies and then exploiting them. You donít face a big monster head on. You look for its weak spots and then take aim.
Indies were once the wild west of movie making and need to reoccupy that position by going where Hollywood is too scared to venture and exploring new ideas. We need to be the place people can go to see things that you could never see in a Hollywood blockbuster. Boobs and blood are now mainstream, but risk and imagination are not, so that is where we indie filmmakers must head.
In a perfect world, what kinds of movies would you like to see distributed in cinema chains?
I think that the cinema should be for all movies. Films are really just another medium of storytelling. In that sense, it all started with small tribes and the shamans that travelled from village to village telling the tales that made up the collective culture of an area. Todayís cinema owners should understand that they are the modern corroboree, and if they continue to push only the stories of a formularised Hollywood then they are failing their communities and they will lose relevance with the people.
Now let's return to Toxic Alien Zombie Babes from Outer Space - to what kind of audience do you think the movie will speak, whom will it lure into the theatres?
I think that this time, and possibly the only time for me ever, that the audience is pretty much everyone over the age of 15. The pandemic has been a shared experience, and we're covering as much as we can in a schlocky way. The general public might never identify with my past films, or the ones I have planned for the future, but this is something that we all have in common. In one way, it might even be therapeutic for some to look back at what has been a painful time and be able to laugh at it.
Do talk about your campaign to get Toxic Alien Zombie Babes from Outer Space into theatres - and then your campaign to fill those seats?
Iím hoping to help cinema owners survive by giving away Toxic Alien Zombie Babes From Outer Space free so that they can show it and get 100% of the ticket sales revenue. They need product to show, and this would be of help, but I understand that it wouldnít be anywhere near enough, so I need other filmmakers to join in. Cinemas are likely to need 25 or more seat fillers to get through the next 6 months.
I can see the difficulties here too because itís not just a case of getting cinema owners to open their minds and accept indie films. Most filmmakers are not going to give their hard work away for free. Many know that they can take their film to the American Film Market and bring in a few small deals at 10k a piece, and although that still might count for a loss of money, itís still throwing away 10 Ė 20k.
The marketing path that many indie film producers have bought into is far worse than anything the theatre owners are oppressed by, so even the 10-20k represents a big loss when you consider that they might have pumped 50k+ into the film and a yearsí worth of their time. They may as well just break the cycle now while we are in different times and join me in forging new pathways.
With Toxic Alien Zombie Babes from Outer Space, Iím not going to be pumping thousands of Dollars into entering film festivals. I can see that the big money is made by actors and directors from the fame they get from a successful film, and that comes from having as many people as possible see it and love it. Itís about building a fan base that will pay to have their picture taken with you and buy your merchandise. Big companies pay celebrities for endorsements and appearances at their events. I donít believe all the stuff in the middle, such as film festivals, will necessarily get you there when you can distribute directly to the general public via YouTube and other online places.
There are numerous industries that have adopted a freemium model successfully and I believe it is time for filmmakers to do so as well. With the amount of piracy out there, we may as well. Indie filmmakers that decide to come on board and offer their product for free are helping break a broken system and go direct to the public. The industry has become too bloated with middle men making big bucks while at the start and end of the process, the filmmaker and the theatre, are being bled to starvation. The time for change is right now because we are all restricted by the pandemic. And if not now, then never because many cinemas are just not going to survive this while their biggest threat, VOD, is thriving due to the very same set of circumstances.
VOD will come out as the new mainstream outlet due to lower overheads and the ability to reach the entire world, while only 250 people or so can fit into a theatre. If we want to preserve the cinema experience then theatres must embrace indie films, and indie filmmakers need to help theatres survive.
The key question of course, when will your movie have its release, and do you plan a big premiere?
Weíre now looking at a January release. Weíd originally planned for December but no one has made a movie in this way before and weíre finding that there is a lot more work involved than we could have imagined.
I would love a big premiere but itís proving difficult. I think that marketingwise, those cinemas that accept the film should turn their nights into a theme party, which is not far off of what a premiere is, but the difference is that they can sell all sorts of other merchandise on the night. Anything from old sci fi/ horror movie merch to sci fi toys and costumes, and even have themed food at the snack bar. The theatres should not even worry if it is a premiere to create the party experience, and should make every showing a crazy experience. That very same approach has worked for decades for The Rocky Horror Picture Show, so it is a tried and proven, winning formula.
Any future projects you'd like to share?
I have one feature that is almost ready to go called Badass Bunyip. We were going to re shoot some scenes over the Easter break but that is when Melbourne went into lockdown. As soon as weíre able to do 2-3 days of shooting, without masks on the actors, then the film will be released.
Thereís also a feature length documentary that is finished called A Night at the Movies Ö Indie Style. Itís a hosted compilation of many of my short films, with featurettes about indie movie nights and behind the scenes looks at the sets. Itís been shown on TV already and is available to any TV station that wants to show it. I havenít had the time to market it properly and get it seen on more than a couple of stations due to the amount of work Iím putting into Toxic Alien Zombie Babes from Outer Space. I might package it up later with Toxic Alien Zombie Babes from Outer Space for those theatres that want to run a double feature.
Aside from those two features, I have a handful of short films planned that are scripted, cast and ready to shoot but am just waiting for the lockdown to end.
Your/your movie's website, social media, whatever else?
https://www.facebook.com/ToxicAlienZombieBabes/

Feeling lucky ?
Want to
search
any of my partnershops yourself
for more, better results ?

The links below
will take you
just there!!!


Anything else you're dying to mention and I have merely forgotten to ask?
I do. One of the most difficult things for a business is the creation of processes and the training of staff. This takes years of hard work. Cinemas that close now will find that staff will move into other careers and take with them their knowledge. Theatres could struggle to reopen when we are in better times because they might not have enough experienced people to ensure things run smoothly. Itís better to try out new ideas now to remain open.
Thanks for the interview!
Thanks for having me back, Mike, and listening to some crazy ideas.