Your new movie The Arrangement - in a few words, what is it about, and what can you tell us about your character in it?
I would describe The Arrangement as a cop drama with a supernatural element. Human beings are very complex, but one thing that we all have in common is that we all live and die. But what's really interesting is what we do in between life and death, and I think The Arrangement reveals the lengths human beings will go to acquire their wants and desires, no matter who gets hurt along the way. I play the lead detective, "Harry Frick", in the film. Harry is a guy who is a bit of a pencil pusher now. I like to think he was once out in the field, but could not really handle being on "the job". His OCD tendencies and his lack of self-confidence got in the way of him wanting to be a good detective. I think after a few blunders, he was placed mainly on desk duty, where it was safe for him and kept him out of the way. Harry is also a bit of a loner with a deep desire to find someone to love.
What did you draw upon to bring your character to life, and how much Danny Donnelly can we find in Harry Frick?
On the page, I am nothing like Harry. Jake [Jake Hunsicker interview - click here] and Andrew Hunsicker [Andrew Hunsicker interview - click here] really wanted to bring Harry's OCD tendencies and cautiousness to the screen. Growing up, I had a friend who was a bit like Harry. He was not the most athletic kid, was very smart in specific topics, and lacked self-confidence in himself. He was usually always picked last when playing sports, but damn did he always give his all. So from his posture to the way he moved, I took that from that one friend. When it came to his vocal pattern, I knew I wanted him to always be afraid of possibly saying the wrong thing, so he was always cautious when speaking which caused a bit of a stumble into some sentences, but then as the story progresses we see Harry transition into someone I think he always wanted to be. Someone with passion and drive and showing that progression was very important to me.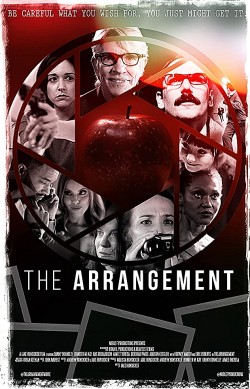 How did you get involved with the project in the first place?
For the past 6 to 7 years we have worked together on numerous projects. Mainly short films. So when Andrew and Jake were going ahead with production, they reached out and asked me if I would play Harry Frick for them.
To what degree can you identify with The Arrangement's approach to horror?
Some of my favorite horror movies are ones that involve a supernatural element. I'm not a big slasher flick fan. I enjoy a horror film where the story comes first. Where there's a connection to the characters and a revelation.
What can you tell us about The Arrangement's director Jake Hunsicker [Jake Hunsicker interview - click here], and what was your collaboration like?
Jake is super easy going. As an actor, he gives you space to create and try things out. Before shooting there was a lot of discussion about character development and the look of the character, which led to the Joaquin Phoenix "Her" / Gary Oldman "Commissioner Gordon" mustache lol.
Do talk about the shoot as such, and the on-set atmosphere?
Since we have all shot together before, I would say it was like family getting together to create art. We are all very passionate about filmmaking, acting, directing, etc, so we all show up and put in the work, and overall have fun. There were a lot of laughs, but also a lot of everyone helping everyone. We all wore many hats, especially Andrew Hunsicker. He wrote, produced, acted, gripped, gaphed, etc lol. The guy did it all. We had a small crew and limited time, so we all just jumped in. We have always worked so well together and will continue to do so. I love this team of artists.
Any future projects you'd like to share?
As an actor I have a couple of things in the works. I had a small co-star role in AMC's Dispatches from Elsewhere (I'm at the end of the first episode if you're looking for me, lol). Unfortunately, I had a few projects I was cast in postponed because of COVID, so hoping they will pick back up sometime in 2021. But as a director, I have a series I co-directed that is out now on Amazon Prime. It's called Certifiable. It stars Jennifer M. Kay who played "Det. Alvarez" and Aimee Theresa who played "Melissa" in The Arrangement. I am also in post production on a short film called Something Borrowed that I directed and shot, and was written by Aimee Theresa. I also have two upcoming projects as a director/actor. I recently directed the pilot episode for a sitcom called Recipes For Love which I also have a role in, and as of right now, I am gearing up to direct and act in the feature film Last Known Location written by Aimee Theresa. This will be the first feature film from Aimee and myself and the first feature film from our new production company Silver Octopus Productions.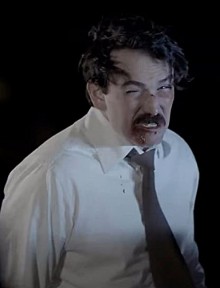 What got you into acting in the first place, and did you receive any formal training on the subject?
I began acting over 10 years ago. Growing up I was an athlete playing numerous sports, but mainly ice hockey, football, and basketball. But another thing that I was, but didn't claim to be, was an artist. I always loved drawing, painting, and writing as a hobby. Fast forward to college, I switched my major from Pre-med to Broadcast Journalism at Temple University, and I was working a job at University of Pennsylvania. While I was working there, Transformers 2 started location scouting and they chose University of Penn. My supervisor was their contact, and when I met them, they recommended I be an extra on set. So I went to an open call and was chosen to be an extra. Already a huge movie buff, it was great to see filmmaking in action and also Shia Labeuf. I saw him acting, and I thought I could do that. Also at the same time, my younger brother Casey Donnelly (also in The Arrangement and gets to body check me into a pole, lol) started acting. He also recommended that I do it. So I declared a minor in Theatre at college and started studying, auditioning and booking independent jobs. After college, I did some various classes, but nothing opened me up to the world of acting more than Lee Edward Colston's Philadelphia Meisner Technique Intensive. I would say that PMTI, and also reading and studying different techniques such as Stella Adler, Chekov, and Lee Strasburgs after hearing some of my idols talk about their training on Inside The Actor's Studio, has taught me different ways of approaching the work. I would also say that performing in the theatre is also my biggest teacher as an actor. Nothing like a live audience to let know immediately if you're good or you suck, lol. If you want to learn acting, do theatre.
Over the years, you've also done your fair share of behind-the-camera work - so what can you tell us about that aspect of your career, and what was the motivation behind this move to the other side of the lense in the first place?
I love movies. Growing up, I would watch everything. I could sit on the couch and watch 6 to 7 movies in a row. I also enjoyed watching the behind-the-scenes footage of movies. So I think that always stuck with me. So as I got into acting, the more I got on sets, and the more I wanted to do it all. Also, I have always been that actor who sees the whole picture when I read a script. So being able to be the one to take words from a page and bring them to life cinematically was an easy transition for me. I honestly love directing and editing. It's just like painting a picture to me.
What can you tell us about your filmwork prior to The Arrangement, in whatever position?
A lot of the filmwork before were stepping stones in a career that I have no plans in retiring from. I will be acting and creating until the day I die. So all that came before, the successes and the failures, were great learning experiences that will prepare me for the next films to come.
How would you describe yourself as an actor?
I would say I am about the work, but I also like to have fun and play. I would also say I'm a selfless actor. It's not about me, it's about the story and my commitment to bringing the director's vision to life. Overall I just want to tell a great story and make a great film or piece of theatre that people can enjoy. As an actor, I would say I could go either way as a character actor or leading man. One of my favorite actors at the moment is Tom Hardy, so his career is one I would like to strive for as an actor.
Filmmakers who inspire you?
Oh man there's so many, but I guess right now I would say Christopher Nolan, Robert Rodriguez, Steven Soderbergh, Steven Spielberg, Martin Scorsese, Quentin Tarantino, Tim Burton, Ed Burns, Penny Marshall, and even though he's crazy, an actor/director that I admire is Mel Gibson. One day I will make my Braveheart.
Your favourite movies?
Hmm not sure if I can list favourites, but here's a few I could watch over and over again: Braveheart, Dark Knight, Godfather 1 and 2, James Dean (2001 with James Franco), A Knight's Tale, Interstellar, Saving Private Ryan, Awakenings, Team America World Police, Superbad, The Vow, PS I Love You, Sweeney Todd, Antwone Fisher, The Professional, The Fifth Element, Gangs of New York, ... I think that's good for now, I could go on and on, lol.
... and of course, films you really deplore?
Films with crappy storylines, bad dialogue and a forced sense of reality. So some sci-fi turns me off if the story is weak, which usually in turn makes the acting bad. Hard to say which films I really dislike, because usually if they're bad within the first 20 mins, I will turn them off, lol.

Feeling lucky ?
Want to
search
any of my partnershops yourself
for more, better results ?

The links below
will take you
just there!!!


Your website, social media, whatever else?
You can follow me on
Instagram: @ActorDannyDonnelly
Facebook: www.facebook.com/actordannydonnelly
Website: www.ActorDannyDonnelly.com
IMDb: https://www.imdb.com/name/nm3488092/
Thanks for the interview!