Your new movie The Arrangement - in a few words, what is it about?
The film is about two very different detectives tracking a mysterious midnight killer. They discover a pattern in a photograph found on the first victim that throws them further into a rabbit hole of both corruption and the unknown.
At least for me, The Arrangement is in equal parts cop thriller and horror movie - are these genres at all dear to you, and why (not)?
Yea, they both are. I grew up on slasher flicks and horror films of the early 80s through the mid 90s. They sparked my initial interest in films and filmmaking. Donít tell anyone, but I even made an homage to Halloween when I was about 7 or 8, haha. As for thrillers, I always drew a lot from cop thrillers like Seven, The Usual Suspects and even Witness. The notion of corruption always drew me in as a kid. I donít know, maybe it was because I was naÔve so these films highlighting corruption really had a profound effect on me. I couldnít, at the time, fathom someone in a position of power doing the wrong thing. Pretty silly now in hindsight.
(Other) sources of inspiration when writing The Arrangement?
The Usual Suspects and Seven really inspired me to try to intertwine elements of horror and mystery with cop thrillers.
What can you tell us about your co-writer (and producer and actor) Andrew Hunsicker (any relation by the way?), and what was your collaboration like?
Well, heís definitely my father. I owe him a lot for my love of films and filmmaking. He also happens to be a damn fine actor, a damn fine producer and a damn fine collaborator. My father wrote the first script for the film in the year 2000. I was a young child at the time. Eventually, he let me read it. I was blown away. As he began acting more and more, I began to dive more into filmmaking. We collaborated on some short films and whatnot. It was great, but eventually he brought up the notion of us taking on the film ourselves. Like, actually producing and shooting it ourselves. The script had been optioned twice before, but it never went where we wanted it to go. At that point, we figured why not? He asked me to direct and help him redraft it a bit and we went from there.
Do talk about The Arrangement's build-up of mystery for a bit, and was it always planned to eventually veer off into the supernatural towards the end, or did that happen during writing?
There was always a supernatural element to the story, though it is kind of ambiguous early on. It was my intention to have the supernatural element really come to light later in the film. It was in the writing though. I canít take too much credit for that. It was always in my fatherís original story.
What can you tell us about your overall directorial effort to your story at hand?
Iíll tell you this, directing a feature is a whole different animal. I had directed shorts before. They were typically more isolated pieces. They were more manageable. A feature, well, it is definitely not an isolated piece. We shot all over Philly and parts of King of Prussia and Allentown. I had to rely on my actors a lot to really know their lines, because well, this was an indie production. We didnít have the luxury of doing 25 takes of everything. We had a full plate in front of us. I try to be as laid back as possible on set. No one wants an asshole director running around making everyone uncomfortable. We hired people we knew. Professionals. People who knew us and how much this meant to us. I knew that as long as I laid it out to them thoroughly beforehand, they would be ready and have my back. If we ran into issues or situations, we had the ability to talk through it and get the shot. One thing though, and I feel the need to emphasize this to other indy filmmakers out there - PLAN AHEAD. Really talk to your actors before. Know who they are. Plan your shots carefully and be ready to cut some things early if you need to. Whatever you have to do to get exactly what you need.
Do talk about The Arrangement's key cast for a bit, and why exactly these people?
Well, Iíve known the two leads, Danny Donnelly (Harry Frick) and Jenifer Kay (Jessica Alvarez), for quite some time. Danny is a phenom. I have worked with him on every project of mine except Nod. I knew he was Frick from the moment we began prepping for the film. Jen Kay is like the energizer bunny on set. Seriously. Her ability to multi-task is second to none. They are both great artists and it was truly something to watch them and work with them on this film. Aimee Theresa (Melissa Ann) is a friend of mine as well. She has always caught my eye in every project I saw her in before meeting her. She almost brought me to tears on set a couple of times. She really broke some hearts with her portrayal of Melissa. I couldnít resist the chance to utilize the chemistry of Danny and Aimee on screen. Again, I knew these two were made for these roles. They are both great actors and great friends of mine. I want to take minute here to also go over Dax Richardson (Nick Devlin). I had not met Dax until a table read we had a couple months before we began production. I heard him utter a few lines and I knew he was Devlin. He had such a righteous swag and style that I knew would elevate Devlinís character beyond your typical film ďvillainĒ. Britney Amber was an incredible addition for the film. She was a consummate professional, who commanded the screen when she was on it. She was open and accommodating to direction and very creative with her suggestions. She not only never missed a line, she came up some hilarious ad libs. Britney is just a fantastic actor. We also had some amazing and gifted East Coast actors like Brian Anthony Wilson, Michael McFadden, Melissa OíDonnelI, Allison Kessler, Deborah Twiss, Michael Everett Johnson, Sophia Parola, Glen Macnow, Bev Gunn, Aaralyn Anderson, Jamie Kerezsi and my siblings Melissa and Nick among others.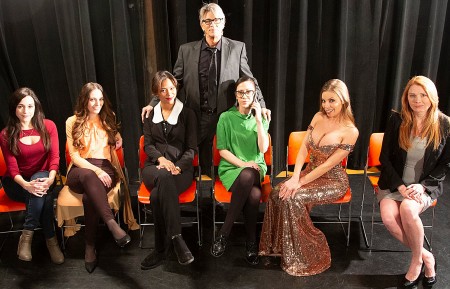 Finally, I canít forget Eric Roberts. The man is a legend. I remember the first time I saw The Pope of Greenwich Village, wow. He blew me away. I knew he would slay the PitchmanÖ it was just a matter of whether or not we could get him. Thankfully, we did.
A few words about the shoot as such, and the on-set atmosphere?
It was intense at times, but really only when we were in a crunch for time. Everybody on set was a killer though. I tried to keep it light, ya know? Weíre just a bunch of friends and family making some art.
The $64 question of course, where can The Arrangement be seen?
The film is being released by Gravitas Ventures on many VOD platforms (Comcast, VUDU, etc) this summer. Please check out The Arrangement page on Instagram - @thearrangmentmovie - or on Facebook - https://www.facebook.com/thearrangementNobleF/ - for updates.
Any future projects you'd like to share?
Well, I have a few things Iím working on, but there are two projects Iíll be putting the majority of my energy into. One is a script I wrote a while back, tentatively titled Guerilla 187. Itís about an independent film crew and their obsessive director that trespass on private property to shoot a film without permission. Things go well until the cops get called, and when the cops get called, deadly mistakes are made. The other is a modern day homage to the Fritz Lang and Alfred Hitchcock mystery thrillers of the 30s and 40s. It is entitled In Broad Daylight.
What got you into filmmaking to begin with, and did you receive any formal training on the subject?
Honestly, watching films got me into filmmaking. Talking about films got me into filmmaking. Watching my father pursue acting got me into filmmaking. My love of storytelling got me into filmmaking. I have very little formal training. I took a crash course with a great filmmaker and friend named Christian Jude Grillo [Christian Grillo interview - click here], but thatís about the extent of it. I consider myself to be more of a writer-director. I donít have a cinematography background. Thankfully I had an incredible cinematographer in Brian Keenan who always gets what I am trying to say. I just always liked to write and Iíve always appreciated and respected great acting, so I kind of just took what I like and mixed it with what I learned from being on set with my father when I was younger.
What can you tell us about your filmwork prior to The Arrangement?
Well, I directed 4 short films. My first was called Post-Hit Measures. It was a morality tale about two hitmen trying to get rid of a body. The second was a film called Just Like a Human. It is essentially an adaptation of a lovely Kris Kristofferson song called Here Comes That Rainbow Again. The third was a grittier piece called No Strings Attached. It was about two friends dealing with heroin addiction somewhere in Suburbia. The final short I directed was called Nod. A nice little film about two strangers crossing paths in the city and how their fear of the unknown is not always justified.
How would you describe yourself as a director?
I am a collaborative director. Directing to me starts and ends with the shots and the actors. The story is already there to be translated to screen. I look at the scene visually, work with Brian on how we want to capture it and then put together a game plan for the actors. I donít generally do rehearsals, but I make sure we cast right and have some off-set conversations with the actors on their thoughts. I listen to the actorís feedback, that is critical. In fact I listen to everyone on set. Everyone I work with is a filmmaker. They all have value to add.
Filmmakers who inspire you?
Too many. But Iíll name a few: Quentin Tarantino, Paul Thomas Anderson, Steve McQueen, Spike Lee, the Coen Brothers, David Fincher, Alejandro Gonzalez Inarritu, Jordan Peele, Martin McDonagh
Sean Baker, John Carpenter.
Your favourite movies?
Too many, but Iíll name a few: Pulp Fiction, The Master, In Bruges, Get Out, Birdman, One Flew Over The Cuckooís Nest, Chinatown, Fight Club, Do The Right Thing, Halloween.
... and of course, films you really deplore?

Feeling lucky ?
Want to
search
any of my partnershops yourself
for more, better results ?

The links below
will take you
just there!!!


I try not to throw too much shade at other films because I know how difficult it is to make one. However, I can still say that two films really made me angry. They were The Happening and Cloud Atlas. There was some lost opportunities there.
Your/your movie's website, social media, whatever else?
Please check out The Arrangement page on Instagram - @thearrangmentmovie - or on Facebook - https://www.facebook.com/thearrangementNobleF/ - for updates.
Anything else you're dying to mention and I have merely forgotten to ask?
No, but thank you so much for the chance to talk about The Arrangement.
Thanks for the interview!