Your upcoming movie Paranormalice - in a few words, what is it about?
In a few words, it is an introduction to a small southern U.S. town filled with dark secrets and its haunting past which creates the darkness within. The film follows a Kentucky based writer who travels to a small Alabama town in search of information about a local legend. He meets a gentleman at the local roadside motel who tells him four stories about the town.
I've seen Paranormalice labeled "Southern Gothic" - care to elaborate, and do you think the label's at all fitting?
There are plenty of self-appointed literary experts and cinephiles who will likely argue that the film isn't Gothic, because people create their own ideas about what things are or aren't. To answer your question - by traditional literary standards, while the film is mostly set in modern times, Paranormalice is in every way a southern Gothic tale. Labeling Paranormalice just a horror film despite the fact that there is plenty of horror elements within, is cheap packaging. This is a film with things going on under the surface and there's a certain haunting romanticism within. It hits a majority of the basic Gothic bullet points, and that wasn't by design. When the screenplay was finished however, upon review it was clearly a southern Gothic piece.
What were your sources of inspiration when writing Paranormalice?
Ultimately it was inspired by my love for anthology cinema. Unlike most anthologies however, I wanted to establish character development and tell stories rather than serve up vignettes.
Going segment to segment, Evil She is inspired partly by the DC Comics character The Spectre, as written in the Adventure Comics run of the 1970s by Michael Fleischer. The Spectre is one of my all time favorite comicbook heroes.When Paula Marcenaro Solinger [Paula Marcenaro Solinger interview - click here] read the script I sent her comicbook diving and she definitely brings out the subtle inspiration from within the story.
About The Neighbor is a reference-heavy piece. Director Chuck Hartsell trimmed some of that on set for time and for timeliness (and that was a good decision), but ultimately it's Rear Window meets Risky Business. It doesn't parallel either film, but there is definitive influence if you're looking for it.
Sirens of Black Woods was inspired by the short story The Most Dangerous Game by Richard Connell and the most modern take on that work, Ernest R. Dickerson's film, Surviving the Game. Like the other segments, it has its own thing going on but there is clear influence and inspiration within.
The Virgin Witch Of Mosswood is inspired by two pieces that I absolutely adore, Nathaniel Hawthorne's classic novel The Scarlet Letter (which is my all time favorite novel) and Robin Hardy's masterful film The Wicker Man. I assume since your readers are horror fans, they won't get that film mixed up with that atrocious piece of shit Nicholas Cage did. Our frame narrative is a classic horror anthology wrap around. We get information in the beginning and we meet two characters. Stories are told and those stories find themselves relative to the character telling them and the one listening to them.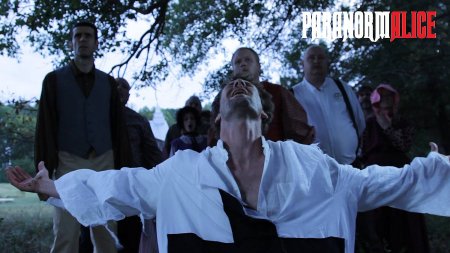 Boogie Dabney in the segment The Virgin Witch of Mosswood
You produced Paranormalice together with Jeremy Crowson [Jeremy Crowson interview - click here] - so what was your collaboration like? And how did you two first meet even?
We met in high school. He and I had several mutual friends. We didn't hang out a lot but I think we always felt a certain kinship to one another. Eventually through the power of social media we reconnected. Through a mutual acquaintance we both discovered the other was actively dabbling in film. That led into discussions about a partnership which became a plan of which step one was a short film entitled Is This You?, which can be seen on YouTube now, and step two is Paranormalice. We work well together and balance one another out. If there's a spat, we go to the woods with various tools cut each other into pieces, compromise, and put each other back together. That ultimately is why the partnership works. I can be my pretentious, ridiculous, and overly optimistic self and Jeremy can pull my head out of the clouds, bring me down to reality, stomp me in the spleen, and make sure my vision is intact while making sense out of budget and quality
Let's talk about your segment of Paranormalice, The Virgin Witch of Mosswood, for a moment: What is it about?
On the surface, The Virgin Witch of Mosswood is about a town of small minded people who have allowed gossip and paranoia to consume their spirits and humanity. They target a beautiful woman, Alice Parsons, who has seemingly never aged despite being in her thirties. She is the object of affection for several townsmen and of jealousy for several townswomen. When four children are presumed poisoned the town blames Alice, who is known for baking apple pies and handing them out to children and other people in town. What ensues is a tragedy that causes the town to implode.
What can you tell us about your directorial approach to your story at hand?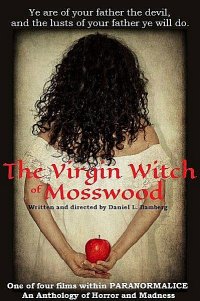 The Virgin Witch of Mosswood is an actor's piece. My main goal was communicating the message of the story to my actors while allowing them to develop the subtle traits of their characters. The casting of the segment was so specific and discriminative, once the cast was in place I felt the best move was to give the character development to those performers. As a writer/director my philosophy is, if I've written the story and the words the character is going to say, the blue print is established. Once the actor has that it is up to them to construct the rest. My job then is to trigger their emotions and to place them in the best opportunities to deliver what they've created internally. If I've cast someone I am trusting them to know the character better than I do by the time they arrive on set. That allows everything to be more organic. Visually, I translated my intent with the cinematographer, David Brower, and explained to him what I wanted and why. Sometimes that required extended explanation. I was very open to most of his ideas except in the way I wanted the tribunal shot. I wanted to cheat the audience out of certain angles for a specific purpose and very few folks on set, including David, understood why. Regardless, he gave me what I wanted. The lighting and framing of that segment are absolutely gorgeous and that is 100% David Brower who made a T2i do magical things.
Do talk about your cast, and why exactly these people?
I'll begin with the first actor cast in the entire anthology, Carl Donovan. Carl was the first person we cast for Paranormalice. I adore this man's ability to translate character and his cadence is mesmerizing. He's a classic actor.
I actually approached Nicole Kruex initially about directing the piece but after I decided The Virgin Witch of Mosswood was a story I wanted to tell, that changed. I offered her the role of Alice Parsons instead and she became it. After some lengthy discussion Nicole began developing the aspects of her character which weren't scripted, the emotions which needed to be under the surface. Nicole has a lot of irons in various film and video fires. While she's gifted and respected in those other areas, she's a born actress. I am certain she and I will work together again, but I honestly just hope to watch her perform more often as a fan, not only a filmmaker. She owns the screen. If I am the only one casting her in the next several years, so be it. That's everyone else's loss. That girl can play a wet paper sack in a city street and leap off of the screen.
Once I saw Boogie Dabney's audition it was clear he possessed the proper soft strength the character of Reverend Thomas Waits needed. He's a bit of a character in real life, but one hell of an actor. He also seemed to place a great deal of importance in giving me what I wanted and at times went well and beyond to deliver it. His talent is undeniable as will be seen.
Jason Henry and Rich Mansfield have relatively small roles but both are enormously important to the story in Pilate and Judas style characterizations. Jason was a bit concerned about playing a straight role as he is more or less a character actor, but Jason pulls it off splendidly. Again, a character who when given something important took it serious. Rich is an improvisational comedian and that worked out perfect for his role. He didn't do any line improvisation but his mannerisms and delivery are his own. The scene he is in plays as a stand off with Carl Donovan's character, and they go at it like verbal heavy weights. It was a fun thing to watch but it was a pleasure to edit.
What can you tell us about the shoot as such, and the on-set atmosphere?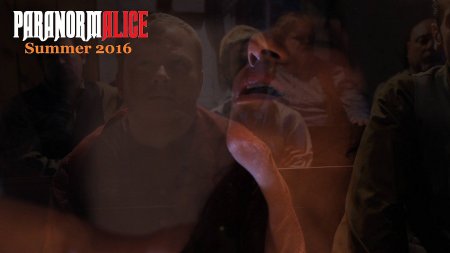 Nicole Kruex
Paranormalice, not unlike any low budget indie film trying to be bigger than its britches was a hard shoot. We had some enormously long days. If I am not mistaken one of the days for Evil She ran 18 hours consecutive with only meal breaks. As much as I hate to use the term "passion project" that is what the set atmosphere was like. Almost every person working on this film from the leading actors to the production assistants to the extras treated this like it was their project, and it is. I want to make that clear, every single person involved was inexpendable. We literally made miracles out of mustard seeds. We have all remained friends. Most of us stay in touch and everyone seems to be looking forward to seeing the payoff. It wasn't a party but most of the time it was a team effort that usually maintained high spirits, a few laughs, a ton of fond memories, and most importantly - set stories.
Returning to the anthology as a whole: What can you tell us about your fellow directors, and what was your collaboration with them like? And as a producer, how much of a say did you have (or demand) when it came to their approach to your stories?
Each of the directors generated their own versions of the scripted material. They all honored the script but when a compromise was needed to be made they asked and I obliged their creative efforts in almost every case. As I said as a director when I cast someone it is their role to develop internally. Otherwise there is no sense casting them. If you don't trust the actor to give you the character, don't bother. It is the same as a writer/producer with other directors taking your work. If you don't trust them to give you what is best for the story, then there was no sense handing them the script or the director's chair. They are all professional and deeply talented. They essentially ran their own ship. I essentially helped out and answered questions. In some cases I spoke to the actors about their character before they got on set, but on set the film belonged to the segment directors.
The $64-question of course, when and where might the film be released onto the general public?
We are submitting to some film festivals right now. You'll have to follow the Paranormalice Facebook page for updates as to if it has been accepted, what it has been accepted to, as well as when and where to see it. Obviously we're seeking distribution but we want to create a buzz first. We're trying to prove ourselves.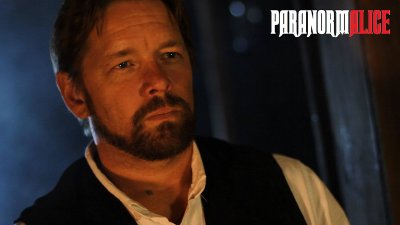 Carl Donovan
Any future projects beyond Paranormalice?
The future seems bright, but I haven't put on shades, yet. I am currently heading up an anthology entitled American Horror X which features ten segments from ten film makers across the U.S. Jeremy and I are actively talking with investors about a feature I've written entitled Confessions of a Graverobber which is a sequel of sorts to Paranormalice but isn't an anthology. I'll be directing that. I'll also be directing a 1970s period exploitation style film entitled Blood of My Blood. At the same time we're in the process of shopping a script that I am enormously proud of, a romantic thriller entitled The Broken Margins. And that's just a handful of things I'm working on.
What got you into filmmaking in the first place, and did you receive any formal training on the subject?
I've been writing stories in my head since early childhood. I've been an obsessive film fan most of my life. One day I woke up and realized this was what I wanted to do, nearly 25 years later I'm talking about my first feature film. As far as training, film school is a waste of money. You are either a visual story teller or you aren't. There are a lot of people in this industry (specifically on the low budget level) who are not honest with themselves. There's a ton of folks who don't have the skill or the instinct for this. Ultimately you have it or you don't. As much as I adore Kevin Smith as a personality and as a writer/director, his statement that any monkey with a camera can be a film maker is complete horseshit. But if you have it you do need experience, you do need to learn, and you do need to hone your craft. If you want to learn how to make a film, read books, listen to film makers you admire, buy a camera and spend some time as a guerrilla filmmaker learning every aspect, take a couple of non-paying or low-paying indie film jobs as a production assistant. That is how I learned to make a film. I self taught myself how to do everything and most importantly I am still learning. If you ever feel that you've learned all there is to be learned you're a rank amateur at best. I spent a decade as a regular Joe working regular jobs and doing guerrilla film work then I got myself on a few indie sets and now I'm running with scissors. That's not a success story yet, but my story won't begin with "so I dropped forty grand for some pretentious ding-bats to tell me why Kubrick was a genius (despite his inability to keep a fucking budget or set time in order, artistically superb or not) and how everyone rips off Hitchcock, Ford, or Lean. I can get that nonsense online at any cinephile circle jerk with a stack of Woody Allen tongue porn in the center. If you want to be a filmmaker and actually know how to tell a story, go make a fucking movie. Only have ten bucks? Spend it on a pizza to feed folks and borrow a camera from a buddy. Sure it will look like crap, sound like crap, and your edit will likely be crap but the experience you got from ten bucks and some blood on the slate will be worth ten times what you could have gotten for forty thousand in the film school rip off game.
What can you tell us about your filmwork prior to Paranormalice?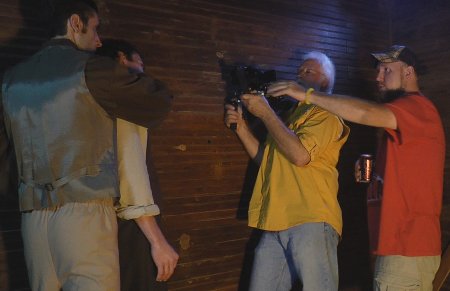 shooting The Virgin Witch of Mosswood
My background is guerrilla filmmaking. I produced, directed, shot, and edited a feature length documentary in 2007 that never saw the light of day due to legal issues. It did have a premiere showing in front of a small audience. Before that I did music videos for unsigned artists, and short films just to hone my craft. Is This You?, a short film which was my first collaboration with Jeremy was my first film where I wasn't the entire crew. Paranormalice is my second professional film and Confessions of a Graverobber will be my first professional feature length film where I am the sole director.
How would you describe yourself as a director?
I approach directing as the job that it truly is. Essentially a director is a manager of the various parts to a production. Far too many directors take credit for what a cinematographer does. A cinematographer is the one who makes the pretty pictures. Yes a director approves the shots, and yes he conceives the shots but making it work is the job of the cinematographer. The most important job of any director is to inspire their cast. If a performance is stale and the actor is talented, that's usually the result of a thoughtless director. I'm a manager and actor's director. I conceive shots and plan out my structure, but I let people do their jobs and find ways to trigger their talents for the best end result. My job in that capacity is to inspire the artists not to be the artist.
Filmmakers, writers, whoever else who inspire you?
I could probably name a hundred film makers who have inspired me without blinking. Those who have inspired me the most are: Ingmar Bergman, Akira Kurosawa, Brian DePalma, Martin Scorsese, Mario Bava [Mario Bava bio - click here], Steven Spielberg, John Carpenter, Dario Argento, David Cronenberg, Kiyoshi Kurosawa, Nicholas Roeg, Quentin Tarantino and Clint Eastwood.
Writers? Nathaniel Hawthorne, Edgar Allan Poe, Thomas Hardy, William Faulker, Tennesse Williams, Rainer Maria Rilke, Dylan Thomas, O'Henry, Hunter S. Thompson and Stephen King.
Anyone else? Christ and tragic figures.
Your favourite movies?
The films that have inspired me the most, that have maintained a certain reverence are: The Virgin Spring, Jaws, High Plains Drifter, Blow Out, True Romance, Suspiria, The Wicker Man, Cool Hand Luke, and the original Texas Chainsaw Massacre.
... and of course, films you really deplore?

Feeling lucky ?
Want to
search
any of my partnershops yourself
for more, better results ?

The links below
will take you
just there!!!

Find Daniel L. Bamberg
at the amazons ...

amazon.com

amazon.co.uk

amazon.de
Looking for imports ?
Find Daniel L. Bamberg here ...
Something naughty ?
(Must be over 18 to go there !)

I deplore films with no story. I don't really feel like throwing anyone under the bus. Completing any film is a worthy and notable accomplishment.
Your/your movie's website, Facebook, whatever else?
The website for Suncrow Productions as well as Paranormalice is forthcoming. Right now you can keep up with both on their individual Facebook pages. And here's a little teaser: https://www.youtube.com/watch?v=SqSIIFLIY_o
Anything else you're dying to mention and I have merely forgotten to ask?
American Horror X! We're all filming now. This project will include segments written, directed, and produced by Marcus Koch (100 Tears) [Marcus Koch interview - click here], Mitchel A. Jones (After The Dawn), Daniel Emery Taylor (Camp Massacre), Shane Ryan (My Name is A by anonymous) [Shane Ryan interview - click here], and Jakob Bilinski (Three Tears On Blood Stained Flesh), as well as others from across the country.
Thanks for the interview!
Thank you. I'm sorry if I talked your ear off but I'll place it in a box and Van Gogh away now.