Your movie Fell - in a few words, what is it about?
It's about the aftermath of a break up, being heavily medicated and what it might feel like to slowly be losing your mind. It centers on Bill, played by Jeff Dylan Graham. We see his world through his eyes and piece together what events may have transpired - Bill has a dead girl in his bath tub. He's cleaned up the evidence and has no one he can turn to for help... except his friend Derrik.
What were your initial inspirations when writing Fell?
I really wanted to do a film that was claustrophobic and minimalist. Something to try and evoke what it must be like as you lose touch with reality due to abuse of medications. It's something I've always wanted to do but hadn't yet. I'm usually a bit more upbeat and tend to like a lot of gore and cheese in movies. I know I'm not really breaking any new ground, but for me it was a departure from my normal goofiness to tackle something like Fell, something that would really get under your skin if you let it.
Fell's central character Bill - how much of yourself have you put into him, and is that film in any way autobiographical?
Actually, none. I've led a basically normal life (I've never been on prescription medications), though growing up and going to an art school, I saw how many of my friends would get misdiagnosed with depression and their parents and doctors would put them on all kinds of fucked up medications. I'd literally watch my friends become ghosts of who they were. It really scared me to try and understand what things would be going through their minds. They'd talk to people who weren't there and start conversations in the middle of something that was in their head. They just started doing things that may have seemed like normal behavior to them, but on the outside to everyone else, seemed strange and disconnected from reality.
You have listed your three key actors as cowriters - what can you tell us about their contributions?
As far as writing Fell, it was a very unique experience. I knew the tone and feel of what I wanted to make but the story was written by all of us - Jeff, Katie Walters, and Kristian Day [Kristian Day interview - click here]. It was literally a think tank. We were bouncing ideas back and forth until the story revealed itself. Not a single frame was shot until all the pieces of this puzzle had fallen into place. We knew every aspect of Bill's story, how things were to unfold little by little, what each character's role in the film needed to be, and how their roles affected Bill. The entire process was very organic and I think this form of filmmaking might just be my new favorite way to work. I couldn't have done it without them.
How did the project fall together in the first place?
That is a very long story, though there is a very interesting, tragic story behind it - one I cannot divulge too many details so I'll give you the basic rundown. I had been friends with Jeff and Kristian and we had worked together before, Kristian scored 100 Tears, and I killed Jeff off in a small cameo. We wanted to work on something again so we decided to shoot in Iowa where Kristian lives. Elmar Berger, our Executive Producer, wanted to do another film and gave us the freedom to just go nuts and do what ever we wanted.
With a limited budget.
On a two week shoot.
Kristian and I had been tinkering with an old story I wrote years ago and reworked it into a new, weirder story. Jeff flew in, we hired an actress, and assembled a small crew.
This is where everything began to spiral out of control. From day one the cards seemed to be stacked against that film. It was one problem stacked with another problem, mainly due to our lead actress - I will not name names. I've worked on thirty plus independent films (some big, most small) and never have I encountered an actress that caused so much stress and had such a volatile attitude towards everyone. Everyday was a new experience in just how insane one person could be. By day four I was ready to throw in the towel and send her home. After some chatting, we all decided to keep moving forward. Around day 10 we had enough:
We all had been broken down and beaten mentally by her. We could no longer tolerate the racial slurs, picking fights with other cast members, talking shit about the cast and crew, and trying to pit everyone else against each other. There were crazy insane lies, refusing to come to set if someone she didn't like was there, asking us to fire other people she didn't like, and locking herself in her room. She'd also stop filming for hours on end to fight with her boyfriend on the phone. It truly was surreal. Never in my life have I had to fire someone. It was a hard decision to make because we were so close to the finish line. She was the lead character in the film, the whole concept revolved around her, if I fired her and sent her home, there would be no way to fix the film or rewrite her out. It was literally a move that was going to shut down the whole production.
It really was scary but it had to be done. I sat her down alone in a room, and told her it's over. Go home. It was not a very nice conversation. It takes a lot of button pushing to get me to open my mouth and be aggressive but I had to do it and I was very cruel. Frankly, I had no idea I was capable of saying some of the things I had said to her.
We had left her in the house, to pack her things and wait for her cab. Jeff, Kristian, Katie (who at the time was just helping out as a PA) and I went to a nearby park to discuss what had just happened and what we should do next - then we realized: holy shit, we left her in the house alone!
Who knew what she would do - break things, burn things, hang herself? So we ran back to find her bags were gone and all was quiet. The cab must have arrived, but we had to be sure. This probably sounds insane, but we looked everywhere in the house to make sure she wasn't hiding in a closet, the attic, or the basement. We looked under all the beds, any place someone could fit into and be out of sight. She had us all so worked up from her shenanigans, that we really thought she was crazy enough to do something like that, we didn't believe she was actually gone. But she was. It was over.
This now left us with four days to have a movie in the can and it seemed hopeless. There was hardly any budget left and there was absolutely no way to salvage the footage, which still to this day sits on a hard drive - useless.
Wasted space. We took the remaining budget to buy food and adult drinks for everyone, deciding to drown our sorrows and woes in the bottles. We needed some release from the last ten days of utter hell. There was a lot of tears shed as we got lost in the sauce, We knew we had to make a film, and something happened, the ideas just started flowing out, it's as if we got into the groove so to speak, and started writing down these ideas, dead girl in bath tub, guy cleaning up blood, guy has a weird friend, the pills, the radio, the excessive phone calls, the eggs, the twists, everything. We had everything planned, and had written down virtually everything that needed to happen along the way. We finished by 6am. And went to sleep, woke up at noon, then like a well-oiled machine we went to work filming. We set the story to take place over 3 days, because that's all we had left to work with, and set our schedule so we could shoot in chronological order (with the exception of the flash backs - we had to wait till winter and fly back to get those). And by the end of the 3rd night we had our little feature film, and went home to edit.
I finished the rough cut in about a month, and just like the shoot, everything fell into place (I know, I can't avoid that pun), but I'm happy with the finished film. So that's all that matters. And it's an odd little movie, most things I work on I don't really like to shamelessly plug - I feel like a douchebag when I tell people to check out my movies ... but Fell falls into a strange category for me, its a film that if I had not directed it, it would be one that I'd tell people who like these types of movies, they should seriously see it.
How would you describe your directorial approach to the subject at hand?
We knew going into the film it was going to be very experimental, and all of us had to be on the same page or it would never work. I'll admit, it's ridiculous and dangerous to try and write a story in less then 12 hours, and plan to shoot it in 3 days, there wasn't a script, just a solid framework written as single sentences. We knew how everything had to play out to make it work, and couldn't deviate or stray from the outline. We had 3 pieces of paper, each with about 30 things that needed to happen to lead us to the next scene.
We didn't blindly improv the scenes, we had discussed each step of the way, what would they say as we got to that scene.
It's an insane way to work, it's extremely liberating and free-form to an extent - and this allowed us to move quickly, and go on gut feelings. It was so raw and in the moment.
And I think that had we spent a month planning this and 2 weeks shooting it, it would have lost too much of that unfiltered insanity. Of course it could have all worked as a short film storywise, it could be truncated and have had the same twists, and still work, but that feeling of chaotic redundancy and perpetual dwelling on negative emotions would be gone as a short film. Plus who said a feature film always has to be a popcorn film, and leave you feeling happy you watched something good.
I wanted a film that would be the equivalent to chewing on tinfoil, nails on a chalkboard - that would hurt to watch, I wanted to leave the viewer with feelings of discomfort.
I'm not setting out to please everyone with Fell. It's not for everyone, its not a film with any gray area, you'll either like it or you won't.
What surprised me about Fell was that even though you are known first and foremost as a special effects wizard, the film is very low on effects - now I don't know how to form a question out of this, but would you care to answer anyhow?
I do a ton of over-the-top gore, from goofy cheesy gore to the downright extreme and graphically violent, depending on the film. I love gore FX, I'm a kid in a candy store, but I was a little burnt out, and I needed a break, I really wanted to try something that wasn't driven by FX, and focus on character and story. Of course there was a short time, at the very end of the film, we were all set to dismember the body in the tub in a truly grisly fashion. But it was just too much! If you know me, I think it's what audiences are waiting the whole time to see, but I felt I'd be cheating and a gory ending just didn't feel right.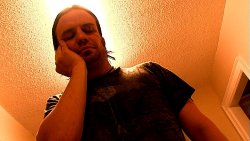 Jeff Dylan Graham
Your lead Jeff Dylan Graham: What can you tell us about him, and why do you think he was perfect for the role?
I started talking to Jeff when we were both starting out, I had just finished Rot, and he had done his first 2 movies which I keep threatening to watch one day. He and I just clicked immediately, we both worked on a lot of no budget bad movies over the years, and always wanted to work on something together, he was acting and I was doing FX.
It wasn't until 10 years later that I'd direct anything again, and that was 100 Tears, pretty much the whole thing was all ready-cast, but we still needed victims, so we put him in the Jack and Jill scene (the girl with no legs) - it's just a quick little death scene, but for what it was its actually a pretty intense little scene, probably the only pitch black humor in the film (sorry, I actually hate the fact 100 Tears ended up with Kevin Smith-type dialog and potty humor wasn't my choice). But at that moment, I knew Jeff would be amazing in a lead role, which is why I flew him to Iowa for that first film that went to shit (he played opposite the lead actress), but I'm glad it did because otherwise I wouldn't have had Fell.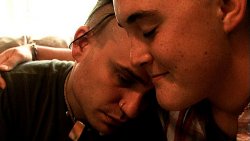 Jeff Dylan Graham, Katie Walters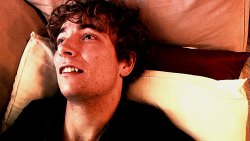 Kristian Day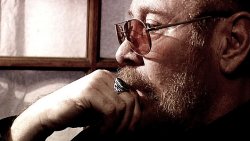 Barron Christian
Katie Walters and Kristian Day [Kristian Day interview - click here] - a few words about them and their characters?
Katie came on the first film as a PA, and really was the only one who stuck it out when the shit hit the fan. She stayed with us through the hell of it. She isn't an actress, but once we hit the road running, I think she was perfect as Bill's ex Jenny. She has this untapped innocence, she's not trying hard to look like a "hot girl" or a sexy model, she's just who she is, so to me that feels very real. She's a girl everyone has known in their life.
Kristian, is someone who my producer Elmar found on mySpace. Saw his music page and said why not contact this guy to score 100 Tears - so I did., his music and soundscapes are just awkward and eerie, unsettling yet enchanting. Again we hit it off instantly, we both shared many tastes in so much obscure music and odd films. He's also a director, so I've worked for him doing FX on his projects, and we just wanted to do something experimental and weird, which became that film we dare not speak of. But again, he's not an actor, at least not yet muahahaha, but I had him, and I think his character Derrik is perfectly odd and quirky, as he needed to be.
Your film also features Hollywood relic (his own description) Barron Christian [Barron Christian interview - click here]. What can you tell us about him, and what was your collaboration like?
Barron Christian, where do I begin? He's a lovely man. I would not have him if it weren't for Kristian Day, they've known each other and worked on short films over the years.
He is a just an amazing cool guy, a wealth of knowledge, he's the voice of the old Ford Truck commercials, he's been a Klingon, he's directed documentaries. So it was great to have him around, he was there when the madness ensued, but he left the day before I fired that one actress. So I had to wait until we came back to Iowa to film the flashbacks in the snow. So we could see Bill's Psychiatrist. And then I found 200 Dollars.
I think one of the key ingredients of Fell is its location. So would you like to talk about your location for a bit?
The location was Kristian Day's house. Well the first film was also pretty much a minimal location shoot, 1 house, and a park, etc, so that was the main element when Fell came about. We at least had the location to build a new story around.
I've heard that you initially had problems to get Fell into festivals. Would you like to elaborate on that?
A cold hard lesson into what I now believe to be a scam called "Film Festivals" with submission fees ranging from 30 bucks to 100 bucks. With no money back if your film is not selected. OK I get it, the film ain't for everyone, the people who select films sit around and have to watch literally hundreds of films, I think they watch the first 10 minutes of a film, and if there is no hook to grab them, it goes in the trash.
Sadly I've made a film with a hook that doesn't show up till about 65 minutes into it - so I think Fell can be found at the bottom of many garbage cans.
It's really a "who you know"-sorta industry, we submitted to as many fests as we could, it was too arthouse for horror festivals, it was too horror for arthouse festivals. It just doesn't seem to fit in anywhere. Meanwhile the cost of submitting just became too much, literally thousands of dollars, just gone down the drain, with nothing to show for it. Funny thing is the only 2 film festivals it played were both people I knew running them, and were fans of 100 Tears, so they wanted to screen my new movie. So that's how we premiered the film in Belfast, Ireland at the Yellow Fever International Film Festival, which it was a big hit at. Took a lot of people by surprise because they didn't know what they were in for. Same with the American premiere in Dallas Texas, the Blood Bath Film Festival. The people running the show loved 100 Tears and wanted to be the first to screen the new movie.
So lesson learned, if you don't have an inside connection save your money. Because I just spent 2 years more or less "Donating to the arts".
What can you tell us about critical and audience response so far, though?
It's hit and miss, those who hate it fucking hate it - and that's ok. It more than makes up for it when I see that it struck a deep chord within someone on a personal level, I've seen people get all choked up, I've seen people cry. People have told me they didn't like it at first, but for days after seeing it couldn't shake the feeling of seeing it.
You can't make a film for everyone, you can only make a film that makes you happy that you've made it, and it will find its own audience.
Let's go back to the beginnings of your career for a bit: You have actually started out as a special effects artist, right? What got you interested in this line of work, and did you receive any formal education on the subject?
I grew up on horror films, for that I thank my parents for not censoring what I could watch - and I really saw some bad shit that kids should absolutely not watch. Growing up I always had an interest in art and magic tricks, and with my love for horror movies, special effects only seemed like the right place for me, so at 7 I decided that's what I was going to do with my life and made every move in life count towards that. I'm a high school drop out (I dropped out to pursue this full time) and the only training I had was trial and error.
If you can read a book, you can learn the technical side of things, but you aren't going to fully learn until you apply the knowledge and see what really works and what doesn't with your own 2 hands.
Recently, you have done effects on the Joe R. Lansdale adaptation Christmas with the Dead [Joe R. Lansdale interview - click here] - and since I have interviewed pretty much everyone else on that film, you just have to say a few words about your work on it?
Joe Lansdale is a blast to work with, he's just as fun and and weird as his stories. Last month, when I went to Texas to work, I decided to pass through Nacadoches, to have coffee with Joe and his wife Karen. Also, I couldn't make the Premiere of Christmas with the Dead, so while I was in the Nac, I got to have my own private screening. It's a very quirky fun little film, we shot it about this time last year with the film school in Nac. It was a different experience for me, it was a very small budget, lots of zombie to attend to daily, and it was very hot. Probably the worst time of year in Texas to have a bunch of people in varying degrees of make up - prosthetics were sweating off, make up was rubbing off, it was alot of upkeep. Thankfully I had a kick-ass crew working with me, Cat Bernier and Matt Ash, Heather Beauvais, & Maranda Du Bose. We had our hands full. Some of the bigger days, we'd work an 8 hour day getting all the zombies in make up, before we'd move onto a 10 hour shoot, it was grueling in the heat, but ultimately it was a lot of fun, great crew, great cast. Kasey Lansdale is a sweetheart [Kasey Lansdale interview - click here]. Oh yeah and then there was this guy who was always around, Damian Maffei, some guy who acts or something, good hair tho [Damian Maffei interview - click here].
Damian actually pushed hard to get me on the film, we had known each other through a horror chat for years, and I'd bring him on projects I was working on in NY, he's good people.
You have also provided effects for gore legend Herschell Gordon Lewis's The Uh-Oh Show [Herschell Gordon Lewis bio - click here] - what was it like working with him?
Herschell is in his 80's and he is every bit the man, the myth, and the legend. He likes to work fast, and you don't really get a second take on anything. We had a very large crew on that, and it was tough for all us young'ns to keep up with him. The Uh-Oh Show was insane to work on, he has this sort of dry sense of humor, and he knows what he wants. When I first met him, I brought some props and my portfoli, to show him - I mean he IS the Godfather of GORE! He looked at one of my severed arm props, fingernails, punched hair, the works, he looked it over, thought for a second, then asked me "can you make the body parts look fake? This looks too real." - I was a bit stumped, because no one had ever asked me that before, I thought to myself "what the hell do I do? How am i going to pull this off?" - if everything looks fake then who is going to want me to work on their films? Usually it's the other way around, they want things to look MORE real, which sometimes on a low budget you are limited to what materials you can work with.
On The Uh-Oh Show, Shelby McIntyre and I actually had a very good budget, so we were making everything out of silicone and tinting it this god-awful peach color, with no shading. It was like working with very expensive silicone mannequin parts ... and he hated my blood color! Again, something I pride my self on is my blood. It looked too real, he told me. Back in the day he used Pepto Bizmol and red food coloring, so I was striving to match his blood color, closer to a bright pinkish red. But I think all in all, as goofy as everything looked, it all works within the context of the film - and no joke again, you really get one take, if an actor flubbed a line and would ask for a second take, he would respond with "it doesn't matter, it's going straight to radio."
Any other films you provided the effects for you want to talk about?
Theatre Bizarre!
I was brought on by David Gregory for his segment Sweets. When I read this script, I thought wow this is so unique and fucked up and gross, and the gore in it isn't the gross part, it was all the candy, and the colorful food and eating. It was uncomfortably nauseating. I had 2 weeks to prep a full size body that gets suspended and gutted open. We had a very tight 3 day shoot, and hands down I must say it was absolutely the smoothest shoot ever. It was a dream shoot, especially since it was with a crew of close to 50 people. After the first 12 hour shoot, it felt like everyone had worked a month straight and finally gotten in the groove, it was just awesome. Day 3 was the big FX day, and it was a little stressful, because on those kinds of days, all eyes are on me. And there is nothing more embarrassing when things go wrong - but thankfully, everything went smoothly, and I pulled it off like a rock star. There is a great behind-the-scenes clip of Lorry Stone and I stuffing the guts in the body, and of course the hole to fill the body is exactly where a hole should be. So there's Lorry and I literally fisting this body filling it with blood and guts. Good times indeed.
What made you eventually decide to go into directing, and what can you tell us about your first two films, Snuff Perversions: Bizarre Cases of Death and Rot - and lessons learned from them?
Oh shit, now you've gone and dug that film up, Snuff Perversions - I don't really have anything nice to say about that trainwreck. I shot 3 segments for it, it was supposed to be this shocking hardcore extreme movie comprised of many short films depicting snuff, and I've always been about the extreme films, so I was game! But sadly the finished movie is a terrible waste and it's so bad and laughable rather than shocking, it's utter dreck. But I guess we all have skeletons in our closet and that's one of mine.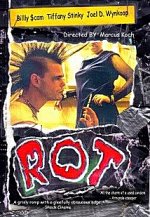 Rot of course is my first feature (at least that I'll admit to), it's a bad movie, it's about punks' puke and necrophilia, ah but what the hell, for all its no budget flaws, it was a rather fun movie to shoot, with good friends all just having a blast making it. Billly Scam, Tiffany Stinky, and the infamous Joel D. Wynkoop [Joel D. Wynkoop interview - click here]. And a fucking kick ass punk sound track, we had the Scams, Blank 77, the Casulties, Anti Freeze, Mega Smegma , I keep threatening to release this on DVD. So that may be something to look forward to in the near future - hint hint! The 15 year anniversary edition.
But before Rot I made 3 other feature films, none of which will see the light of day, at least unless you bring beer to my house and I dust off the VHS and decide to bore you to tears with White Massacre, LunchMeat, and Bad Blood.
As far as how I got into directing - it's a strange thing, I didn't start off wanting to direct at all, really just wanted to do the FX. but as I would make little FX creations and make-up tests, I would videotape them, then soon, I'd put them to use in little scenes, then the scenes became little short films ... and by doing that, I needed actors (friends) and lighting, and would have to figure out blocking, then once I shot these, I'd have to learn editing. All of this was very rudimentary in learning how to make movies.
That was my film school, I learned by making lots of mistakes, and trying to avoid those same mistakes on the next short. With each mini-movie, I'd try and focus on different aspects of what I didn't like on the previous movie. Like feeding actors, aka neigborhood friends. People work harder when there is food involved. If you don't have money, feed them!
Of course, once you have bad sound, you pay more attention to that as you make the next movie, or bad lighting, or plot holes, or bad acting. And each time you try and improve those things. But at 12 or 13 I got bored with making mini movies, and decided I'm going to tackle feature movies. So I did! I mean they are fucking terrible - but I was learning.
But I don't fool myself into thinking I've learned everything there is to know, I'm still learning, there is always a new way to do things or a better way. Granted, I probably have taught myself the wrong way to do things all these years, heh, but I like to think I have a good foundation to at least stand and build upon.
A few words about 100 Tears?
It's on Netflix so watch it before it's gone! It's got a clown with a giant meat cleaver and a lot of people get disassembled. It's cheesy, it's got a lot of mistakes, bad acting, bad plotholes. But it was so much fun to make. We made many bloody messes - it was a good time.
Any future projects you'd like to talk about?
My dream project, if I can ever get it off the ground is Babydoll: The Afterlife and Misadventures of a Dead Girl and the Mob - but I can't seem to get proper funding for it.
Maybe it's a bad script, I don't know. But one day, when all the pieces fall into place, I'll make it.
Special effects artists who have influenced you?
All of them. Heh, I'm a big fan of Rob Bottin, Steve Johnson, Screaming Mad George, Gabe Bartalos, John Dods, Vincent Guastini, Rick Baker, and of course Dick Smith - really too many to name.
Directors who inspire you?
Frank Henenlotter, John Waters, Peter Jackson, Hitchcock, Polanski, Jodorowsky.
Your favourite movies?
Frankenhooker, Street Trash, Dolls, Bride of Reanimator, Society, From Beyond, Return of the Living Dead, The Alien's Deadly Spawn, Rope, Paperhouse, Clean Shaven, Chasing Sleep ... again too many to name.
... and of course, films you really deplore?

Feeling lucky ?
Want to
search
any of my partnershops yourself
for more, better results ?

The links below
will take you
just there!!!

Find Marcus Koch
at the amazons ...

amazon.com

amazon.co.uk

amazon.de
Looking for imports ?
Find Marcus Koch here ...
Something naughty ?
(Must be over 18 to go there !)

This is a hard one, I love so many bad films, it's part of their charm, it's a weird thing for me to hate a film, if I see something and I don't like it, I just forget about it - which is a curse, because I'll end up buying it again and rewatching it, and think "god this is aweful", then forget I saw it again ... and repeat the process. Not enough space in my head to remember things I don't like.
Your website, Facebook, whatever else?
http://www.facebook.com/profile.php?id=860715695
Anything else you are dying to mention and I have merely forgotten to ask?
A few films I've worked on are all finally getting released, or have been released, that are really fun gore films, Sweatshop is finally available. And coming soon is Bloody Bloody Bible Camp and Girls Gone Dead. As I write this, I just remembered Girls Gone Dead actually comes out today. So I need to go buy a copy. Heh, all of these are really fun, vulgar films! Gory and cheese-tastic! To the hilt!
Thanks for the interview!