You've only very recently made your first movie, Devil's Idol, which is a bit of an hommage to cult horror in general - so what were your inspirations behind making the movie?
First off, I have always been a crazy fan of horror films, right from a kid who stayed up to watch Hammer horrors on late night TV. I have collected films from the old days of Super 8mm, to VHS, to laserdisc, DVD and now Blu-ray, and I never tire of finding new titles to add, or memorabilia to display. Over the years I have followed the collector festivals, and met fellow horror fans. The wonders of the internet, now mean that so many horror groups exist, and fans can chat together, or meet at conventions and festivals, and it has really brought so many people together who would normally never get the chance to share their love of this genre. The other great thing of course, is that you can also get to meet the stars of these films too, as well as people involved in the production side. You also get to chat with creative folk who are interested in making their own movies, and I have had inspiration from some cool people like Emma Dark [Emma Dark interview - click here] and Jason Read, through the wonderful Misty Moon organisation. In fact, it was through them that I got to fulfill a lifetime ambition of appearing in a horror movie in the first place, when I helped crowdfund their production of Ripper Tour. Acting opposite the legend that is Lynn Lowry was a treasured experience I can tell you, and I struck lucky a second time with a fun cameo part in another film they made called Ready For My Close Up, which of course you, Michael, wrote for them [Michael Haberfelner interview - click here]. So with my interest reaching such levels to now go from fan to actor in these kind of films, I then started toying with the idea of actually making one myself. To be honest, I had tried a few abortive attempts at a horror film during the Super 8mm days when I was a teenager, but they came to nothing. I tried again in the 80's with a VHS camera to get some friends involved in a little horror opus that was going to see a mad killer running through a house at night, but that fell flat when people dropped out and lost interest. So the idea of actually making a film has always been lingering in my mind, but a mixture of lack of opportunity, or time, or money, or inspiration, all stopped anything from happening.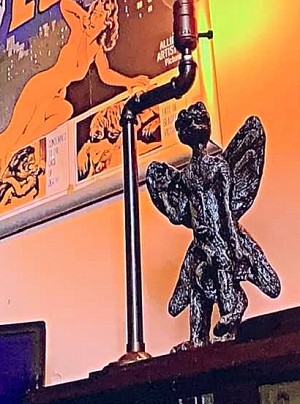 What's rather remarkable is that you made this, your first, movie while the country was under lockdown - so what triggered you to take the plunge exactly then?
It was after speaking with Emma Dark a few weeks ago when she mentioned the isolation film makers project that she was involved with, that set the idea off in my head. She really inspired me to have a go, and with so much free time on my hands due to the lockdown, and the technology contained in a mobile phone, plus the fact that I have video editing software on my PC already, made me stir myself into action.
What were your sources of inspiration when dreaming up the plot for Devil's Idol?
Obviously, you have to have a basic idea, and I always thought that old TV movie called Trilogy of Terror from 1975 with Karen Black, had that wonderful third act called Amelia, where she buys an African Zuni doll that is supposed to have the spirit of a dead warrior inside it, which inevitably is released to cause mayhem for 20 minutes. It terrified me as a kid seeing this film, and I thought the concept was well suited for a one man show to try to come up with something similar.
Do talk about the titular idol itself for a bit, and how did you bring it to life?
Luckily, I had recently met Eileen Dietz [Eileen Dietz interview - click here] of The Exorcist fame at the Darkfest 3 event in London, and she was selling these resin based Pazuzu statues, so naturally, I couldn't resist but buy one, and he has been resting proudly on my DVD shelf ever since, waiting for his moment of stardom. So, armed with the basic idea of this little devil somehow being alive, and roaming the grounds outside the apartment where I live, I started filming on 10th April, around 2am in the garden, looking for a perfect full moon shot. I had foolishly missed the Super moon of the previous night, but I managed to get some great shots through the branches of an enormous oak tree, and once I had filmed the statue amongst the grass and flowers, and saw how clear and good the footage looked on the PC, it really set me off to try and make the whole thing look as professional as possible.
Having done the movie entirely on your own, how did you actually film it?
Necessity is the Mother of Invention as the old saying goes, and before I knew it, I had come up with a sort of makeshift selfie stick made from a piece of plumbing pipe I had lying around, and with the phone mounted at floor level, it served perfectly as a Devil's eye view of the world, roaming around as though he was on Steadicam. The story then kind of evolved in my head as I thought about how the demon would get into the building, find a suitable lost soul to corrupt, and spend 20 minutes chasing and torturing. It really was fun deciding on camera angles for each shot. Putting the phone on the floor at a tilted upward angle, or standing it on a chair. Holding it in selfie mode, and turning it round to face me so I could get a medium shot whilst still having the camera in my hand. I got stuff wrong obviously, but the beauty of shooting digitally is that you just delete the bits that went wrong, and do it again. I found big chunks of the dialogue where I am on the phone to my ex-partner, just came out as improvised and natural. I did a single take on that 2 minute phone scene, and luckily I never fluffed any of the dialogue.
So what can you tell us about the shoot as such, and post production?
I think the most fun I had was with playing around with the stop motion animation and the green screen stuff. All this is pretty standard on video editing software nowadays, and the shot I made of the idol running towards me were simply staged by setting the camera on the floor, and taking a still picture, then moving the model an inch, then another picture, and once they were put in sequence, it all looks like flowing movement. I found the flow of the story just developed naturally, and I pretty much shot each evening in the sequence that you see in the finished film. It's amazing how a few day for night filters, and some mood music, can create atmosphere. I found I was scaring myself when watching the playback of some of the scenes, once everything had been put together. Again, with the wonders of technology, you can even find free music online to add to your films, so anyone can make a movie, provided you have a basic outline plot, and a little sense of how a film is edited and put together. I'd thoroughly recommend others give it a try. This film cost me nothing but time really. I used stuff around the home for props and lighting, I visualised how I wanted it to look on screen, and I then went about how I'd achieve that with only a camera phone to capture it.

Feeling lucky ?
Want to
search
any of my partnershops yourself
for more, better results ?

The links below
will take you
just there!!!


The $64-question of course, where can your movie be seen?
I hope as many people get to see the film as possible, and I hope to enter it into future festivals, probably in a trimmed down, tighter edit, since 24 minutes is a bit long for holding people's attention span these days. But feel free to watch the movie here: https://vimeo.com/410557237