First of all, why don't you introduce yourself to those of us who don't already know you?
I'm an independent filmmaker who's trying to 'break through' and be noticed in what is the toughest industry on the planet. I'm the writer/director (and sometimes co-producer) on the low budget movies Visions of Violence (2007), Hollywood (2007), Knock 'Em Dead, Kid (2009), and Cahuenga Pass (2010). And I'm looking to step it up and create a much more polished effort my next go round.
Your latest feature is called Knock 'Em Dead, Kid. In a few words, what is it about?
Knock 'Em Dead, Kid, made for just about $3,000, is about Bret, a 19-year-old who's trying to make it through the summer, without too much trouble, before heading off to college. However, Bret puts himself in certain situations - messing around with a girl, while also trying to hide it from his long-term girlfriend and participating a revenge-style assault that could bring forth charges - and derail his long term plans. It is available for purchase or rental on amazon.com so everyone can check it out and see for themselves what you can do with $3,000 (and tons of problems during production and post-production) - http://www.amazon.com/Knock-Em-Dead-Kid/dp/B002ORZS4K!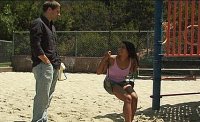 Knock 'Em Dead, Kid
To an extent, Knock 'Em Dead, Kid is a coming-of-age film. Is it in any way autobiographical?
I would say that about 75% is semi-autobiographical and 25% is made up. What is real and what isn't? To quote Trish from Knock 'Em Dead, Kid - 'I'll never tell.'
Other sources of inspiration?
A huge source of inspiration on Knock is the 1979 movie Over the Edge. That along with Boyz N the Hood and Mean Streets in terms of telling a story based on where you're from and what you've experienced.
What can you tell us about audience reception?
Audience reception varies. What's interesting is how some people can look at it and understand it was made for $3000 and judge it on that. Others will then compare it to the multi-million dollar films at the multiplex and dismiss it. Numerous critics have reviewed it and those can be found on the imdb site: http://www.imdb.com/title/tt1408384/externalreviews.
The movie won an award at the Twin Rivers Media Festival and for that I am forever grateful as they could see what it was I was trying to say and then judge it based on that.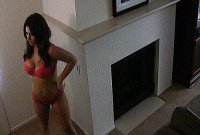 Cahuenga Pass
After Knock 'Em Dead, you made the featurette Cahuenga Pass. A few words about that one?
Cahuenga Pass is about a girl, who works in the adult entertainment industry in Los Angeles, and her relationship with her abusive boyfriend. It's lyrical and dreamlike as we follow Stacy around her world.
The film is to an extent based on true events, right? Would you like to elaborate on that?
To an extent it was based on true events. It was inspired by many different events including the suicide of porn star Savannah (in '94) and the overdose of porn star Haley Paige (in '07). Both cases still have a lot of mystery surrounding them as do the short, tumultuous lives of these young women.
Other sources of inspiration for Cahuenga Pass?
Bob Fosse's Star 80 and the Def Leppard song Photograph were also instrumental in my preparations for the script.
Why did you choose the short format for Cahuenga Pass, and did it ever occur to you to extend the story to feature length?
Cahuenga Pass came about after a bad experience with a failed feature film project. I wanted to 'right the ship' so to speak and I wanted to make something - so I pulled out an LA project I had originally planned to make with three different storylines, of which Cahuenga was one, and made just the one story as a short. I tweaked it a little and just started auditioning a week or so after the story was set to go.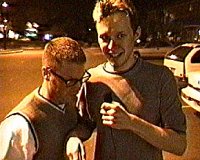 Visions of Violence
Heading back into the past: What can you tell us about your first feature Visions of Violence?
Certainly those who have seen it will tell you it's an odd movie. Visions of Violence> is a reality-mockumentary, some is real and some isn't. It's a very weird project that came together in the winter of 2005-2006. It's a video diary that uses many different formats (VHS, Mini DV, Super 8mm film, stills, audio) and it has some great dialogue, some great moments where the characters really get into some strange yet interesting conversations. I'm in it and I play myself, most of the cast play themselves. But because of the strange nature of the movie - you either like it or you don't - there is absolutely no middle ground. But one has to remember that I consider it my student work along with 'Hollywood.' This was made before I went to NYFA and before Hollywood. It was an experiment that 'kind of' succeeded.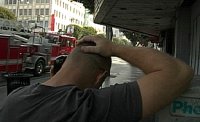 Hollywood
A few words about your short Hollywood?
Hollywood was a lot of fun to make and to me is still a lot of fun to watch. I had the best time making that movie and it's the one movie of mine that I could watch at anytime.
The movie Hollywood is about a Detective who's getting ready to leave Los Angeles as he's working on one last case - that of a missing girl who's come to the big city to make it big, only to end up in the San Fernando Valley making adult videos.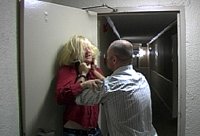 Hollywood
Because this was my thesis at the New York Film Academy, I had the time to plan a lot of shots and really take my time with the project.
Any other films you'd like to talk about, any future projects?
Right now I'm trying to get my latest script funded, it's entitled Teenage Kicks and there has been a lot of interest in it from the acting community. They see it as it is - a real showcase for actors. Teenage Kicks is a script about Kurt, who is home for the summer after his first semester away at college. During the course of a long, hot summer, he learns that for every action there is a consequence. Between his rendezvous with an underage girl and the information he'll be receiving from a girl from his past, his life will be changed.
I'm also in the process of editing Walk of Fame which is the final movie in my Hollywood-trilogy that started with Hollywood and continued with Cahuenga Pass. As I'm editing, I have so much footage that I'm not sure if I should go the short or feature route. Time will tell on that one.
How and why did you get into the film industry in the first place, and did you recieve any formal education on the subject?
I was really into movies as a kid always watching The Movie Channel and HBO. After high school, I attended a local university, got my grades up, and I got into USC - the university but not the film school. Over time I realized there was no way I could afford USC so I set out to write myself in to Hollywood. I ended up getting a formal education when I had a screenplay optioned by a producer in LA and after that failed deal and numerous encounters with other producers and managers - I decided to learn more of the technical side and that's how I ended up at NYFA in 2007.

Feeling lucky ?
Want to
search
any of my partnershops yourself
for more, better results ?

The links below
will take you
just there!!!

Find Christopher L. Golon
at the amazons ...

amazon.com

amazon.co.uk

amazon.de
Looking for imports ?
Find Christopher L. Golon here ...
Something naughty ?
(Must be over 18 to go there !)

After my time at NYFA (New York Film Academy) came the experience of making my feature Knock 'Em Dead, Kid, which was a heck of a learning experience.
Directors who inspire you?
Brian DePalma, Paul Schrader, John Carpenter, and Walter Hill. They all made some classic films during America's last golden age of filmmaking (1967-1982).
Your favourite movies?
Apocalypse Now, The Long Riders, Body Double, Dressed to Kill, Blow Out, Assault on Precinct 13, Hardcore, American Gigolo, Jaws, the list goes on and on...
... and of course, films you really deplored?
Most films, even the bad ones have some kind of merit or entertainment value except for 2 that I've run across: Americathon (1979) and the remake of The Amityville Horror (2005) - those two I detest and will never, ever waste my time watching again.
Your website, Facebook, whatever else?
My website is www.christopherlgolon.com and I can be found on imdb.com: http://www.imdb.com/name/nm3335659/
Thanks for the interview!
Thanks for taking the time to interview me, I appreciate it!