Awards so far for All Along:
Audience Choice Award at the Fairhope Film Festival
Best Romance Feature at the International Digital Video & HD Festival
Honorable Mention - Best Feature at the Myrtle Beach International Film Festival
Best of Show and Award of Excellence (lead actor: Bill Page) at the Accolade Film Awards.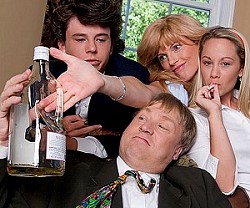 The nuclear family of
All Along
And now the interview:
You have just co-produced, co-written and starred in a film called All Along. In a few phrases, what's the film about ?
It's about a man who is going through a mid-life crisis. Richard (the main character) gets taken to an amusement park by his wife and kids for his 40th birthday. He runs into an old high school sweetheart and he then goes into a series of daydreams and fantasies that start interacting with real life which results in some humorous and embarrassing situations. He visits a psychologist to discuss the fantasies and tries to realize what it is that is happening to him.
How did the film come into being in the first place ? Who came up with the basic story idea, and how smoothly did it translate into film ?
I originally came up with the initial idea while visiting an amusement park in Florida in May 2003. I was vacationing with my wife and this idea of fantasy interacting with reality just popped into my brain. Then when I returned home, I mentioned it to two of my good friends, Paul Goodman and Lou Leoni, and we just started coming up with several different ideas that could also work in the movie. It took us about a year to get motivated to move forward with the project, but then we asked a college student from Temple University, Mary McDermott, to help write a screenplay for our story. She wrote a screenplay for us that we were not 100% convinced would work. So we sat on it for a while and then decided to hire a director to take a look at the project. Overall, our idea translates to film pretty smoothly. The movie is not 100% of how we envisioned it originally, but the overall theme of the movie is pretty much on target.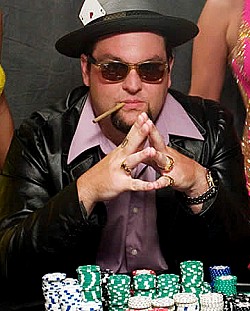 Director Robert A.Mascantonio
A few words about your director Robert A.Masciantonio, who also wrote the screenplay for All Along and played a small role ...
After we sat on the project for a few months, I made the decision that the movie was going to get done one way or another. We met Rob and gave him our version of the script. He liked the overall concept, but he too didn't think that the overall story as scripted would work, so he re-wrote a new screenplay using the story that Paul, Lou and I wrote along with some of concepts that Mary added as well. We agreed that Rob's version of the screenplay was more along the lines of our vision of the movie so we went into production with Rob's screenplay and Rob as Director. This is Rob's second movie. His first is Cold Hearts which is a horror film. Rob also plays a minor role in the movie as Richard's opponent in a poker game.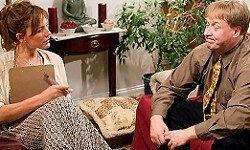 Krista Allen with Bill Page
About your principal cast: Krista Allen, who plays the psychiatrist in the film, might be most familiar to readers of my site for her roles in the Emmanuelle TV-series and Baywatch, but she is in fact quite an accomplished actress with multiple appearances on both the big and small screen. What made you choose her and how easy was it to get her ?
We wanted to get an accomplished actress to play the role of the psychologist in the movie and quite honestly we had a list of a dozen or more actresses that we thought might work. Krista was brought to my attention through Rob (the director) and the two producers, Charles St. John Smith, III and Eric Bresler. They thought that we may be able to secure her for a few days if the schedules were compatible. It worked out and we are so happy that she is a big part of our movie.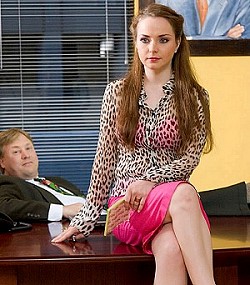 Erin Brown with Bill Page
Also in the cast is Erin Brown, who has only rather recently emerged from the softcore erotica realm (where she had quite a career under her alias Misty Mundae) into mainstream cinema [Erin Brown bio - click here] . How and why did you get hold of her ?
Once again, the director and producers suggested that she would be a great addition to our cast and she was fantastic. I just wish she could be onscreen longer since she has a great presence on the big screen.
And then there's of course you. You have appeared in several independent features before All Along but also have a background in stand-up comedy. What can you tell us about your career so far and what was your motivation for making this movie ?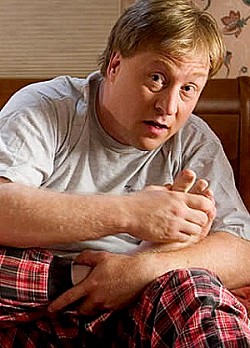 Bill Page
Well Mike, I appreciate the fact that you mentioned that I have appeared in many different indies and a few stand-up comedy gigs, but quite frankly, that is the extent of my career in entertainment. The motivation for making this movie is quite simply this: Many people talk about what they are going to do or want they want to do in life, but not many take action to live their dream. I didn't want to kick myself in the behind 20 years from now to say what if. I wanted to give a shot and see what happens next. I am looking forward to see what the future holds.
A few words about the rest of the cast ...
Our cast was very strong. Tracy Toth plays Ann (Richard's wife) with great compassion and love for him and the kids (Tina and Tom). Kristen Hughes is adorable and perfect as the teenage daughter Tina. When you see her on the big screen, you can help but fall head over heels for her instantly. I imagine she will have a great career in movies. Speaking about great careers, everyone reading this will one day know Charlie McDermott, who plays the teenage son Tom. Charlie's career has already taken off. He has been in some great independent movies and has just signed on to do a studio film. Charlie will be well known within the next 18-24 months. It was a joy working with Tracy, Kristen, and Charlie. It was almost like they were my family. Rebecca Cook plays Richard's ex-girlfriend Ava from high school. She truly captures the role and also has a great onscreen presence. Joseph Aniska (young Richard), Lindsey Simcik (young Ann), and Kristen Hermes (young Ava) also give strong perfermances. Hopefully, many of the actors mentioned above will be household names in next few years.

Feeling lucky ?
Want to
search
any of my partnershops yourself
for more, better results ?

The links below
will take you
just there!!!

Find Bill Page
at the amazons ...

amazon.com

amazon.co.uk

amazon.de
Looking for imports ?
Find Bill Page here ...
Something naughty ?
(Must be over 18 to go there !)

As an actor, as a writer, and as a comic, who are people who have influenced you ?
I grew up watching DeNiro and Nicholson so they are always at the top of the list, but recently Edward Norton has been one of my favorite actors. As for funny men, I always enjoy Steve Martin and Richard Pryor movies.
Your favourite movie genres ? And your all-time favourite movies ?
I like comedies as well as heartfelt dramas. I am not much into period pieces and sci-fi movies. My all time favorites include ONE FLEW OVER THE CUCKOO'S NEST, THE GRADUATE, and BACK TO THE FUTURE, and oh yes I forgot my very favorite is ALL ALONG.
Movies from, let's say, the last two years, that you would suggest everybody should go see ?
ALL ALONG is at the top of the list. I really liked 40 YEAR OLD VIRGIN, WEDDING CRASHERS, KNOCKED UP. I just saw ALVIN AND THE CHIPMUNKS and it was a nice family movie.
Movies you really hated ?
BLADES OF GLORY.
Away from movies and stand-up comedy you have also made yourself a name as The Hairman, the (unofficial) mascot of NHL's Philadelphia Flyers. What can you tell us about that ?
I used to go to the Philadelphia Flyers games dressed in Orange/Black and wearing either a Orange/Black mohawk or Orange/Black spiked Hair wig. I heckled the opposing players and got the fans pumped up.
Any future projects we can look forward too (both as youself and as the Hairman) ?
Well, THE HAIRMAN is officially retired, but I hope to be working on a new film sometime in 2008. I am in the process of acquiring distribution currently for ALL ALONG - so if you know any distributors, send them my way.
Anything else I have forgotten to ask you are just dieing to get off your chest ?
The only thing I'd like to say to anyone out their with a dream--GO FOR IT and I guarantee one thing--You'll be happy that you made the attempt.
Thanks for the interview.