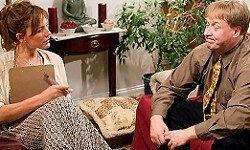 Krista Allen with Bill Page
Accountant Richard (Bill Page) has just turned 40, and the midlife crisis is catching up with him: Suddenly family life does no longer fulfill him and he feels misunderstood and underappreciated by his wife (Tracy Toth) and kids (Charlie McDermott, Kristen Hughes) as well as by his boss (Erin Brown) who he thinks is supposed to be his secretary.
As a result, Richard starts having daydreams, daydreams about being a professional wrestler, a rockstar, or even receiving a spanking from his boss and the like, with the small difference to normal daydreams that he really lives his daydreams, and once they are over they often leave him in embarrassing situations (never more so than when he strips while taking a bumper car ride). And since his daydreams start being a problem, he starts consulting a psychologist, Doctor Sarah (Krista Allen), who helps him piecing together the reasons that led to his daydreams taking over: When he during an amusement park visit on his birthday meets Ava (Rebecca Cook) again, who was his first love 20 years ago (when she was played by Kristen Hermes and he by Joe Aniska) when he was still full of ambition and an aspiring rockstar and wrestler for real. And Richard and Doc Sarah also work out the one thing all of his daydreams have in common - a mysterious blonde whom Richard never seems to be able to catch up with -, and who might be the key to his problems' solutions.
Needless to say, Richard and Sarah ultimately work out who the blonde actually is (which I won't give away here), and indeed this helps him get over his problems ...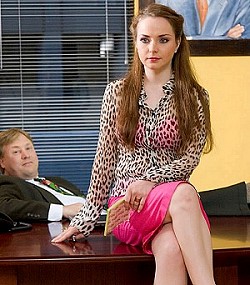 Erin Brown with Bill Page
A welcome change to all the mindless gross-out comedies that have been flooding the cinemas of late: An intelligent film at heart that nevertheless never forgets to entertain, that does not shy away from a silly scene every now and again (first and foremost the bumper car strip) but puts its emphasis on plot (rather than the plot being a mere hanger for a handful of sight gags) and character development. And the film actually takes its subject matter (psychoanalysis) seriously without becoming preachy or (yet worse) boring. Plus, the film's co-creator and lead proves to be a great asset: Without being a flat parody, he looks the role of the 40-year old accountant in a midlife crisis so amazingly well it's almost frightening.
One just wishes that more intelligent comedies like this would be made.
Recommended.
PS: At the time of this writing (April 2008), All Along is making a successful run at the festival circuit and receiving many awards, including the Audience Choice Award at the Fairhope Film Festival, Best Romance Feature at the International Digital Video & HD Festival, Honorable Mention - Best Feature at the Myrtle Beach International Film Festival, and Best of Show and Award of Excellence (lead actor: Bill Page) at the Accolade Film Awards.
Please also read my interview with Bill Page and my Erin Brown biography for more info.