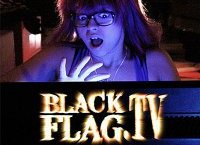 Midnight Movies, 24 Hours a Day
Fancy a bit of television, and there's just nothing good playing?
Well, do try Black Flag TV for the best in current indie genre entertainment.
It's fun, it's free, it's 100% legal ... and it's right here!!!
Larger screen: http://blackflag.tv/remote/BlackFlagTV.swf
Showtimes: http://www.blackflag.tv/showtimes.html
For more information on Black Flag TV, including a code to get it onto your own site, go to
Thanks for watching !!!