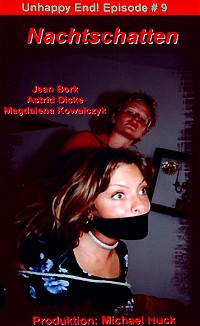 Sarah (Jean Bork) is visited by two old school friends, Silvia (Astrid Dicke) and Elke (Magdalena Kowalczyk) - and while Elke seems to be totally absent minded and wears glasses like a blind woman, Silvia gets increasingly agressive towards Sarah, whom she accuses of being part of a gang who bullied her - just like Elke actually, whom she has already submitted to her will by poking her eyes out and tearing out her tongue ... and before you know it, Silvia and Elke have tied Sarah up good and start to torture her with everythuing at hand, from itching powder and wax to a tattoing machine and a scalpel. Then Silvia even threatens to tear Sarah's tongue out ... before claiming it was all just a joke they played on her - and indeed, Elke still has her eyes and her tongue and - and then Silvia puts a noose around Sarah's neck and ties it to a stone ... which Sarah has to balance on her hands in order to not get strangled to death. Eventually, Sarah drops the stone, and she is only just saved by her boyfriend (Vonny Kesisoglu).
Later, when the police (Katja Bienert in an amusing cameo) arrives though, Sarah is informed that Silvia has died years ago (even if her body was never found) and Elke was killed this afternoon - found without her eyes and tongue -, as well as two other of Sarah's friends from school. And when Sarah looks out of her window, she thinks she can see Silvia standing in the shadows ...
Reading this synopsis, the expression torture porn quickly comes to mind - but writer/director Michael Huck is actually less interested in the act of torture as such and more in his psychological undercurrents, which is why he focuses more on Astrid Dicke (who gives a great performance by the way) more and more losing it than on the actual act of torture. And the twist ending puts the film into a whole new perspective ...
Interesting, to say the least.
This film can be ordered directly from the director via email - MichaelMHuck@aol.com (preferred) -, phone - +49 30 / 345 1338 - or the production company's website - http://www.gator-group.de.