Hot Picks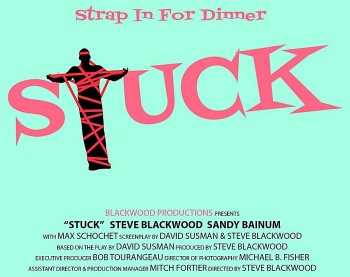 George (Steve Blackwood) and Helen (Sandy Bainum) have ordered a bondage strap in device to spice up their sex life - so far so good, and to each their own. It's promptly delivered, too, and the delivery guy, Finn (Max Schochet), is a model in customer service, offering to put it up free of charge and not accepting no for an answer. The basic problem, Finn is also stoned out of his head, and once the thing's set up he gives it a test run and passes out, all strapped into the device. Now this is ... less than perfect, but what's even lesser than perfect is that George and Helen expect guests (Bob Tourangeau, Louise Mara) for dinner, rather "god-fearing" clients of George's ad agency who are bound to find strapped up Finn, and it's not likely that they'll appreciate it in the least. So George and Helen make attempt after attempt to free passed out Finn from his bonds, but whatever they do they make it worse, and with time pressing, they soon get into an argument, first about the situation they're stuck in, then about everything - until they have an epiphany ...
If you like old-fashioned situation comedy, then Stuck is your thing - and I mean "old-fashioned" in the best possible way, as this film really gets its humour out of the predicament the lead characters find themselves in without swerving off-topic, yet going from the situation in particular to the grander scheme of things all the same - and all without exploiting (or even showing) the sex toy that triggers it all. And even the very unexpected resolution to everything concerned works very beautifully in the context. Now all this is down to clever writing but also to very strong performances by its two leads who have just the right chemistry for a film like this.
Simply put, if you're out for quite a few laughs and have about 15 minutes to spare, then this one's your thing.