Hot Picks

- Ivy 2017
Stealing Chaplin


Canada 2020
produced by
Paul Tanter, Ken Bressers, Simon Phillips for Dystopian Films
directed by Paul Tanter
starring Simon Phillips, Doug Phillips, Bianca Katz, Al Sapienza, Ken Bressers, Anne-Carolyne Binette, Peter Woodward, Liliana Vargas, Paul Tanter, Cheryl Prater, Chad Peters, Brent Barrett, Palomino, Chris "Bo" Anthony, Lauren Newton, Conner Zornow, Jim Doolan, Jim Severson, Rosemary Parris, Christian Legaspi, Michael Ray, Tom Delahunty, Zeth Daniels, Greg Sims, Kathleen Newton, Jordan M. Wiessen, Robin Bookhout, Ismaeel Javed (voice), Samantha De Benedet, Leo Goodman (voice), Wayne Newton
story by Simon Phillips, screenplay by Doug Phillips, music by Wesley Dinwiddie, visual effects by Daniel J. Fox/Chat Noir Productions

review by
Mike Haberfelner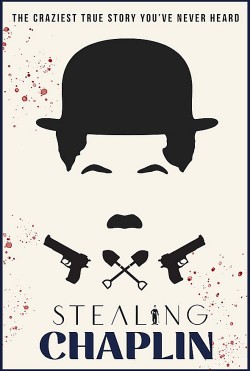 Brothers Cal (Simon Phillips) and Terry (Doug Phillips) are two British conmen who try to make it big in Las Vegas - but they've got one problem, their scams usually don't work out. This of course goes hand to hand with their other problem, that they owe money to everyone, from their landlady Stapleton (Cheryl Prater) to the mob, who have sent their most brutal enforcer, Billy (Al Sapienza), after them. In their desparation, Cal and Terry come up with a particularly stupid scheme to make some money, to dig up Charlie Chaplin's coffin and hold his corpse for ransom - that despite the fact that they're clueless who to actually demand ransom from. What they failed to anticipate though was that their graverobbery might stir up quite a bit of excitement all around, so much excitement that they actually want to return the coffin - but find the empty grave crowded by fans. However, the story gets blown more and more out of proportion as Billy and the mob are actually interested in the body as well, as is landlady Stapleton, and a corrupt cop (Zeth Daniels) wanting to get back at the mob failing to pay him, and Cal even manages to drag his new girlfriend Helen (Bianca Katz) into the mix - and soon enough the whole story speeds in free fall to utter chaos ...
Las Vegas legend Wayne Newton makes a brief guest appearance as himself.
Now as far as crime comedies go, they don't come much better than this one. Now sure, Stealing Chaplin was done on a modest budget, so the film is no extravaganza in any sort of way, and the formula of two small-fry conmen taking too big a bite for them to swallow has of course been well established decades before the film went into production - but none of this matters much, as the film is well-structured, is full of fresh ideas, fun plottwists and eccentric characters, and Simon and Doug Phillips really manage to ground the film with their sympathetic performances of their basically idiotic characters and head a very able ensemble cast, all of which is making this one very entertaining watch.
By the way, inspired by a true story, as Charlie Chaplin's body has actually been stolen, though he was interred not in Las Vegas but in Switzerland, and the story that ensued in the movie has actually little basis in reality.