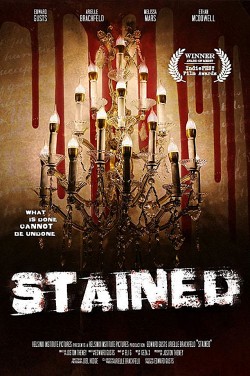 John Macbeth (Edward Gusts) tried to get ahead in the corporate world by hard work, and he's really good at his job and pushes the company he's working for forward - only to then be denied a promotion or raise in favour of his boss Duncan (Joston Theney). John though finds dirt on Duncan and confronts him with it - and this confrontation gets violent on the quick, with John ultimately killing his boss in self defense. Not wanting to risk a murder charge though, John throws the body into a nearby river. When he later tells his wife Jane (Arielle Brachfeld) about this ... she reacts with great pride, and furthermore takes inspiration from her husband's deed and drives a neighbour, Stephen (Ethan McDowell), who tried to get a bit too friendly with her, to insanity. This almost backfires when Stephen physically attacks Jane and she and John kill him. Later they find Stephen's highly pregnant wife Mary (Melissa Mars) injured from a fall down the stairs, and they force a Cesarian on her to save the baby but let her just die. So it seems everything has come to a happy ending for them, they now have a baby they have always longed for, and with Duncan gone, John pretty much falls up the corporate ladder. And then John's assistant Margaret (Jessica Sonneborn) calls: She has witnessed John kill Duncan and has since gone into hiding, but now she wants to blackmail John - so John agrees to meet her, and doesn't just kill her but also her sister and niece.
Detectives McDuff (Arielle Hader) and Davies (Nihilist Gelo) have long been on the case, but now that the corpses of Margaret and family and Duncan are finally found, they can't help but putting two and two together and close in on John and Jane - who are not likely to go down without a fight ...
A loose and modernized adaptation of William Shakespeare's Macbeth, transplanted into the corporate world, this movie really concentrates more on the horrific details of the play rather than the language of the Barde (in fact, no more than a few quotes from the play remain intact in the movie) - and in doing so the film puts a very macabre spin on the source material that's really emphasized by the fact that it's no longer set in distant history but the "real world", turning the Macbeths from power-hungry schemers within a context of constant wars and shifting loyalties to dangerous serialkillers ... and it works, too, thanks to a clever screenplay that properly builds up its characters, paired with outbursts of violence and even some (enjoyably) sick humour (like when John and Jane perform a Cesarian on Mary). And Joston Theney's direction that seems to have a rather impatient spin to it (what with all the handheld camera shots) really helps to bring the film to life, as does a very solid ensemble cast - with extra praise for Arielle Brachfeld, whose slow descent into insanity seems entirely palpable. A rather cool piece of genre cinema for sure.
If that at all has gotten you interested, you can find this movie on TerrorTV.