Hot Picks

- Ivy 2017
The Slaughterhouse Killer
Blood Hunt 2: Slaughterhouse


Australia 2020
produced by
Sam Curtain, Benjamin Clarke for Stud Ranch
directed by Sam Curtain
starring Craig Ingham, James Mason (II), Kristen Condon, Dean Kirkright, Andrew "Tubes" Taylor, Andrew Casey, Breanna Geer, Ashtyn Sone, Allix Izbicki, Samantha James-Radford, Steven Jones, Dot Millhouse, Joanne Barwick, Libby Jessup, Benny Blake, Damian Bourke, Barry Wheeler, Leesa Winter, David Curtain, John McGregor
written by Sam Curtain, Benjamin Clarke, music by Caleb Jacobs

review by
Mike Haberfelner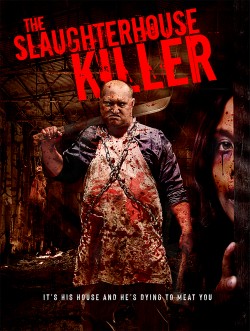 Box (Craig Ingham) has been working at the slaughterhouse for decades, always at the killing floor, never rising in rank, but he prefers it that way. And thus it's pretty much natural that when the company hires a young parolee, Nathan (James Mason), Box is asked to take him under his wing. And Box really takes care of his young colleague - like when Nathan is bullied, Box slaughters the bully before Nathan's very eyes, and even hands Nathan a butcher knife to apply a few wounds of his own. Now for Box, killing just seems to come natural, but Nathan also enjoys it, and so the two of them go on a low level killing spree, and by keeping their victims random as can be, they manage to evade suspicion.
However, it's not long before frictions occur in their partnership, thanks to Nathan's girlfriend Tracey (Kristen Condon), who's quite simply freaked out by Box. But Nathan really calls it quits when during one of their killing trips, they're forced to shoot a young boy who has witnessed them killing a couple of campers - and killing children is where Nathan draws the line (even if the boy would have otherwise reported them to the police). Thing is, Box is not one to just accept a "no" from Nathan, and now Nathan has turned his back on Box, nothing's off the table anymore ...
Now The Slaughterhouse Killer was very obviously made on a modest budget, and thus is not the most refined of films - but that's something that goes very well with the movie's rather unforgiving theme. And the result is a very raw story told in a very direct and unflinching way, and while the film's not overdoing the gore, the characters attitudes to their deeds is what's really shocking here. So ultimately, this might not be the most "fun" serialkiller movie to watch, but if you're in for something truly disturbing you will for sure be rewarded.
... and if this has gotten you at all interested, feel free to click the link to watch the movie on the platform of your choice: https://www.bgpics.com/movies/the-slaughterhouse-killer/