Hot Picks

Rootwood


USA 2018
produced by
Ruediger W. Kuemmerle, Ralf M. Loerwald (executive) for Silent Partners
directed by Marcel Walz
starring Elissa Dowling, Tyler Gallant, Sarah French, Felissa Rose, Tiffani Fest, Brandon Rhea, Kwame Head, Marv Blauvelt, Oasis Nguyen
written by Mario von Czapiewski, music by Klaus Pfreundner

review by
Mike Haberfelner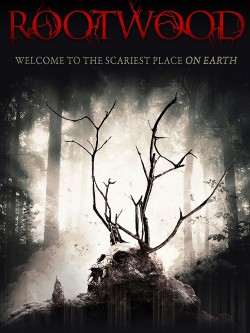 Will (Tyler Gallant) and Jess (Elissa Dowling) run a modestly successful podcast about urban legends and the paranormal when they seem to strike gold as Hollywood producer Laura Benott (Felissa Rose) hires them to investigate what's dubbed to be "the scariest place on earth", a patch of woods that's supposed to be the roaming grounds of the Wooden Devil, and put it all on camera for a major release documentary. And they're given all sorts of fancy equipment and a nice camping van for the mission, too. So they pack mutual friend Erin (Sarah French) and are off to the middle of the woods - and even though all three are sceptics, the place sure is spooky, and before long they're no longer sure how to explain away all the weird sounds coming out of the woods at night. Plus, remote as the neck of wood might be, there are signs that something's residing nearby the camper, something too intelligent for being a mere animal. Eventually, Erin thinks she has seen the Wooden Devil and urges the others to leave, but when they refuse to take her seriously, she just wanders off on her own - and runs into the Wooden Devil ...
Will and Jess have to soon come to the conclusion that there's indeed something out there with them, something they have actually captured on camera, but for fame and fortune they decide to spend another night in their camper - which might not be the best idea they've ever had ...
Now even if the premise of Rootwood might suggest it, the film fortunately does not go the found footage route and instead turns out to be a solid horror thriller with all the right elements in all the right places, from suspense and atmosphere to jump scares, from creating a feel of unease to finally revealing the monster, for mere creepiness to utter violence, all of which is carried by a well-structured plot and properly fleshed out characters, and of course a strong cast doesn't hurt in the least bit either. Now sure, this film might not be the reinvention of the wheel, but it's very good genre entertainment all the same.