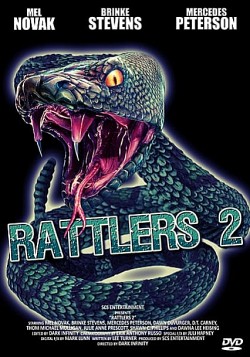 Over 40 years ago, the area was swarming with rattlesnakes turned into killers by a leaked nerve gas (see the first Rattlers), but since that story's explosive ending, not even a single rattlesnake bite has been reported to the Sheriff's office - until now that is, when the rattlers seem to again organize into flocks to attack people with no provocation. The local Sheriff (D.T. Carney) wants a full scale investigation, but Commissioner Lewis (Mel Novak) shoots down the suggestion as the grand opening of a pet project of his is right around the corner. Even without the Commissioner's permission, the Sheriff calls in snake specialists Dr. Kaye (Mercedes Peterson) and Professor McCauley (Scott Butler), but they fail to find any residues of the nerve gas from back when in the area - in other words, they have no idea why the snakes all of a sudden perform organized attacks. Then though they, together with Deputy Warrick (Erik Anthony Russo), find a trail that leads to a local plastic manufacturer, where some rules seem to have been bent a little with the blessing of the Commissioner - and that could answer quite a few things. And answers are duly needed as the Commissioner's pet project's grand opening, with fireworks and everything, is right around the corner, and that's not an event one would want killer rattlers at ...
Horror fave Brinke Stevens can be seen as the rattlesnakes bath tub victim.
Now the original Rattlers from 1976 was a nice piece of animal horror reminiscent of monster movies from the 1950s, but hardly a classic in the original sense of the word - and in all these respects, Rattlers 2 is a very worthy successor: It doesn't lay any claims on having re-invented the wheel, and is proud of its sources - to the point where it has incorporated quite some lumps of the original Rattlers into its story -, all the while acknowledging its formula but aiming at cool genre entertainment - and that's where the film surely succeeds.