Hot Picks

- Pop 2018
Quiz


Netherlands 2017
produced by
Dick Maas, Tom de Mol for Parachute Pictures, Tom de Mol Productions
directed by Dick Maas
starring Barry Atsma, Pierre Bokma, Stephan Evenblij, Carly Wijs, Marck Oostra, Hanna Verboom, Kim van Kooten, Susan Radder, Tessa Stephenson, Ruben Brinkman, Danny Vera, Escha Tanihatu, Loek Peters, Remco Koning, Robin Rienstra, Bob Schrijber, Marietta Koning, Burt Rutteman, Oscar Aerts, Mike Reus, Arnost Kraus, Boyd Grund, Dave Mantel, Marije Coralie, Jolanda Van Den Berg, Wigger Verschoor, Dieter Jansen, Tycho Plooyer, Sven Bijma, Fleur Favalli, Frits Groen, Tanya Witkamp, Gert Kats, Remco Mentink, Damien Genefaas
written and music by Dick Maas

review by
Mike Haberfelner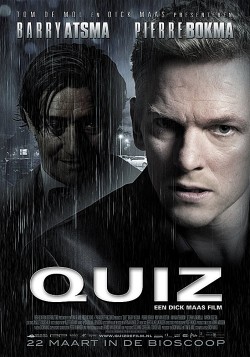 Leo (Barry Atsma) is the country's most popular (if slightly sleazy) quiz master - but now he has ended his run on his current show and wants to celebrate this with his wife (Kim van Kooten) and daughter (Susan Radder) at his favourite Italian restaurant before they'll actually move to Italy - but wife and daughter don't come, instead a stranger (Pierre Bokma) shows up, who insists on doing a quiz with Leo as a contestant, which Leo at first tries to turn down - until he has to come to the realization that the stranger has kidnapped his wife and daughter. But for some reason, the stranger isn't asking for money, and declines all of Leo's offers - instead he insists on playing a little quiz with Leo, where the questions get more and more personal and mean-spirited - but should Leo get only one of them wrong, the stranger promises to have Leo's loved ones killed. And he won't waiver on his mission either, not even when Leo calls the police, beats him to a pulp or whatever else, the stranger always stays on top of the game. And he even controls the events around them, like when he invites Leo's former mistress Louise (Hanna Verboom) into the mix to make him a scene. Control only seems to slip when Louise pulls a gun to shoot Leo dead, but even then the stranger finds a way to keep his quiz show going - and to ultimately reveal to Leo what it's all about ...
Quiz is a very intense little psycho thriller that masterfully creates suspense the old school way, by showing very little and suggesting very much, by relying on a strong, brilliantly structured screenplay to build up tension rather than just on set-pieces, makes perfect use of its "quiz"-theme, doesn't shy away from the occasional irony, and features a cast that really pull off their well-written roles. And since the film works just like a clockwork it hardly matters that the basic premise is rather on the far-fetched side of things.
Definitely worth a watch!
And if this has gotten you at all interested, Quiz is currently available from Vimeo, just go here: https://vimeo.com/ondemand/quiz