Hot Picks

Pet Graveyard
Mummy Resurrected


UK 2019
produced by
Scott Jeffrey, Rebecca Matthews, Jeff Miller (executive) for Proportion Productions, Millman Productions
directed by Rebecca Matthews
starring Jessica O'Toole, David Cotter, Rita Siddiqui, Hindolo Koroma, Clive Cohen, Kate Milner Evans, Georgina Jane, T'Jean Uter-Dinh, Hattie Willow, Claire-Maria Fox, Andrew Hollingworth, Kate Lush, Heronimo Sehmi, Mike Kelson
written by Suzy Spade, music by Lee Olivier-Hall

review by
Mike Haberfelner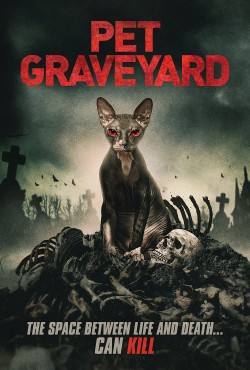 Lily (Jessica O'Toole) and Jeff (David Cotter) each have their own way to deal with the death of their mother (Kate Milner Evans), Lily studies hard to become a nurse, while Jeff seeks internet fame doing more and more daredevil stunts - until he wants to literally cheat death by "brinking" - for which he needs to rope in his daughter. Basically he and two others, Zara (Rita Siddiqui) and Francis (Hindolo Koroma), want to die for real but be pulled back into life before they're also braindead - basically a near death experience to the extreme. Of course, Lily's dead set against it, but Jeff manages to convince her as he doesn't merely want to push things to the extreme but has an honest desire to meet their mum in the beyond - and Zara and Francis have similar motives by the way. Now the brinking experiment our foursome is doing is pretty dramatic in itself, but ultimately, Lily succeeds in bringing all of the others back to life, and they've all had a chance to talk to their deceased love ones and make peace with the past. So all's well that ends well, right? Wrong of course, as all three have visions of the loved ones they visited in the beyond, and the loved ones want them back dead - and then Zara indeed dies, hanged in a bizarre shower "accident". And when Francis is found beaten to a pulp by a force unknown, Jeff starts to feel slightly less than safe ... and Lily starts to do research on how she can save her brother - but unfortunately the only thing she can come up with is that she needs to do a brinking session as well, and it's less than sure whether this will work or set death onto her trail as well ...
Now granted, the title of this movie makes it sound like a Pet Sematary rip-off - but that's about as far as the similarities go, now if you want to compare Pet Graveyard to a film from roughly that era, it would probably be Flatliners, though even those don't go any further than both films are about attempts to cheat death.
And all that out of the way, taken by its own merits, Pet Graveyard is a very effective little film, one that's well enough structured to make its outlandish premise palpable, that's populated by characters that are believable and on top of that relateable (and the small ensemble embodies them well), and the direction invariably puts atmosphere over spectacle, which helps in creating the feel of unease that's pretty much essential to the story. Well worth a look for sure!