Hot Picks

- Ivy 2017
Vanamehe Film

The Old Man Movie
The Old Man: The Movie


Estonia 2019
produced by
Erik Heinsalu, Mikk Mägi, Veiko Esken, Tanel Tatter for Apollo Film Productions, BOP Animation
directed by Oskar Lehemaa, Mikk Mägi
starring Jan Uuspõld, Märt Avandi, Indrek Ojari, Jaagup Kreem, Kristjan Lüüs, Mart Kukk, Oskar Lehemaa, Mikk Mägi, Jan Uuspold, Johan Järviste, Mia Järviste
written by Oskar Lehemaa, Mikk Mägi, Peeter Ritso, music by Sten-Olle Moldau


animation

review by
Mike Haberfelner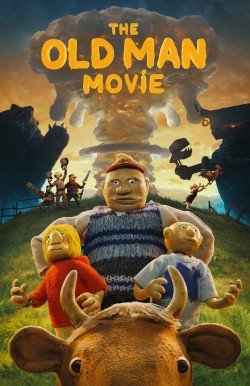 City kids Priidik, Aino and little Mart are dropped off at their grandpa's milk farm in the country for the summer, despite being ill-equipped for country life. And they certainly don't like the way grandpa treats his sole cow, who apparently provides milk for the whole village of milk-craving locals. So the kids are giving the cow some freedom - upon which the cow makes an escape. So the next morning, grandpa takes Priidik and Aino to re-capture the cow - while Mart is left to his own devices, and starts building cow robots (!).
Thing is, there's another man after the cow, the Old Milker, who formerly provided the village with milk until he left his cow unmilked for too long and she exploded. And from here on he has vowed to kill all cows - and to achieve that, he hires a trio of underemployed sawmill workers, complete with buzzsaws and chainsaws, to literally cut the cow down to size. The cow though is not one to easily be taken in, and her escape route takes her to a hippie music festival, a horny tree god, and finally the inside of a giant bear, with all the while her udder growing in size, until in the finale, that also includes the stand-off between the Old Milker and grandpa, it's ready to burst. But somehow, that's hardly the biggest threat facing everybody involved ...
Now one thing's for sure, The Old Man Movie is truly mad, and it manages to be just that by really taking its stop motion animation approach to the limits, caring less about super-slick animation and more about the things that can be created within the medium, the madness that can be achieved. But that said, what really makes the film is that it isn't just mad for the madness's sake but creates a coherent world in which all the insanity makes some sense - and within that context, the film is also dead funny, and if your mind is just a little warped, you're almost sure to be entertained.