Hot Picks

- Rot 2019
Nine Nights


UK 2019
produced by
Veronica McKenzie for Reel Brit Productions
directed by Veronica McKenzie
starring Mary Nyambura, Malcolm Atobrah, Jo Martin, T'Nia Miller, Mark Redguard, Rizwan Shebani, Elizabeth Brace, Shante Stephenson, Deborah Colphon, Karla Simone-Spence, Trevor a Toussaint, Premila Puri, Neferti Gayle, Paulette Harris-German
written by Veronica McKenzie, music by Arhynn Descy

review by
Mike Haberfelner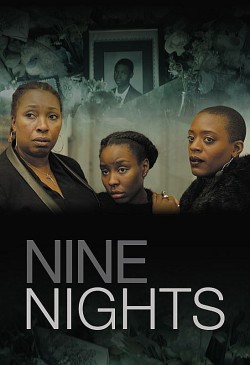 Twins Marcie (Mary Nyambura) and Michael (Malcolm Atobrah) are both athletes, and are pretty much inseparable - but they're also 16, and Michael is starting to show an interest for girls, to an extent that he almost misses one of Marcie's races, and running to get their in time, he's run over and killed by a car. And Marcie even sees him lying dead in the road - and yet, when her mother (Jo Martin) and her aunt Sylvie (T'Nia Miller) already prepare for his burial during traditional nine days of mourning, she flatly refuses to acknowledge he's dead, and goes so far as to wondering why people come by for condolences, and she's really losing it when she sees her brother's wristband on his best friend Paul's (Rizwan Shebani) wrist - which her mother has given him.
Thing is, for the first few days, Marcia's really worried that Michael doesn't come home to clear up the "misunderstanding" about his death, to a degree where she almost admits to it, but then she sees Michael in the streets and follows him to a club where she actually talks to him - but she just can't make him to leave with her. From then on though, her mood's very upbeat - not really fitting for a family in mourning - until she meets Tina (Elizabeth Brace), a girl she knows Michael fancied in school, who turns out to be a wanderer between worlds, who leads her to Michael's dead body. That really strikes a chord with Marcie but she still tries to drag him back into the realm of the living, to the point where he has to "kill" himself again to prove he's dead - which actually leads to Marcie attempting suicide. Thing is, coming to terms with loss is really running deep with her family, and her mother and aunt Sylvie still have issues to go through on that ...
A very compelling film about mourning and let go that really unfolds its full power because it's not just about that but takes things onto a metaphorical, supernatural level and creates its own parallel world to carry its story that might begin and end in what we percieve as the real world but has its fantasy elements to it - which really works to get one into the mindset of the film's protagonist far beyond just the obvious, but it also helps to make the film's story much more interesting and engaging than just showing a bunch of people in mourning. And thanks to a very strong cast, and a directorial effort that hits the right mark between subtledy and atmosphere, this film really works and comes across as a pretty powerful statement about learning to live with loss.