Hot Picks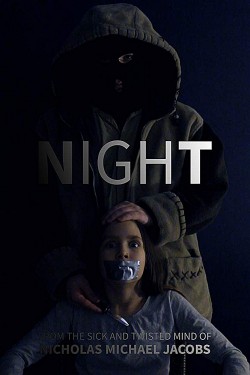 One night, on her way home, Judy (Gianna Jacobs) is overcome by a stranger, knocked out ... and suddenly she finds herself tied to a chair in someone's basement. That someone is Adam (Nicholas Michael Jacobs), a guy in a ski mask who just loves to torture and kill helpless women - but not because he's a psychopath (well, that too), but because he gets paid for it: He runs a webshow on the internet that's pretty much the torture equivalent to cam sex - he lets his audience choose his means of torture, with each suggestion being paid for, and only kills his victims once he has collected enough money. That said, Judy isn't one who's likely to sell her hide cheaply, she tries to fight her attacker off the best she can (being all tied up), even tries to drag him into a conversation and call upon his conscience when he for a short period removes the tape from her mouth, and ultimately she deploys a plan to fight back ...
One thing's for certain, Night is a deeply unsettling movie: Basically because it's shot in a very spartan way, in fact exactly like a webshow like this would be shot, with no camera angles, next to no editing, no musical score, no cinematic trickery, the audience is just presented to a static shot and sees the horror unfold, without the camera blinking or turning away. That the violence on screen actually isn't all that explicit is completely besides the point here even, as it's the blunt, in-your-face approach that makes it so disturbing - that and Nicholas Michael Jacobs' nonchalant, almost business-like character, who's so irritatingly calm compared to his vile actions.
Now this is definitely not a film for everyone - but one that will likely stay on the minds of its assorted audience for quite some time.