Hot Picks

King Cohen: The Wild World of Filmmaker Larry Cohen


USA 2017
produced by
Steve Mitchell, Matt Verboys, Daniel McKeon, M.V. Gerhard (executive), John Dadlez (executive), Cardon Ellis (executive), Paul Craig James (executive), Frederick King Keller (executive), Anthony Miles (executive) for La-La Land Entertainment
directed by Steve Mitchell
starring Larry Cohen, J.J. Abrams, Rick Baker, Stephen Bowie, Cynthia Costas-Cohen, James Dixon, Eric Bogosian, Richard J. Brewer, Jon Burlingame, Barbara Carrera, Joe Dante, F.X. Feeney, Robert Forster, Megan Gallagher, Mick Garris, Paul Glickman, Frederick King Keller, David Kern, Yaphet Kotto, Paul Kurta, John Landis, Laurene Landon, Traci Lords, Michael Moriarty, Daniel Pearl, Frank Pesce, Spiro Razatos, Tara Reid, Eric Roberts, Martin Scorsese, David J. Schow, Nathaniel Thompson, Ryan Turek, Janelle Webb, Fred Williamson
written by Steve Mitchell, music by Joe Kraemer


documentary

review by
Mike Haberfelner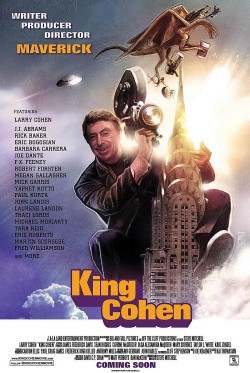 If you're not familiar with the subject of this documentary, here's a quick rundown on Larry Cohen: He started out as a TV screenwriter in the late 1950s, eventually graduating to motion pictures in the 60s before making his directorial debut in 1972 with Bone. In the 1970s and 80s he directed a slew of cult classics including Black Caesar, It's Alive, God Told Me To, Q: The Winged Serpent and The Stuff, before returning to screenwriting from the 1990s onwards again - but he sure left his mark on genre filmmaking as his movies were at their best not only fan fare but also social commentary and satire, something one might want to call intellectual shlock.
Now when I first read the full title of this movie, my reaction was "finally someone's paying tribute to one of the unsung heroes of intelligent genre cinema," and of course I wanted to watch the movie asap - and hey, this is a movie that really doesn't disappoint as not only does it tell Cohen's story in quite some detail, it also maps out his guerrilla filmmaking style that made sure his films looked much more expensive than they were, and it treats the audience to interviews with many a fan favourite of cult-filmmaking, be they Cohen's (frequent) collaborators like Michael Moriarty, Fred Williamson, Yaphet Kotto, Eric Roberts, Laurene Landis, Barbara Carrera and the like, but also fellow filmmakers like Joe Dante, John Landis, and even Martin Scorsese. Plus, clips from many of his movies only fatten up the thing to a documentary every genre enthusiast, whether or not he's a fan of Mr Cohen, ought to watch, just for the abundance of information, not only about the man but about low budget filmmaking in general.
Definitely recommended.