Hot Picks

Johnny Gruesome


USA 2018
produced by
Gregory Lamberson, Erin Elizabeth Heald (executive) for DeInstitutionalized, Red Hill Movies
directed by Gregory Lamberson
starring Anthony De La Torre, Byron Brown II, Aprilann, Michael DeLorenzo, Chris Modrzynski, Kim Piazza, Richard Lounello, Madison Amey, Travis Torlone, John Renna, Jon Cesar, Nelson Wakefield, Kaelin Lamberson, Tim O'Hearn, Alexander S. McBryde, Richard Satterwhite, Jessica Zwolak, Leora Owens, Sam Qualiana, Bob Bozek, Paul McGinnis, Michael O'Hear, Constance Caldwell, Kellen Pembleton, Bill Brown, Erika Frase, Dan Torres, Daniel Urtz, Samantha Jindra, Matt Reese
screenplay by Gregory Lamberson, based on his novel of the same name, music by Armand John Petri, Joe Rozler, special makeup effects by Craig Lindberg, visual effects by Chris Cosgrave

review by
Mike Haberfelner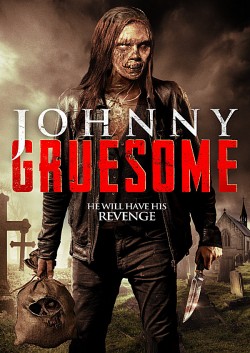 High school student Johnny Grissom (Anthony De La Torre) is a bit of a loose cannon, always getting into fights, never accepting authority, and having problems containing his temper. This is a situation not only dangerous to him and his opponents but even his close friends ... like when he almost drives his girlfriend Karen (Aprilann) and best friends Eric (Byron Brown II) and Gary (Chris Modrzynski) off a bridge to their certain deaths. Something snaps with Gary there, he gets into a fight with Johnny, and ultimately kills him ... in something that could be described as self defense. Eric and Karen are shocked, but ultimately Gary convinces them to not report it to the police but make it look like Johnny has died in an accident. Fortunately, they make this "accident" believable enough, and nobody at all suspects them - so life can go on as it had before ... safe for the fact that Johnny's soul is restless and wants revenge, so he reclaims his decaying body and goes against all of those who have wronged him in his young life, like his school's main jock (Travis Torlone), who was never slow to bully him, his abusive dad (Michael DeLorenzo), Gary of course and even Karen, who was a bit too quick to become an item with Gary after Johnny's death. Gradually Eric grows worried of course, especially since he thinks he has seen Johnny a couple of times after his death, but of course, nobody believes him, nobody but his own teacher Carol (Kim Piazza), who's obviously also on Johnny's kill list, but who has managed to fight him off - so far ...
Now it would be a gross exaggeration to say that Johnny Gruesome in any way or form re-invents the slasher genre - but it's an extremely solid example of its species all the same, deeply rooted in the genre's 80s origins without being derivative or filled with post-modern irony. Instead the movie tells its story in a pleasently straightforward way, based on tension and suspence, placing all the shocks right, using gruesome effects in all the right places without drowning the film in gore, and even including some lighter moments to loosen up things a bit. And a strong cast really helps bringing this movie to life.
In essence, good genre fun!