Hot Picks

Incroyable Mais Vrai

Incredible But True


France / Belgium 2022
produced by
Thomas Verhaeghe for Atelier de Production, Arte, Versus Production, VOO, BE TV
directed by Quentin Dupieux
starring Alain Chabat, Léa Drucker, Benoît Magimel, Anaïs Demoustier, Stéphane Pezerat, Marie-Christine Orry, Roxane Arnal, Léna Laprès, Grégoire Bonnet, Hiro Uchiyama, Nagisa Morimoto, Azuki Hagino, Mustapha Abourachid, Antonia Buresi, Matthieu Blanchard, Mikaël Halimi, Vanessa Philippon, Michel Hazanavicius
written by Quentin Dupieux, music by Jon Santo

review by
Mike Haberfelner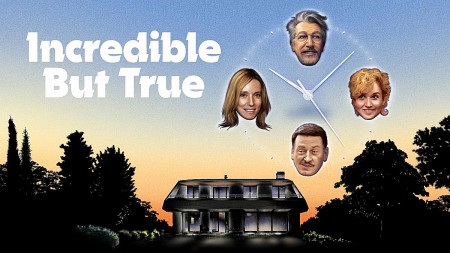 Middle-aged Alain (Alain Chabat) and Marie (Léa Drucker) already love the house they're shown when their realtor (Stéphane Pezerat) shows them a rather incredible extra feature: There's a well in the basement that if you climb down you end up (against all logic) in the ground floor kitchen, and not only that but 12 hours later - so ok, you lose half a day, but every climb also makes you three days younger. Now Alain dismisses this feature as slightly silly, but Marie soon sees it as a way to recover her youth. Unfortunately the side effect of this is that climbing down the well too often doesn't only make you lose enormous amounts of time, it also slowly drives you mad ...
In the meantime, Alain's best friend and boss Gérard (Benoît Magimel) has found another way he thinks would recover his youth, he has his penis replaced by an electrical one, where he can control his erections via cellphone and that features different levels of vibration. His girlfriend Jeanne (Anaïs Demoustier) swears by it, but little does she know this is just a symptom of Gérard's midlife crisis, and he soon has replaced her by a younger model, and is buying fancy car after fancy car on top of it. He's pretty much living his life - until his new artificial penis starts to malfunction ...
Wildly mixing science fiction and fantasy elements, at its heart Incredible But True is actually a very funny and pretty sharp midlife crisis satire, one that might not always be in perfect good taste but never goes the full gross-out route, and actually has a lot of heart. And Quentin Dupieux handles his story with the necessary subtlety, but also always finds humour in the often tragic goings-on, best shown in a series of montages set to anachronistic music. And a solid small ensemble keeps things grounded and plays it straight while being in on the joke. And the result is just really good entertainment.
If this has gotten you at all interested, Incredible But True can be seen on the Arrow player from October 1st 2022 in the UK, the US, Canada and Ireland: www.arrow-player.com