Hot Picks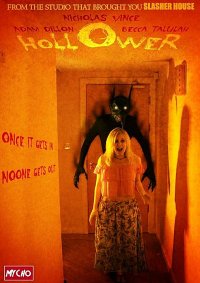 Nathan (Adam Dillon) finds himself in a police interrogation room all covered in blood and handcuffed, and opposite detective Miller (Nicholas Vince), who asks him a bunch of questions he can't make heads or tails of. What's especially disturbing him about being here is that he's agoraphobic and hasn't left his flat in more than 3 years. Also he's not good with people, prefers to keep to himself - which isn't too hard as he hasn't got any friends or family who could pull him out of his reclusion. However, there's his new neighbour, Isabelle (Becca Talulah), whose acquaintance he has made because she has accepted a package in his stead. Nathan definitely likes her looks, and she, not knowing anyone in town, makes an effort to make friends with him ... even though at first he refuses to even open the door. But with what little courage he has, he helps her to get rid of her psycho ex (Joe Hughes), and that impresses her so she won't give up on Nathan that easily ... and eventually, while refusing an invitation to her flat, he actually invites her in - his first visitor in years, probably. Isabelle shows understanding concerning his agoraphobia, too, and doesn't try to push him just because she's "different" but finds it easy to accommodate to his needs and limitations - and eventually they become more than just friends, even have sex ... and Nathan, while still agoraphobic, actually starts to like life. Thing is, that package that she accepted for him didn't only bring Isabelle into Nathan's life, but also some other-worldly being lurking about in his flat that even Nathan only sometimes catches glimpses of - but it scares the living shit out of him, and rightly so ...
Deliberately slow-moving and definitely taking its time before something scary actually happens, Hollower is nevertheless creepy as hell, not only for the narrative device that suggests something terrible has happened in the first scene and then keeps you guessing what it was while delving into the life of angst-ridden Nathan, it also cinematically creates an atmosphere of unease - with the slowed down proceedings only attributing to it. And also thanks to a bunch of very believable performances and an ending that catches one totally off-guard, this has turned out to be a pretty great little movie!
And if this has gotten you at all interested, feel free to go to http://mycho.co.uk to pre-order ...