Hot Picks

Here Be Dragons


Australia 2022
produced by
Alastair Newton Brown, Marc Windon, Nathan Sapsford, Milos Djukelic
directed by Alastair Newton Brown
starring Nathan Sapsford, Slobodan Bestic, Marija Bergam, Svetislav 'Bule' Goncic, Igor Filipovic, Zoran Pajic, Aleksandar Zivkovic, Sasa Kuzmanovic, Tamara Radovanovic, Ana Sofrenovic, Jelena Stupljanin, Darko Stanojevic, Vladimir Gvojic, Daniel Dorr, Nemanja Stankovic, Sasa Edi Dordevic, Paul Leonard Murray, Mark Robert Pullen, Samuel John, James MacMillan, Hana Bestic, Ivan Kump, Petar Milicevic, Vladimir Stojkovic, Alon Garic, Vladan Jakovljevic, Mirjana Dangubic, Aleksandar Miletic, Jelica Kovacevic, Helen Babic, Mohammed Salim
written by Alastair Newton Brown, music by Brian Cachia

review by
Mike Haberfelner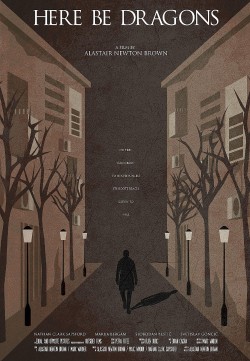 War-torn Bosnia, 1993: UN-soldier David (Nathan Sapsford) and local girl Lejla (Tamara Radonavic) are madly in love and are already planning for life together after the war - and then, during a prisoner exchange, David finds Lejla's brother Emir (Nemanja Stankovic) being the only survivor of a massacre, and he tells her Lejla has been shot dead in the ordeal. What's worse, Ivan Novak (Vladimir Gvojic), the general of the opposite, the Serbian side makes fun of her death, and of the massacre in general as he knows he'll get away with it, what with the UN being limited in their abilities during wartime ...
25 years later: Ever since the Bosnian war, David has made it his mission to bring war criminals from that war to the International War Crime Tribunal in the Hague, but of late actions on that front have been dwindling down, as decades have passed already, and funds have been cut back - and it's then that David is contacted by Emir (now played by Svetislav 'Bule' Goncic), who has been living in anonymity since the war but has ammassed quite a fortune - and he has finally found a lead to Ivan Novak and offers David good money to capture him and bring him to the Hague - and since it's personal for David, he quickly agrees, even if his superior (Ana Sofrenovic) urges him to lay off.
David travels to Belgrade, where he follows up his only lead, night club singer Mira (Marija Bergam) - and while shadowing her he finds out that she has a son, Vlada (Aleksandar Zivkovic), with a man, Jovan Petrovic (Slobodan Bestic), whom he investigates and soon finds to be a prominent doctor working with war veterans trying to overcome their PTSD. According to all accounts he's doing good work, and even David is impressed by his idealism - but at the same time, he finds more and more evicence that Petrovic is actually Ivan Novak. Thing is, without the UN to back him up, David has to rely in his two confidants in town (Igor Filipovic, Zoran Pajic) to back him up, and they make up a water-tight plan to get to Petrovic through his son. Thing is, Petrovic has his confidants as well and has long seen through David, so brings his boy to a safe place. David and company catch up, but once he has Petrovic at gunpoint, he notices that his opponent has moved on since the war and has turned his life around, and he himself has not, going so far to even using a child as a pawn in his plan. But once he realizes that, it's much too late, and the wheels put into motion must run their course ...
Now to make a somewhat outrageous comparison, Here Be Dragons is in many ways an antithesis to the Sylvester Stallone vehicle Rambo: First Blood Part 2: Basically, both films are about men who suffer from war-induced traumas, the hero of the earlier film is allowed to symbolically win the war on the battlefield, the protagonist of Here Be Dragons in the third act starts doubting his own motives and eventually sees the error of his ways, and in none other than the man he has set out to have his revenge on, only by then it's much too late. And that's what makes this movie so interesting, as while it's firmly rooted in the thriller genre and is well aware of genre tropes, it manages to still deliver a strong pacifist message in an underhanded way, up to the point where the "hero" doesn't experience a happy ending (let alone catharsis) despite him getting all he has set out to achieve. But what makes this film entertaining at the same time is that it doesn't deliver its message with a sledgehammer but packs it into an engaging story, carried by a subtle yet genre-savvy directorial effort and a very solid cast. And the result is a pretty cool yet thoughtful watch.