Hot Picks

Gold Dust


USA 2020
produced by
Richard J. Cook, David Wall, Ken Stokes (executive), Joyce Stokes (executive), Denise DeFelice Hopkins (executive), Keith Anderson (executive), Melissa McGinnis (executive) for Oculi Entertainment, Little Horse Thief Pictures
directed by David Wall
starring David Wysocki, David Wall, Derek Severson, Garrett Marchbank, Maggie Hough, Liam Wall, Finnegan Wall, Lucy Hough, Burns Burns, Jerron Webster, Daniel Hopkins, Ron Ryan, Darin Brooks, Chris Romano, Jack Wall, Aaron Hough, Kerry Wall, Brennan Wall, Eric Liebrecht, David Beardsley, Elizabeth Sullivan, Howard Song, Greg Salyers, Aidan Connolly, Alyssa Cox, Adalyn Ackermann
written by David Wall, music by Jessy Ribordy

review by
Mike Haberfelner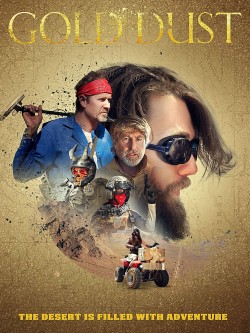 Moses (David Wysocki) and Fink (David Wall) are two fairly successless treasure hunters who are presently roaming the desert looking for a pirate ship that's said to have sunken in a salt lake centuries ago, and never recovered while carrying gold worth hundreds of millions of Dollars. They never find the ship, but where they suspected it to be they find a dead Santa (David Beardsley) in a Jeep, a weird flying contraption, a bag containing millions of Dollars, and a young girl, Maggie (Maggie Hough), they accidently run over. Now Moses insists on taking care of the girl, whom he soon sees as his surrogate daughter, while Fink insists on taking the money, even though it more likely than not is drug money. And of course it is, so El Guapo (Garrett Marchbank), head of a drug cartell, sends his best man, the Dancing Killer (Derek Severson), after them, to retrieve the money and also Maggie, who has been working as a drug courier.
Eventually, Moses and Fink split, with Moses taking Maggie with him, and soon the two hook up with other kids, who all have fled El Guapo's employ. But their trail is easy to pick up for the Dancing Killer. Fink, on foot, makes it to Vegas with the money, and has but one goal, to finally propose to his high school love Joy Lynn (Kerry Wall), and now that he's rich he thinks he's worthy, too. Unfortunately he hasn't done much research on her and doesn't know she's actually since high school become the wife of El Guapo, and El Guapo is quick to recognize the bag of money Fink carries as his, and thus Fink is not only releaved of the money but also treated to a good beating - and really can consider himself lucky that he made it out alive. It's only now he realizes the one thing that really mattered in his life is his friendship to Moses, so he heads back to the desert to reunite - and not a moment too soon, as the Dancing Killer has since taken Mosed, Maggie and all the other kids captive and prepares to kill them, and Fink is really their last hope. But Fink is also unarmed, untrained in combat, and a bit clueless about everything, while his opponent is a virtual killing machine with but one weakness ...
Now in writing this might sound like just another average adventure movie with all the genre elements exactly where you'd expect them and a saccharine message about the value of friendship tagged on at the end - but on film Gold Dust feels like anything but that, for one because script and direction are extremely playful with the formula, populating the desert with all sorts of eccentric characters, and making the "heroes" of the piece loveable losers who are not given the typical hero's journey that has been shoved out throats one time too many already, but taking the concept apart and piecing it together in a whole new way - and especially the finale that's seen to be believed is ample proof for that. Likewise, the dialogue is anything but genre-specific, but for the most part dead funny, and only the fewest of the setpieces play out the way they're supposed to. Now I wouldn't go as far as to say this is a parody, but it's a hilarious film that's not to be missed.