Hot Picks

The Fare


USA 2018
produced by
Brinna Kelly, D.C. Hamilton, Gino Anthony Pesi, Kristin Starns for 501 Pictures, Public Displays of Affection
directed by D.C. Hamilton
starring Gino Anthony Pesi, Brinna Kelly, Jason Stuart (voice), Jon Jacobs, Matt Fontana, Jeff Blum, J.K. Baker, Stephen Ji, Sarah Moore, Debbie Mottinger, Neil Mottinger, Paul Samaniego, Rob Starns, Joshua D.W. Smith, David Midell, Jessica Goldapple, Jaimi Paige, Jeremiah Peisert, David Saenz
written by Brinna Kelly, music by Torin Borrowdale

review by
Mike Haberfelner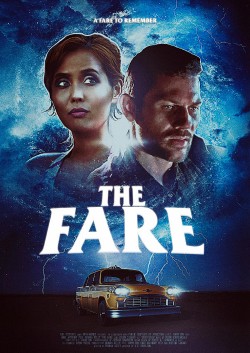 Cab driver Harris (Gino Anthony Pesi) picks up lovely Penny (Brinna Kelly) in the middle of nowhere, and she requests to be driven somewhere else in the middle of nowhere. The two get along rather fine, but then they drive into an electric storm and ... Penny just disappears. After some moments of puzzlement, Harris drives on to pick up his next fare ... who just happens to be Penny - only Harris can't remember a thing about the drive they just had anymore. So the two of them talk about pretty much the same things as before until they get into an electric storm and Penny disappears. Again, Harris is off to his next fare - Penny. And now he starts to remember, and as he does, she confesses to him that this is not the third time they're meeting under the exact same circumstances but maybe the hundredth time if not more. They seem to be stuck in a time loop, but now that they're both aware, they decide to make the best of it, and they become great friends before long, even lovers, and all they know they have no life outside the time they have together, which starts anew every 20 or so minutes. And the closer they become, the more unsure they grow if they even want to break out of the loop - but eventually human curiosity gets the better of them. It's only, what they find out is not what they expected, and hardly what they bargained for ...
A rather charming and original take on the time loop routine, as it takes cues from all sorts of genres, including science fiction, fantasy, horror, and even romance, and blends it into something unique, basically a two person-play in a confined space, with little that's not carried in the dialogue. Now of course, that's thanks to a very clever script, but also to the two leads, whose performances are on point and who have that kind of chemistry between them to make the situation believable, and of course to a directorial effort that pulls all the stops to not make the single location dull as hell without drawing too much attention to itself.
Well worth a look for sure.