Hot Picks

Expressway to Your Skull


USA 2014
produced by
Julian Daly, Michael Okum, Vin Armani (executive), Ed Pechar (executive) for Mad Wolf Productions, Daly Film Productions
directed by Michael Okum
starring Paul S. Tracey, Lindsay Atwood, Mark Aaron, Katie Royer, Don Yanan, Karen Teliha, Clint Riffo, Michael Okum
written by Michael Okum, music by Tadahisa Yoshida, special effects make up by Tommy Pietch, visual effects by Michael Okum, songs by Lamb Death, Goldan Kompess, Joe Dairy, Metal Rouge, Gutter Royal, Sun Castle

review by
Mike Haberfelner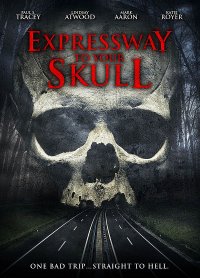 Ed (Paul S. Tracey) has just stolen quite a stash of money from his dealer, and has then persuaded his girlfriend Amy (Lindsay Atwood) to go on a camping trip with him ... and it only gradually dawns upon her that he hasn't planned this trip for purely romantic reasons but to lie low until the thing blows over. Despite being sore about Ed's lack of honesty, Amy decides to make the best of it - after all, what's so bad about spending a few days in the wild with the one you love, being able to have sex in the open whenever you want without anyone ever stumbling over you, being able to do joints and shrooms openly without anybody taking exception - and even though it might have cracks, Amy and Ed are about to create their own little paradise ... if it wasn't for their neighbour Charlie (Mark Aaron), who at first comes across as a weirdo, then claims to be a shroom-pusher - which excites Ed quite a bit ... but what neither he nor Amy know yet is that he's into black magic, especially when it has to do with human sacrifice ...
Expressway to Your Skull is most certainly not your typical horror flick: While it does hit all the marks and is gruesome to boot, and suspenseful in all the right places it also has a very trip-like aura to it and manages to infuse even mundane shots with an otherworldly atmosphere, being totally in tune with its protagonists' states of mind. And that's where the movie really succeeds, even if Ed and Amy are clearly dopeheads, they are never portrayed as only that, there is a depth to their characters, even in scenes when they're more than a bit stoned, that makes one care for them - which is also thanks to two very strong central performances. Oh, and while I say Expressway to Your Skull is not your typical horror flick - the finale surely packs a punch and should resonate very well with genre fans.
Totally worth a look!