Hot Picks

Dolls


USA 2019
produced by
Jeff Miller, Robert Michael Ryan for Millman Productions
directed by Cuyle Carvin
starring Thomas Downey, Trinity Simpson, Dee Wallace, Bret Green, Elise Muller, Melinda DeKay, Robert R. Ryel, Jeff Miller, Cuyle Carvin, Robert Michael Ryan, Justin Hawkins, Mark Sikes (voice), Scott Anthony Gould (voice)
story by Jeff Miller, Justin Hawkins, screenplay by Justin Hawkins, Josh Hawkins, music by Holly Amber Church, makeup effects by Veronica Rodarte, visual effects by Gary Jones, creature design by Ryan Pilz, illustrations by Robert Michael Ryan

review by
Mike Haberfelner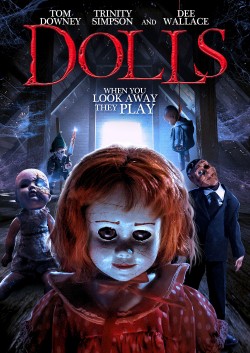 After the death of his mother Edna (Melinda DeKay), children's book author Robert (Thomas Downey) moves into her house, also because he thinks the place, and especially mother's three creepy dolls, will give him inspiration for his next book. And before you know it, his daughter Sammey (Trinity Simpson) moves in with him, as she's fed up living with her mum Lynn (Elise Muller), whom Robert lives separated from - and at first, everything seems to go great, Sammey helps Robert sobering up, and in return he lets her do the illustrations for his new book. But soon, she starts to think aforementioned dolls are moving about the house on their own, but naturally nobody believes her, especially since her dad's book is about just that. But when a neighbour, Margaret (Dee Wallace) pops by to tell a crazy story about how the dolls are possessed by the former evil personalities of her deceased son (Robert R. Ryel) who suffered from multiple personality disorder until healed him by transfering the surplus personlities into the three dolls, she tends to believe that even. Much to the ridicule from her boyfriend James (Bret Green) - but of all people, James should have believed, as the story, as crazy as it sounds, is actually true, and he's next on the dolls' kill-list ...
Now of course, the basic premise of Dolls is very far-fetched - but then again, that's true for many horror films, good and bad, and this movie's definitely in the former category, as it populates its far-out story with believable and relatable characters and puts an emphasis on mystery, atmosphere and suspense, all of which bring the strong points of the story to the fore. And an assured directorial effort really makes the most of the film's limited sets and locations (mostly just the house and garden), while a strong ensemble truly breathe life into the film.
Well worth a look for sure.