Hot Picks

Blood Craft


USA 2019
produced by
James Cullen Bressack, Micah E. Brandt, James Thomas, Madeleine Wade (executive), Jared Safier (executive) for UFO Pictures, Safier Entertainment, Wade Together Films
directed by James Cullen Bressack
starring Madeleine Wade, Augie Duke, Michael Welch, Dave Sheridan, Mark Rolston, Dominique Swain, Anna Harr, Brooklyn Anne Miller, Riley Jackson, Christian Ganiere, James Cullen Bressack, Sage Correa, Braxton Davis, Elisabeth Steen-Nokleberg, Ryan Francis, Jared Safier, Dylan Vox, Jody Barton, Gordon Bressack, Scotch Hopkins, Debra Lamb, Bella Crimson, Sheri Davis, Max Cutler, Bianca Mohan, Sophie Mousel, Sara Mountjoy-Pepka
story by Madeleine Wade, screenplay by Madeleine Wade, James Cullen Bressack, music by Chris Ridenhour, visual effects by Michael Simpson jr

review by
Mike Haberfelner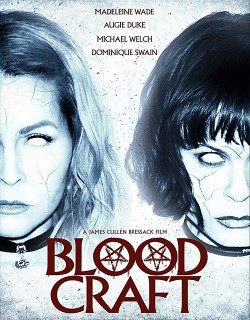 It's Minister Hall's (Dave Sheridan) funeral where estranged sisters Grace (Madeleine Wade) and Serena (Augie Duke) meet again - and bond again, because while the Minister was a pillar of moral integrity in his parrish, Grace and Serena knew his other side, a strict and brutal man who especially after the death of his wife (Dominique Swain) started to abuse them, sexually. And while Grace eventually ran away - and drifted off into prostitution - Serena who stayed behind was exposed to the brunt of his perversions. And now the girls' father's gone, without ever having to pay for his sins ... so the sisters devise a plan to steal his corpse, bring it back to life, and serve him his just desserts - good plan, but once put into action, daddy's soul escapes and has to be captured in a doll, which is really not working for the girls. Good thing then that later their place is burgled - actually by an acquaintance of the girls, Tyler (Michael Welch), looking for the offering box money the Minister is said to have embezzled. The girl manage to overcome Tyler, tie him up, nail him to the floor, and infuse him with daddy's soul. Then they start torturing the shit out of him, but daddy is unrepentant. And what he tells the girls takes quite a toll out of them as well. So what has started as pure torture becomes a battle of minds, not at all made any easier that Tyler's father, who just happens to be the Sheriff (Mark Rolston), comes looking for him - or at least the missing offering box ...
Genre fave Debra Lamb makes an alas too brief appearance as a churchgoer in Minister Hall's congregation.
Ok, so the premise for this movie - bringing someone back to life to torture him - is a tad far-fetched, even for a horror movie, but it is dealt with in a very inventive and entertaining way, and thanks to strong characters, one's really drawn into the story. Plus, despite the plot sounding straight-forward, it does feature some unexpected plottwists to keep one at the edge of one's seat. Now add to that a genre-savvy directorial effort that fings the balance between torture and atmosphere, and that's strong on creating suspense rather than relying on jump scares, and a very solid cast, and you're in for a very cool piece of genre entertainment.