Hot Picks

The Blacklight


USA 2022
produced by
Don Hatton, Zena Wood, Corey Scott Rutledge, Keith L. Craig (executive), Jeff Porter (executive) for Dashford Media
directed by Nick Snow
starring Grant Lancaster, Brooks Russell, Corey Scott Rutledge, Richard Templeton, Brad Stuart, Samantha Aneson, Michael Dale, Victor Verhaeghe, Bristol Pomeroy, Godfrey J. Rayner, Roberto Serrini, Danny Schaefer, Connor Bond, Brian O'Neill, Michael Bryce, Donald Paul, Michael Laibson, Raquel Powell, Nate Foster, Ori Manahan, Dave Hanson, Anthony DeVito, Adam Blędel Körner, Katie Aldhizer, Gabe Bowling, Mike Sweeney, Courtney Sturm, Elise Rovinsky, Kate Gauthier, Evelyn Zibell, Ellie Laesch, Matthew McCurdy, Amy Morales, Victor Pantojas, David Ward
story by Nick Snow, Brooks Russell, screenplay by Nick Snow, music by Ryan McTear

review by
Mike Haberfelner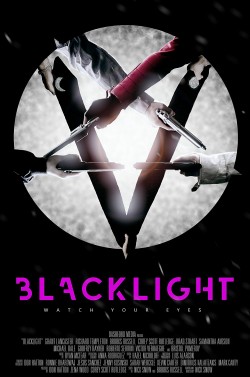 When rich kid Liam (Brooks Russell) is robbed at gunpoint by none other than his landscaper, Danny (Grant Lancaster), it gives him an unexpected adrenaline rush - and an idea, so instead of reporting Danny he hires him to go on heists with him. Eventually, the two, with Kit Viper (Corey Scott Rutledge) as additional muscle, decide to rob old man Hirsch's (Michael Dale) mansion, figuring him to be easy pickings. But then Kit Viper walks into a standoff between Hirsch and some goons and just mows everybody down with his machine gun. The trio makes a hasty escape, and the only thing they snatch is a box that seems to not be worth all that much - until Kit Viper tries on the cloak inside, later identified as blacklight, that makes him invincible. Now Kit Viper isn't the brightest, and he has made many enemies over the years, so he decides to go on a killing spree, settling all his old scores all at once, with not so much as receiving a scratch. And while this works out well for him, it also attracts the attention of gangster kingpin Gabe Giallo (Victor Verhaeghe) who soon figures out that there's something not quite natural about Kit Viper's invulnerability - so he tortures the truth about the cloak out of Liam, then has the cloak stolen from him and Kit Viper wasted. So the biggest mob boss of town is now invincible ...
In the meantime, Danny meets up with Hirsch's daughter to find out more about the cloak, but both of them and Liam are soon apprehended by psycho Lucky (Richard Templeton) and Gregor (Brad Stuart), son of the anointed one, Koehler (Bristol Pomeroy) of the cult the invincibility cloak somehow belongs to. Now they want the cloak, naturally, and pretty much force Danny in retrieving it, but the choices he has are less than inspiring, he and his friends might either be killed by Lucky and Gregor, or he might serve as cannon fodder for Gabe Giallo, or should he succeed against all odds, he'd hand the cloak over to a cult that tries to open a gate to hell ...
Now the mere premise of this movie seems to be a recipe for disaster, as it tries to blend light yet quirky crime comedy with cultist, underworldly horror, including bits of ultra-violence. However, the concept works much better than could be expected, thanks to a very clever script, a fluid directorial effort that gets the mood right throughout, and the talent to not take itself too seriously without ever becoming self-parody. And a solid cast playing colourful characters of course also help making this a very enjoayble piece of genre cinema.