Hot Picks

- Rot 2019
BB


USA / Canada 2016
produced by
CJ Wallis, Evan Tylor (executive), John A. Curtis (executive) for IndustryWorks Pictures, FortyFPS Productions
directed by CJ Wallis
starring Jennifer Mae, Kristian Hanson, Victoria Fox, Elissa Wagner, Samantha James, Carlos Velarde, Joseph May (voice), Michael Joseph
story by CJ Wallis, Jennifer Mae, screenplay by CJ Wallis, music by Anna Meredith, songs by Mother Marygold, Leaf, 3d Na'Tee, Tila Tequila, Curren$y, Lil' Wayne, Wiz Khalifa, Le$, CornerBoy P, B Real, Raven Felix, T.Y., Fiend, MC Melodee, Rykka, Hayley Richman

review by
Mike Haberfelner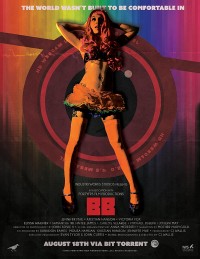 With nothing better to do and being in need for money, Leah (Jennifer Mae) decides to become a cam girl. After all, she doesn't mind stripping down in front of strangers and masturbating, and is capable of handling dirty talk from faceless perverts with the necessary amount of charm. One thing she really wants to get out of this: Enough money for her girlfriend Alina (Victoria Fox) - yup, she's actually a lesbian - to fly over to her folks in Romania ... and she succeeds in that before too long. But once Alina's out of the country she continues camming - after all, it is easy money ...
Hal (Kristian Hanson) is a very lonely guy, an eye-patched deployed army veteran who has severe social issues, especially regarding women. But when he watches Leah on cam, he lightens up. Plus he's her most frequent tipper and thinks of all the perverts who watch her she has picked him as her favourite "guest" ...
Eventually, Leah starts a raffle, with the lucky winner getting to take her out to dinner - and Hal's sure that he will win, after all ... well, she must know he's in love with her. But when instead of him, "Bonestorm" (Carlos Velarde) is picked, he pretty much loses it - and proves to be pretty handy when it comes to tracking people down. So he beats Bonestorm to a pulp - even if Leah had a very nice and relaxed evening with him -, then gives Leah threatening phonecalls and sends her inappropriate messages. But eventually, this isn't enough for Hal anymor ...
Now I'm sure there are plenty of people out there who will be turned off by BB's controversial topic and maybe even the amount of female nudity - but once you can see through that, you'll find a very tense thriller that's almost uncomfortable (for all the right reasons) to watch, as it shifts perspective between its two protagonists very frequently, a shift between a psychopath and a tortured soul, and it's all only heightened by extremely nervous camerawork and editing, and a intentionally slightly erratic sound mix. Plus, the two leads, despite alledgedly being amateurs, bring their all to the movie!