Hot Picks

Accidence


Canada 2018
produced by
Juliette Hagopian, Shauna De Cartier (executive), Brendan Roddy (executive), Jeff Pniowsky (executive) for Julijette, Six Shooter Pictures
directed by Guy Maddin, Evan Johnson, Galen Johnson
starring Adam Brooks, Jon'Nathon Stebbe, William Bond, Xander Boulard, Brent Neale, Mike Maryniuk, Rhayne Vermette, Ash Sealgair, Ming Hon, Micaella Stone, Suzanne Pringle, Ben Williams, Laura Chan, Yakobo "Jacob" Yanga, Quinn Greene, Milos Mitrovic, Wes Mikulla, Cary Davies, Heather Hueging, Allan Phillips, Irene Chavez, Kevin Doole, Asif Dip, Betty Waterman, Norm Asher, Tyshana Hobson, Ryan Simmons, Ensign Broderick
written by Guy Maddin, Evan Johnson, Galen Johnson, music by Ensign Broderick


short

review by
Mike Haberfelner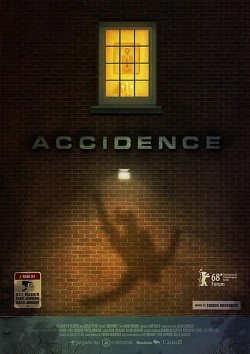 It all begins with what might be the aftermath of a crime: A man with a bandaged face sitting on the balcony that has a hole in its railing, and from the torn police line, one might guess somebody has been pushed through. The police arrives in due time and as the man is arrested, the camera pans back to show the goings-on on the other balconies of the apartment building in question, and we see rather random events happening on them, from a photo shoot to a birthday party to a man hiding outside from whatever spooky might occur inside - seemingly random occurences all, and only gradually do we get the idea that many, maybe all of them might be connected, and might lead to inescapable disaster.
Now there's one film that deserves, no demands repeat viewing. All played out as one uninterrupted shot, it has many a narrative thread happening physically next to one another, threads whose connections to one another become clear only in hindsight - it's pretty much the complexity of a feature film rolled into a short of under ten minutes, masterfully brought to the screen by visionary minds.
However, it's not so much the logistical mastery that's so fascinating about this short, it's its sheer willingness to entertain. Thus the film is an endearing compilation of genre motives, from the scary to the hilarious, from the melodramatic to the pulpy, often intentionally exaggerated in their approach, but never moronic or pretentious, and while I'm almost certain that Alfred Hitchcock's Rear Window has been a major inspiration for this one (not in story, just in premise), the end result is highly original nevertheless and feels like a pure labour of love.
Definitely recommended!