Hot Picks

2047: Virtual Revolution


France / Canada / USA 2016
produced by
Guy-Roger Duvert, Gil Aglaure (executive), Nicolo Laurent (executive) for Lidderdalei Productions
directed by Guy-Roger Duvert
starring Mike Dopud, Jane Badler, Jochen Hägele, Maximilien Poullein, Kaya Blocksage, Petra Silander, Emilien De Falco, Nicolas Van Beveren, Elie Haddad, Zoe Corraface, Eric Kailey, Melissa Mars, Salem Kali, Pascal Gilles, Hoda Safiah, Leslie Carles, Sébastien Novac, Patrick Guérineau, Serge Crozon-Cazin, Audrey Giacomini, Julien Toilliez, Frédéric Deleersnyder, Mickael Moise, Aurore Klein (as Aurore Schaeffer), Lucile Wawrzyniak, Olivier Faursel, Vincent Ceus, Tchewk Essafi, Maxence Fertein, Yves Yan, Franck Gonzalez
written and music by Guy-Roger Duvert, visual effects supervisor: Matt Hoffman, stunt coordinator Gil Demurger

review by
Mike Haberfelner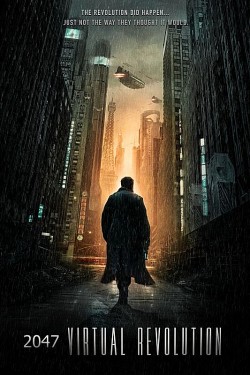 In 2047, everyone's online, all the time - and not so much for practical purposes. Actually, online gaming has taken over the world to such an extent that most of the population has taken refuge in some VR worlds where they live through formulaic adventure fantasies that have no purpose other than pure escapism. But the gouvernments around the world support that kind of behaviour, as human workforce is hardly needed anymore, and since gamers have a shorter lifespan and less needs, it's much cheaper to pay them to stay in their virtual worlds rather than paying them unemployment, healt insurance and such.
Nash (Mike Dopud) is a hybrid, meaning he's a gamer who still has links to the real world and still leaves the VR ever so often to work in his actual job as investigator and enforcer for the Synteris corporation, one of the leading VR suppliers. And Dina (Jane Badler), head of Synteris, desperately needs someone like Nash right now, as there's the rebellion who wants to free humankind of its VR bane to make everyone live in the real world again, and they repeatedly plant viruses that actually kill gamers. Now the FBI has already picked up the scent, and that's why Nash is quite as badly needed, as he needs to track down the rebels (called "Necromancers") before the FBI can so Synteris can properly hush things up. Nash isn't sure he likes any of this, but he does like the money - until he meets Camylle (Kaya Blocksage), head of the Necromancers, who puts massive doubts in Nash's head. And suddenly Nash finds himself in the center of a war that isn't his, and has no idea where he wants to stand or if it's a winnable war even ...
Now of course, in story and style this movie is a bit reminiscent of sci-fi classics like Blade Runner and The Matrix, to name just a few, and has its fair share of videogame references - but it manages to spin a very nice yarn around the world it manages to believably create, a story that at the same time is intelligent and allows a lot of action and shoot-outs, and that has its suitably cheesy bits without being either dumb or mornic. And good, grungy lucks and proper build-up of tension go hand in hand here to really suck the viewer into the story, even if the plot might not be 100% comprehensible after just one watch.
Definitely recommended!