Your upcoming movie is called Hate's Haunted Slay Ride. In a few words, what's the movie about, and wht can you tell us about its main character Hate?
Hate's Haunted Slay Ride is a direct sequel to September 2008's feature film release Haunted Hay Ride: The Movie. In that movie, a cop's abused son murders his father, sells his soul to the Devil, changes his name to Hate, uses a drill to attach a Halloween Skull mask to his face erasing his previous life and goes on a killing spree at Halloween which ends up with him wiping out almost all the workers and customers at an elaborate Haunted Hay Ride. Hate escapes at the end of Haunted Hay Ride: The Movie, and Hate's Haunted Slay Ride has him growing more evil and powerful and waging a war against Christmas, Judaism and Christianity, which reaches a peak when he surrounds a synagogue with a wall of hell fire and tries to murder all the Jews and Christians trapped inside. Hate's Haunted Slay Ride deals with good vs evil in a pure form.
How explicit will the film be in terms of violence?
That's hard to answer. The Saw movies and films like Hostel have raised the sadistic bar. I think both Hate's Haunted Slay Ride and Haunted Hay Ride: The Movie are fairly violent movies with lots of blood and murders, but they aren't as sick minded and cruel as many of the S&M movies being sold as horror movies today. When we kill people it's exciting and fun. I love horror movies and violence is fine with me. I just don't like cruelty.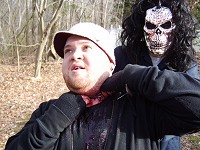 Hate killing another victim in
Haunted Hay Ride: The Movie
What were your inspirations for both Hate's Haunted Slay Ride and the character Hate as such?
On one level Hate's Haunted Slay Ride is a very religious movie. Horror movies have degenerated over the years from a good vs evil morality play into non-supernatural stories about human monsters torturing their victims. I wanted to bring God and the Devil back into the situation and have a more classical confrontation between good and evil. I grew up on Hammer films, Amicus films, the classic Universal horror films. They were better horror movies than what you get today. Hate's Haunted Slay Ride and Haunted Hay Ride: The Movie are a mixture of the old and the new when it comes to horror.
Another thing that sets Hate's Haunted Slay Ride apart is that it is Jewish rather than the traditional Roman Catholic. The hero is a Rabbi and his struggle against supernatural evil. On another level its a redemption story about a cop who rediscovers his faith. I think audiences will find this aspect new and refreshing.
A few words about your cast and crew?
We had a few carry over from Haunted Hay Ride: The Movie, but most were new people. For most of them it was their first movie and it was a learning process. That added enormous pressure on me because I had to do too many jobs making this movie, including writing the script, producing, directing, handling the cinematography, doing the lighting, editing the movie myself, authoring the DVD, doing the adverting posters and box art, etc. Needless to say I actually ended up in the hospital from exhaustion and stress. On IMDB I see 95 people listed for cast and crew. If they were fully functional as a real crew my health would have been more intact.
On the acting side Jenny Hill, Daniel Bartkewizc, Paul Kellogg, Dan Griffin, Joann Murano and my father, Warren Disbrow Sr, all performed well. The movie looks good and larger in scope than Haunted Hay Ride: The Movie despite the tough shoot.
When and where will the film be out?
If I don't drop dead from exhaustion, Hate's Haunted Slay Ride will be out in late December 2009. It will be released by Crystal Visions Entertainment LLC, who handled Haunted Hay Ride: The Movie. Sub distributors will get it a world wide release in 2010. Naturally you can get signed copies at www.warrenfdisbrow.com.
After all that talk about Hate's Haunted Slay Ride, could you say a few words about Haunted Hay Ride: The Movie, in which Hate made his debut?
With Haunted Hay Ride: The Movie I wanted to celebrate the Halloween experience while introducing a new supernatural horror guy like Jason, Freddy Krueger and Michael Myers that could stand in that group without being a cheap rip off of them. So far I've gotten nothing but positive responses from buyers and positive reviews in the media. I guess it worked.
Are you planning to ever do another feature about Hate?
Yes. I think the character could spin off several sequels without running dry of ideas. I avoided the time honored problem of how to revive my monster by simply having Hate survive at the end of all these movies. Hate never dies.
Let's leave the present behind for the moment and dive head-on into your past: What got you started in making movies in the first place?
Creature from the Black Lagoon (1954) seen by a five year old kid on a small black-and-white TV in his parent's house. It was magic. I was hooked. I fell in love with monsters and horror movies and dreamed out the day when I could make these wonderful movies for myself. I still feel the same as I did as a kid about these movies. I collect the toys, posters, DVDs, CDs and go to sci fi horror conventions. I was in the Peter Cushing and Christopher Lee fan clubs. James Whale, Freddie Francis, Terence Fisher, Roger Corman, George Romero, David Cronenberg - love them all. Musically give me Alice Cooper and Marilyn Manson.
You have made several shorts during your college years. A few words about them?
I always saw college as a means to get my hands on the movie equipment and skip classes to make a movie. I was very ambitious in my teens and twenties and focused on making movies above anything else. I started making Super 8 sound 10 and 20 minute shorts in high school. Sam Raimi did the same things, only he made comedies! In college I moved into 16 mm production and made Pit Stop, about an alien on a college campus which was 20 minutes. I also made Kiss of the Medusa in 16 mm color which dealt with the Gorgon myth from Greek legends. I shot a 5 minute short called Night Shift which was played on Manhattan cable over 100 times. Leaving college I purchased all the 16 mm production and post-production equipment to set-up my own company and my first professional job was for Sam Sherman of Independent- International Pictures called Creature with the Blue Hand starring Klaus Kinski; I met special effects artist Ed French on that shoot. That was my dad's first feature film too, playing a German Butler murdered by a psycho killer. After that I expanded into 35 mm production. Now we're following George Lucas into the digital age!
Your debut feature film was Flesh Eaters from Outer Space. What can you tell us about that one and its direct sequel Invasion for Flesh and Blood?
After working with Sam we had a bit of cash and equipment and we ended up with the flats used for sets in Creature with the Blue Hand (aka Bloody Dead). I wrote a script and pulled friends together and new people came in and it all came together. The big mistake I made on that first feature film was believing people when they said they would do a job on it. I had to make the monster suit from scratch in two weeks when the effects guy failed to deliver for example. I've always had to wear multiple hats making these movies because in New Jersey there aren't that many people with film experience. It took less than a year to make the first one - Flesh Eaters from Outer Space. That wasn't my title, I called it A Taste of Flesh and Blood. Taste was stolen by a company called Legacy Home Entertainment and I never got the master back.
We started the sequel Invasion for Flesh and Blood almost right away, and horror fans came onboard and we made a better movie than the first one. Creatively Invasion was the most enjoyable experience I ever had until Haunted Hay Ride: The Movie. My vampire films Scarlet Moon and Dark Beginnings were awful experiences and had my thinking about quitting the business. Troma re-released Flesh Eaters from Outer Space and Invasion for Flesh and Blood as a double-DVD set and has had them since 2006; all I collected from Troma so far is $135.00 total. Whatever you don't get up front from a distributor you'll never get.
These films seem to have a 1950's monster movie feel to it. Was that deliberate?
I love the 1950's monster movies like She Creature (1956), Monster that Challenged the World (1957), Them (1954), Invasion of the Saucermen (1957) - all of them big and small were fun and creative. I wanted to make a rubber monster movie, only with today's nudity and gore. The first two - Flesh Eaters and Invasion - got very good reviews and were seen world wide. I'm being asked all the time to do sequels to them but I resist because I feel a need to do other stories. The monster suit is still in good shape though; the Golden Slayer rotted away.
Scarlet Moon and Dark Beginnings were originally supposed to be one single movie, right? Why did you chop it up into two, and what else can you tell us about those?
The working conditions were terrible. Because of cast and crew issues I was rewriting the script daily. I kept filming hoping to get enough footage that if I edited it down to 90 minutes it would be a functional film. I ended up with nearly a 3 hour first cut. I edited everything to do with Scarlet Moon into a 96 minute film. That left 52 minutes of reasonably good footage unused. Instead of throwing it away I filmed another 50 minutes and had a prequel, Dark Beginnings. If I had a larger budget for Scarlet Moon where I could have hired a professional crew and more reliable actors, both Scarlet Moon and Dark Beginnings would be very different movies from what they are. I struggled desperately to make them good and they turned out better than one would expect given the awful conditions under which they were made. I've gotten good reviews for Scarlet Moon despite its shortcomings. Dark Beginnings will be released in 2010. Mike Lee, my genius CGI guy, took a year overhauling Dark Beginnings and it looks much better than Scarlet Moon at this point.
Any films I have forgotten you'd like to talk about?
Several aborted projects which don't matter at this point.
Any future projects?
Haunting of Holly House, the next one. With each movie starting with Haunted Hay Ride: The Movie and going to Hate's Haunted Slay Ride, and next, Haunting of Holly House, I've been very deliberately moving towards a more mainstream style of filmmaking. The movies are starting to look more polished technically and more mainstream in material. I hope to end up making higher quality movies people think were made in Hollywood. Haunting of Holly House I want to look like a Hollywood film. It will be shot Hi-Def and transferred to 35 mm for theatrical release, like the last two Star Wars-movies.
Concerning making movies, you have done it all, writing, directing, producing, editing, makeup, special effects and whatnot. Why is that, which aspects of filmmaking do you like most, and which could you do without?
Directing and writing are my passions. I do all the other technical jobs because I can't find people who can do them as good as me. I would rather not wear all these hats and work myself into exhaustion. But I can't settle for a compromised movie by letting others who aren't as talented as me do the camera work, lighting, etc. I have to think what is best for the movie. I'd stop doing all these jobs if talented and qualified people came in to take over for me. I dream of the day that will happen. I don't mind doing any creative jobs on a movie individually but doing all the jobs on the set at once, like I've been forced to do, is a nightmare. Remember - George Romero did the writing, directing, camera work and editing of Night of the Living Dead (1968); he was stuck looking for quality people to help him too. I enjoying sculpting and painting too but only for relaxation.
You are making your movies pretty much exclusively in New Jersey, and have been doing so for quite some time. What can you tell us about filmmaking conditions in New Jersey?
New Jersey sucks. As a location you have city, country, beach, mountains, etc all within driving distance, so it's pretty good in that respect. But you get very little cooperation from people and businesses in NJ. Forget the cops or any official offices being nice too. It's very movie-unfriendly here. And you don't have a pool of experienced film crews here or dedicated people in general. The New Jersey media runs hot and cold but basically I'm not given the respect that I've earned; George Romero said he got that same poor treatment when he was making movies in his home state of Pennsylvania too. If Hollywood calls, I'd leave New Jersey in a heartbeat.
You also shoot almost exclusively with local talent. How easy or hard is it to get cast and crew for horror films in New Jersey?
I always find a cast and crew in New Jersey, but almost all are inexperienced. I find myself running a school while trying to make movies of good enough quality to compete in the market place. I'm more focused and driven than most of the people I meet in NJ. I won't take no for an answer. I find a way. If I don't know something I go out of my way to learn it. This isn't the case with the majority of the people I meet here. There are a few on every project that are reliable and smart and are quick learns; the rest fall by the wayside.
Your website, MySpace, whatever else?
Each movie will have its own MySpace page, Facebook, whatever the next flavor of the month of communications fad that shows up - Twitter? Crystal Visions Entertainment LLC has it's own web site as well. MTV, VH1, Turner Classic Movies etc also have pages for my movies that need updating. It's hard to keep up.

Feeling lucky ?
Want to
search
any of my partnershops yourself
for more, better results ?

The links below
will take you
just there!!!

Find Warren F. Disbrow
at the amazons ...

amazon.com

amazon.co.uk

amazon.de
Looking for imports ?
Find Warren F. Disbrow here ...
Something naughty ?
(Must be over 18 to go there !)

Directors who have influenced you?
Terence Fisher, George Romero, James Whale, Jack Arnold, Freddie Francis, David Cronenberg, John Carpenter, Roman Polanski, there are many great genre directors who have made superb horror movies out there. I just want to contribute a few classics of my own some day too.
Your favourite films?
All horror and sci fi movies from the silent era up to the present. I could fill a book. Maybe someday I'll write a book on all these wonderful filmmakers and movies.
And of course, some movies you really hated?
Hostel, and other sick sadistic movies like it, with little redeeming value, pretending to be horror movies. Horror movies for me have to have more imagination and quality and a supernatural element for me. I'm more demanding as a horror fan. I don't like rubbish.
Anything else you are dying to tell us and I have just forgotten to ask?
Horror Sci Fi Fantasy movies are the best. Regular movies are boring. Iron Man and Spiderman-movies rule too. I don't go to movies to see real life mirrored on the screen, I want to see fantastic, exciting things I can't see in our real world.
Thanks for the interview!