Your new movie Killer Rack - in a few words, what is it about, and what can you tell us about your character?
Killer Rack is a screwball horror comedy. Betty Downer (newcomer Jessica Zwolack) thinks her life will improve when she gets breast implants from Dr. Cate Thulu (Debbie Rochon [Debbie Rochon interview - click here]). Her new assets attract attention, but Betty soon discovers her new boobs are man-eating, Lovecraftian monsters hell-bent on world domination - and only she can stop them.
I play Gearz, who with his buddy Tickbite are a couple of 80s throwback metalheads who have been cat calling women on the same street corner for the past 20 years. A kind of Jay and Silent Bob duo if you will.
How did you prepare for your role, and how much of Tim O'Hearn can we find in him, actually?
Since I have played drums in various bands since the early 80s I though back to that time in my life. So it is or was a past Tim O'Hearn.
After I got cast in the role the big joke with me was "Who is acting?"
How did you get involved with the project in the first place?
I had worked with director Greg Lamberson [Greg Lamberson interview - click here] in his last 3 or 4 films and he was familiar with my background playing in metal bands so he approached me about this role.
You're also one of the executive producers of Killer Rack - so how did you end up on the producer side of things as well, and what were the challenges there?
After being offered the Gearz role and reading the script it was a no brainer for me to want to become an executive producer on this film.
Do talk about the shoot as such, and the on-set atmosphere?
It was a lot of fun for me to basically play something that is literally part of me. Since comedy/horror elements are a large part of the film it was a set with lots of joking around and fun but at the same time very serious about what we were there to accomplish. Gearz and Tickbite are usually a favorite among people who have seen the film. *throws up metal horns*
What can you tell us about your director Greg Lamberson [Greg Lamberson interview - click here], and what was your collaboration like?
Greg knows what he wants and has a knack for getting exactly what he is looking for out of you and is open to any ideas you bring. Since I have worked with Greg in the past we collaborate well. There is actually a line I improvised in the film.
You're also in Greg Lamberson's upcoming Johnny Gruesome - so do talk about that one for a bit!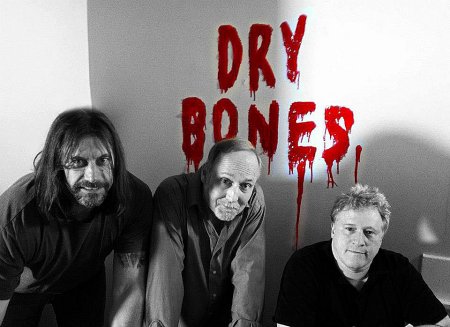 Tim, MichaelO'Hear, Greg Lamberson
Johnny Gruesome, scripted in 1984 and an award-winning novelization published in 2006. The teen horror zombie revenge flick concerns a murdered teenager, Johnny Grissom, who returns from the grave as a supernatural creature craving vengeance against those who conspired against him. I play a gravedigger in one of the first scenes you see Johnny as a supernatural creature. Needless to say Greg is very excited about this project, his largest one to date.
Speaking of Greg Lamberson, you have worked with the man time and again - so do talk about your past experiences, and how did you two first meet even?
I was first introduced to Greg by an actor friend of mine at Fan Expo in Toronto where Greg had a table for Medallion Publishing. Not to long after meeting, Greg contacted me about playing the main character in a movie he was writing the script for Scaremonger which he never got funding for, and like Johnny Gruesome made into a novel available on Amazon. Hey, maybe like Johnny Gruesome it will be made into a movie, only I can't wait 30 years, lol.
Another upcoming movie of yours is The Dummy 2 - so what can you tell us about that one, your character, and your approach to that role?
The Dummy 2 follows 1995's The Dummy by Dante Falconi. I play the creepy "Man in Trenchcoat" who supplies the dummy to the kids in the film. With my long hair, and being 6'2" I usually get cast as the creep or killer. I'm pretty creepy if I do say so.
What got you into acting in the first place, and did you receive any formal training on the subject?
I was always fascinated with horror movies even at a young age. Never received any formal training until recently I just finished an 8 week acting workshop. I have always just referenced all the horror movies I have watched and kind of act them out with my own little twist. I'm hoping the formal training will help me get to the next level of my career.
What can you tell us about your filmwork prior to Killer Rack and The Dummy 2?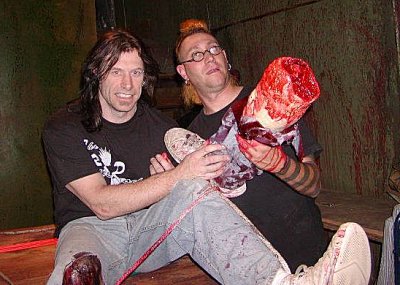 100 Tears
In 2007 I was in SFX wizard Marcus Koch's 100 Tears [Marcus Koch interview - click here]. Since then I have played "creepy phone guy" in the anthology Dead Ink, in Dry Bones the role of "Mikey", in The Legend of Six Fingers the title role of the Bigfoot type creature "Six Fingers", in the horror short Death House I play a Leatherface type killer. I play the kingpin's muscle "Guido" in Dick Johnson and Tommy Gun Vs the Cannibal Cop, I'm the creepy guy "Brick" in Angel of Reckoning. 2013 I won Best Western NY Actor at Buffalo Dreams Film Fesitval for my portrayal of a retired hit man Marvin in a student short film Rhythm in which Mick Thomas also walked away with Best Student Film. I also have appeared on network TV on Tru TV's Fatal Attractions and ID Channel's Deadly Affairs, in one as a creepy guy who owned over 200 snakes and the other a heroin addict murder accomplice. See the running theme here, lol!
How would you describe yourself as an actor, and some of your techniques to bring your characters to life?
I try to apply real life events to my characters 'emotions such as if my character is really angry, I will go off away from everyone and get my self all worked up before we shoot the scene. If its something I have never experienced I will imagine myself in that situation. For instance in The Dummy 2 I delivered my dialogue in a way that would creep me out if someone were to act that way toward me. After shooting one of the scenes one of the actors said I totally creeped him out! Success!
Actors (and of course actresses) who inspire you?
Lately I have really gotten into Jake Gyllenhaal movies. He has been doing some really out there "thinker" movies. Movies that you watch and say to yourself WTF did I just watch and have to view at least a few times. He really gets into character both mentally and physically. For instance for Nightcrawler he lost so much weight he looked sickly, then for Southpaw he trained, worked out and was jacked. I'm also inspired by character actor Bill Moseley and of course the late great Dennis Hopper. For an actress I have always loved watching Karen Black through the years.
Your favourite movies?
The Crow is one of my favorite revenge movies. Hence my nickname "Crow". It is so sad that Brandon Lee lost his life making the film. I think he would have went on to do some big things. Guillermo del Toro's Pan's Labyrinth is a masterpiece of fantasy story telling. Peter Jackson's gore fest Dead Alive is one of my favorite horror films.
... and of course, films you really deplore?
I really can't stand all the shaky camera films, I don't see the attraction, it's like watching a bad home movie. Or the Paranormal Activity films that feel like you are watching a cheap reality TV show shot with security cameras.
Your website, Facebook, whatever else?
Feel free to contact me/follow me to find out the latest news on my films:
IMDb: http://www.imdb.com/name/nm2567792/
FB: https://facebook.com/crowtheactor
Instagram: crowtheactor
Twitter: @drumr59
Killer Rack page: https://www.facebook.com/KillerRack
Anything else you're dying to mention and I have merely forgotten to ask?

Feeling lucky ?
Want to
search
any of my partnershops yourself
for more, better results ?

The links below
will take you
just there!!!

Find Tim O'Hearn
at the amazons ...

amazon.com

amazon.co.uk

amazon.de
Looking for imports ?
Find Tim O'Hearn here ...
Something naughty ?
(Must be over 18 to go there !)

Hot off the press - You can now pre-order Killer Rack through Amazon.com release date of Dec 13 2016. Just in time for some great stocking stuffers!!
I just came off the set of a short film Kill Martin Scratch, a bloody action comedy in which I play the big rough Russian mobster Chernobog.
Mick Thomas and I are in post production of a thriller/drama short film No One Has to Know in which I play a "creepy" homeless man. There's that word again, lol. Facebook page with teaser: https://facebook.com/noonehastoknow.
We are also in pre-production for our new epic horror short Pumpkin Bitch! Nothing more needs said on that one. The name says it all!
I can't give any details yet but 2017 has already started to get busy for me.
Thanks for the interview!
Thank you for talking to me!