Your upcoming movie Dry Bones - in a few words, what's it going to be about?
A little boy is terrorized by a monster under his bed. Decades later, after years of psychiatric help, he returns to his home town to fix up his childhood home and put it up for sale, but by then the house has a reputation for being haunted. Before long strange things start happening in the house. Of course the monster is still under his bed, it's never left, and it's been waiting for him all these years…
What were your inspirations when writing Dry Bones? And is any of the film based on real life experiences (apart from the monster bit I suppose)?
Michael O'Hear, who's a good friend, hired me to write another script for him to star in and direct. He had some ideas about a monster under a bed and about a succubus. Now these are two very different ideas – one is about childhood fears and the other is about adult fears. As it turned out, one of my own unrealized story ideas – every writer has a ton of them – dovetailed nicely with Michael's ideas and enabled me to fuse them together.
Dry Bones is described as a horror comedy - so what can you tell us about your movies brand of humour?
The original SlimeCity is pretty funny, but many of the laughs were unintentional. Dry Bones will be equal parts comedy and horror, like the original Fright Night, and House. The humor comes from the characters and some really absurd situations, and then some really gross sexual situations in the last act. Unlike a lot of indie horror comedies, I think this one is going to be genuinely funny. In a lot of ways it's closer in spirit to Slime City than anything I've done since.
Likewise, how would you describe Dry Bones' approach to horror?
There's a real paranoia at work as the main character comes to realize the creature under his bed is a succubus who is capable of taking the form of anyone it chooses. The succubus will be a really horrifying creature, covered with STD sores all over her body because she's been rotting as she's waited for this guy to come back to the house so she can wrap up unfinished business. The dried up husks of her victims keep popping up all over the house, and in the last act, when the succubus and our hero finally reach their collision point, the gags will be outrageous.
Anything you can tell us about the planned monster effects yet?
Rod Durick and Arick Szymecki, both of whom worked on Slime City Massacre, are creating the special effects. Rod also wrote the book Filming the Undead: How to Make Your Own Zombie Movie and Arick worked on Snow Shark: Ancient Snow Beast. We all understand that the creature is our main selling point, so the design and execution have to be exceptional. Let's face it, succubi haven't been very well portrayed, they're sort of third or fourth tier characters. We're going to change that!
Dry Bones is going to be directed by actor Michael O'Hear - why him, and what will he bring to the table? And having directed quite a few movies yourself, did you ever feel tempted to try your hand on this one as well?
Michael initiated this project, it's his film even though I wrote it and am producing it. When I wrote it I didn't know I was going to produce it, but I was so pleased with how the script turned out that I wanted to make sure it got made correctly and in a reasonable period of time so that the people who work on it aren't wasting their time.
Michael is an actor who takes his work seriously, he appeared in Slime City Massacre, on which he worked as my assistant director, and we worked together on Model Hunger, which Debbie Rochon [Debbie Rochon interview - click here] directed. This is his first feature, but he's directed theater, which is really important because most of the humor has to come from the performances. He'll make sure the acting is rock solid and I'll make sure everything else is as professional as possible. He's also playing the lead character, so he's got a lot of responsibility. I'm careful about who I work with, there are a lot of charlatans in this industry and I only want to collaborate with people whose first priority is to make a good film.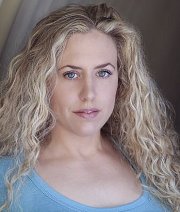 Melantha Blackthorne
With Melantha Blackthorne [Melantha Blackthorne interview - click here] and Debra Lamb [Debra Lamb interview - click here], you've gotten yourself two women quite well-known in horror cycles as co-producers. Now how did you get them, and what will your collaboration be like?
I've known Melantha for several years now, I was supposed to direct a film that she appeared in but I bailed on the projet because I didn't trust the producer (who later went to prison). I've seen her at conventions, and we brought her out to Buffalo Screams Horror Film Festival as a guest, where she screened Inbred and Undead, an outrageous short which she directed. As soon as Michael and I started discussing Dry Bones, we knew we wanted her involved, and Montreal is only five hours away from Buffalo. When we showed her the script - we wanted her to play the love interest, but she liked the monster, so she'll be playing both parts, which will be a lot of fun – again, a similar approach to what I did in Slime City.
Melantha brought Debra to the project. I spoke to Debra the other night and she has a great attitude. She's getting involved in a few films as a producer, so the timing was right.
Anything you can tell us about (the rest of) your projected cast yet?
Michael is casting a lot of local theater people I don't know – that's a different world for me – so I'll just mention those I do know. I wrote the three largest supporting roles for John Renna, who played the Mayor of Slime City in Slime City Massacre; Kathy Murphy, who did an impressive job in Snow Shark: Ancient Snow Beast; and Paul McGinnis, who is also our casting director. All three are talented and a pleasure to work with, which is key to me. Paul is unknown at this point, but he's a theater actor who recently started working on films, he's done some film acting and he worked as a PA on both Model Hunger and Ward's Island. He co-wrote and starred in a grindhouse trailer called The Camper which Rod Durick directed which won Best Western New York Genre Film at Buffalo Screams, and I encourage you to watch it right now, it's hilarious: https://www.youtube.com/watch?v=qTPmtmVwmaU.
My daughter will also be making her acting debut!
As far as I know, Dry Bones is still in its fundraising stages - so what can you tell us about your fundraising efforts?
I have a core group of investors who financed Slime City Massacre and Snow Shark, and they're back for Dry Bones. But Dry Bones will cost twice as much as Snow Shark, so their investments won't cover the full budget, and we've started an IndieGoGo campaign. I see people raising money on these crowdfunding sites for projects that will never be completed or distributed – a complete waste of money and people's time – and I finish all of my projects and see them through to distribution, so I can honestly say to people, "Hey, you're not throwing your money away by donating to this project; we'll finish it, we'll finish it in a reasonable period of time, and your name will be on a film that people will actually see, unlike so many indie projects out there."
http://www.indiegogo.com/projects/291738/x/78828
Once the funds are raised, how do you plan to proceed - and any idea yet when the film will be released onto the general public (and yes, I know it's waaay too early to ask)?
We start pre-production next month, we shoot March through May, and post production will happen over the summer. It will be finished in the fall, hopefully in time for festivals, but it will definitely premiere the same year we raise the money and shoot it, and again, that's why I think people who are willing to donate to a film should take a serious look at this one.
Speaking of release dates: As far as I know, the wonderfully titled Snow Shark, another film you have produced, will be released in February. You just have to say a few words about that one!
Sam Qualiana is a young local filmmaker who writes, acts and directs [Sam Qualiana interview - click here]. I liked some of his early shorts, and when I saw a teaser for Snow Shark I said, "You have to make this into a feature." I raised most of the budget for the film and encouraged him to use some effects people I know, and arranged for Brett Piper [Brett Piper interview - click here] and Mark Polonia to edit the film and Michael Paul Girard to score it, and I got the film a distribution deal with Alternative Cinema/POP Cinema. It's a fun creature film, very absurd and unpretentious. Sam and his cast and crew worked very hard on it, and I'm proud to have it on my resume. The reviews are coming out now, some good, some bad, just like you'd expect. This is B movie made for a specific audience, and those people will love it. Invasion of the Saucermen and all those Roger Corman science fiction films from the 1950s probably weren't critically acclaimed when they came out either [Roger Corman bio - click here]!
We just found out today that when the film is released on DVD February 19th it will be available for rent in Family Video, and Walmart Canada will stock it for sale, so we're doing something right.
Sam is shooting Dry Bones, by the way.
Any future projects beyond Dry Bones?
I have no future film plans, I take them one at a time so I can devote my full attention to them I am doing publicity for one called Krackoon Bloodmarsh, directed by Jerry Landi and produced by Marcc Makowski, who co-produced every film I've directed and just signed on for Dry Bones.

Feeling lucky ?
Want to
search
any of my partnershops yourself
for more, better results ?

The links below
will take you
just there!!!

Find Gregory Lamberson
at the amazons ...

amazon.com

amazon.co.uk

amazon.de
Looking for imports ?
Find Gregory Lamberson here ...
Something naughty ?
(Must be over 18 to go there !)

I'm a novelist though, and I have two books coming out this year, Storm Demon and The Julian Year. Storm Demon is the fifth book in my supernatural action series The Jake Helman Files, and The Julian Year is the first TREEbook from Medallion Press. That stands for "Timed Reading Experience E-book". It's an interactive e-book for the ipad with time triggers and branching technology. There's never been anything like it.
Your/your movie's website, Facebook, IndieGoGo, whatever else?
I have a brand new website, www.gregorylamberson.com, designed by Jonathan Kemp and it is awesome! IndieGoGo is http://www.indiegogo.com/projects/291738/x/78828 and my Facebook page is https://www.facebook.com/pages/Gregory-
Lamberson-Author-Filmmaker/232650553535136?ref=ts&fref=ts.
Anything else you are dying to mention and I have merely forgotten to ask?
I had three books published in 2012: Carnage Road, The Frenzy War and Tortured Sprits. They're all available at Amazon: http://www.amazon.com/Gregory-Lamberson/e/B001JS2GHM. And Medallion Press created a very cool illustrated download called The Jake Helman Files: Afterlife Project, which is free and shows the key characters, creatures, and locations for that series: http://medallionmediagroup.com/wp-content/uploads/2011/11/JakeHelman_AfterlifeProject.pdf
Thanks for the interview!
Thanks for your interest!