Your upcoming film Save Yourself - in a few words, what is it about, and what can you tell us about your character in it?
Save Yourself is about 5 strong woman in the film industry on a road trip to LA to premier their horror movie at film festival. Along the way Crystal goes missing and they are faced with a mad scientist. They are having a blast until every woman's worst nightmare becomes a reality. The character I play is Sasha. She is an edgy but chill fun rocker chic, who just wants to have a good time. She has a past of struggle and pain and found her way through rock music to become who she is today. However like any human in a horrific situation, she must turn on her survival instincts when survival is the only option.
What did you draw upon to bring your character to life?
To bring Sasha to life, I worked closely with director Ryan Andrews [Ryan M. Andrews interview - click here] to make sure we had the same vision on what we would create for the role. He gave me a list of music to listen to from the Butcher Babies to Taylor Momsen and then I couldn't help but throw Rob Zombie into the mix. As Sasha was a rocker chic, I also had to create how she would talk, walk, react, move, etc. As the character is very different from my own personality, I practiced method acting for this role and embodied Sasha 2-3 weeks prior to shooting and stayed in character until we wrapped principle photography. She was a lot of fun and a total wild card. The behind the scenes videos should be a hoot! Hah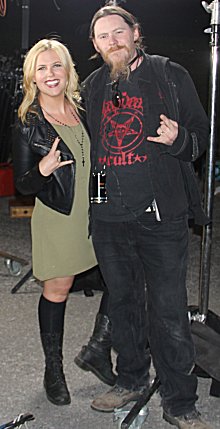 Tianna with Ryan M. Andrews
How did you get hooked up with the project in the first place?
I was actually the reader in the audition room the day of auditions. Ryan Andrews then asked me to come in for callbacks but on the other side of the camera and had me read for Sasha and Dawn. That week Ryan and one of the executive producers Pino Halili also attended the screening of a movie that I'm the lead in called Clean Break directed by Tricia Lee [Tricia Lee interview - click here] at The Blood In The Snow Film Festival. After all that I was unexpectedly offered the role of Sasha Tobin in the film.
What can you tell us about Save Yourself's director Ryan M. Andrews [Ryan M. Andrews interview - click here], and what was your collaboration like?
Working alongside Ryan Andrews was amazing. A typical word to use but I honestly mean it. We are both artists and love to create art organically but with dedicated preparation to make that happen. Prior to shooting we met for coffee and went over the script and my character several times. I wanted to give Sasha the life she deserved as much as he did and that's why we artistically clicked. On set Ryan would look at me, give me a nod and I knew it meant 'do your thing, I trust you.' We had a mutual trust that is needed with a director and actor and is truly a gift to have on set. He was such a standup talented professional to work with and I honestly feel blessed to have had the opportunity to create this movie with him and the team. Ryan is a director of horror and lives and breathes it, and that to me says it all. He is not only in the industry for the right reasons but in the genre that is true to his heart.
What can you tell us about the shoot as such, and the on-set atmosphere?
The shoot was a blast! Maybe it was because I was in character all the time but I honestly had so much fun! Hah, when you are able to do what you absolutely love with a team of driven passionate professionals, it is an ideal work atmosphere to have. The cast and crew were so hardworking and dedicated and such a pleasure to work with. Going in to an all female cast, I didn't know what to expect, as this was a first for me. Ryan arranged pre-production bonding time to build the chemistry with the five females with distinct character personalities. I was so grateful for this as we went into the first day of shooting with a bond and chemistry. The 5 of us also mostly lived together while shooting which was ideal to keep that going throughout the shoot. The DP Michael Davidson and first AD Charles Smith were so amazing to work with. To know that the DP and first AD truly have your back on set is such a gift to have. They are so talented and it was an honour to work with them both.
With Save Yourself being a horror movie, is that a genre you can at all relate to, and why (not)?
Everyone I believe can be or is affected by the horror genre. Whether by a movie or in real life. By this I mean that some horror films are very much relatable or can in fact happen or have happened. Those films that focus more on real life horror I can most relate to. Anything from home invasion style horror like The Strangers to something like Kiss The Girls.
As an actor it is important for me to relate to the subject no matter what the context is. However that being said, surreal horror or creature features can be relatable as the human brain is sometimes scared of the unknown in life. If not I can use the 'substitution technique' and replace the thing in the movie that I am to be scared of with something that I am scared of in real life. With Save Yourself, being kidnapped is a common fear among women. Things happen in this movie that would absolutely be some of the worst things that I could possibly think of that could happen to a person. There is one scene in particular with Chris (Ry Barrett) and I that is extremely vulnerable and disturbing and it was not hard for my characters layers to break down in that moment due to the fact that it happens to women in the world daily and is a repulsive horrific crime. Save Yourself is absolutely a real life horror style film with a bit of movie magic twist. It is well researched but has the undertone of 'what if this was possible' which is very unique. It may sound cliché but I can tell you now, Ryan Andrews breaks that and gives you something very exclusive.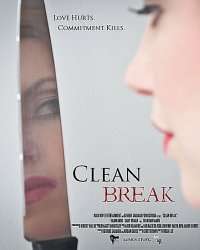 Speaking of horror, you have recently also starred in Clean Break - so a few words about that one and your character?
Clean Break is now available on iTunes and VOD. Very excited about that as I put my heart, sweat, blood and tears into this role. The movie is about a woman Tracy that wants the picket fence stereotypical Stepford Wife lifestyle. She has a burning desire inside of her that is so strong and with a complex past of pain and sociopathic tendencies, she will go to any distance to make sure that happens.
How much fun was it to play a crazy bitch like Tracy, and how much of yourself can we find in Tracy, actually?
When I first read for Clean Break, I wanted the role so bad as I never expected an audition for such a complex sociopathic character so soon in my film career. I knew if I dug into my training, studied and got coaching on the side that I could bring her to life in a somewhat likeable sociopathic way. I've never been the girl who has pictured the perfect picket fence life or even my wedding day for that matter, so this was definitely a stretch for me. But how I could relate to the character was the desire to want something so bad and use the acting technique of substitution. Would I kill someone to get it? No. But Tracy would. I also had to dabble into my method acting training in order to keep her mannerisms real as I define myself as more of a 'bull in a china shop' type haha. I had to be smart however with this training as the role was very intense and the brain is a powerful powerful tool that you need to be careful with. I remember waking up while shooting the film and jumping out of bed and looking for Tracy due to having nightmares of 'Tracy". And yes that is the character I play in the film. Hahah, it makes me laugh thinking back. But when I am given a role I dive in fully and decide the tools I need as an actor to give the character the life it deserves.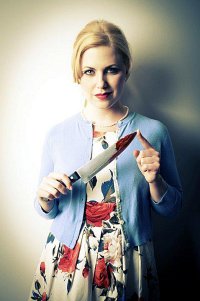 How did you get involved with that movie, and what can you tell us about your director Tricia Lee [Tricia Lee interview - click here]?
I auditioned for the role of Tracy. It was the first time I had met any of the cast and crew on this set. Tricia Lee gave me a chance on this film, and that is an opportunity that every actor needs in order to move forward in their career and Tricia did that for me. Tricia Lee is a very hands-on director. She knows the character as well as the actor should. So when she speaks to you, you're both on the same page with how the character feels and their wants, needs, desires, etc. I loved working with Tricia and am lucky enough to now call her my friend. She is so talented and has such an amazing vision and is a true joy to work with! To have her as the director of my first lead in a feature film was truly a blessing. I cannot wait to see what she has in store for her next films!
A few words about the shoot as such?
The shoot was a low budget feature, but you wouldn't have guessed it being on set as everyone was so professional. We had a team of hungry young filmmakers wanting the best result and we were all equally committed and on board. I got to work alongside Sean Kaufmann, who plays Scott, my boyfriend in the movie. He is such a talented hard -orking standup professional and I am lucky enough today to now call him one of my best friends. Samy Osman who plays the womanizing Cam was so positive on set and is such a nice guy. His commitment to the role along with the other actors was admirable, and collaborating with them with such a crazy role was a memorable experience I will never forget. I walked away from this movie with friendships and bonds that are rare and I am so thankful for that.
Any future projects you'd like to share?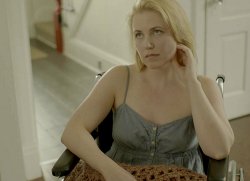 The Demolisher
The Demolisher, directed by Gabriel Carrer that was shot this year is a movie that I am very passionate about. Gabriel Carrer was at the Toronto screening of Clean Break at The Blood In The Snow Film Festival, and directly after the screening he offered me the role of Samantha in The Demolisher. Samantha is an ex-cop who was severely beaten by a gang. In result she suffers with an incomplete spinal injury thus having some paralysis in her lower body and ends up in a wheelchair. The movie follows Samantha's husband Bruce's (Ry Barrett) journey as he fights for justice and vengeance. It's a slow burn thriller which is a genre I am EXTREMELY into.
Working with the Latefox Pictures team was an artistically intense amazing experience. Ry Barrett and I improvised some of our scenes and I couldn't have asked for more freedom and space as an actor, working with a set filled with talented artists. Ry Barrett is so talented and I was so honoured to work with him for the first time on this script in particular. We had an artistic mutual trust that gave a true vulnerable rawness when working together.
The film has a European style flair and I cannot wait to see the end result as the DP Martin Buzora has a unique style that is breathtaking to look at. He looks at every shot as a picture of art and it was very evident on set that this was true. I say this because when I wasn't on camera I was looking at the monitor in complete 'awe' and couldn't look away. I would stay hours and hours after shooting to just watch the art in the making from every filmmaker and actor on that set.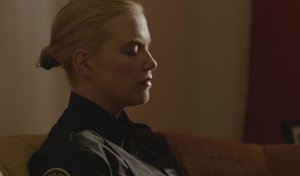 The Demolisher
What got you into acting in the first place, and did you receive any formal training on the subject?
I was as young as 3 years old when I knew I wanted to be an actor. I started in theatre in my hometown when I was 7 and have been involved in the industry ever since. I graduated from The University of British Columbia with a BFA in Acting and have not once looked away from my one passion and that is the art of acting. I have trained with several respected artists in the industry and I have them all to thank for their knowledge, thick skin and push.
How would you describe yourself as an actress, and some of your techniques to bring your characters to life?
Over the years I have had vast amount of training with different techniques. I believe being an artist is like being an athlete and you constantly have to flex that muscle. Right now my coach is Miriam Laurence who I absolutely love! I went to her for coaching on The Demolisher and we used the technique of 'emotional connectivity', 'substitution' and 'secrets' to begin to bring Samantha to life. For each role I look at it, study it and decide what the best approach will be for the script, production & giving the role what it deserves and needs to come to life. To emotionally interpret the character internally, then to create my own personal relationship is something I hold true throughout.
Actresses (and indeed actors) who inspire you?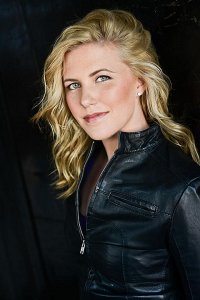 Feeling lucky ?
Want to
search
any of my partnershops yourself
for more, better results ?

The links below
will take you
just there!!!

Find Tianna Nori
at the amazons ...

amazon.com

amazon.co.uk

amazon.de
Looking for imports ?
Find Tianna Nori here ...
Something naughty ?
(Must be over 18 to go there !)

Charlize Theron is my number one inspiration in acting and has been since I was young. When she was typecast to only play 'pretty' roles and made the bold move to play Aileen in Monster in 2003, that was the most inspiring role an actress has ever mastered in my opinion. Any actor who is not scared to look 'ugly' (by this I mean unlike themselves physically and mentally) has my upmost respect. Because acting is art, it is transforming, it is surrendering to the role and giving it the life it needs to breathe.
Your favourite movies?
From the top of my head I would have to say these films come to mind today in no particular order: Monster directed by Patty Jenkins, The Fighter by David O. Russell, The Descent by Neil Marshall, Enemy by Denis Villeneuve, Drive by Nicolas Refn, Texas Chainsaw Massacre by Tobe Hooper, Zero Dark Thirty by Kathryn Bigelow
... and of course, films you really deplore?
I can't say I deplore any films as everyone has their own vision. I however prefer watching movies with individuals who are artists and not in the industry just for the 'fame'. Might sound harsh but you can really see the difference on screen at times.
Your website, Facebook, whatever else?
IMDb: http://www.imdb.com/name/nm4355888/
Website: www.tiannanori.com
FB: https://www.facebook.com/official.tianna.nori
Twitter: https://twitter.com/TiannaNori
Anything else you are dying to mention and I have merely forgotten to ask?
I believe life is about balance and giving back what we are given. When I am not filming I work with Me To We as an International Trip Facilitator. This is truly my other passion because not only is Me To We partnered with the charity Free The Children, but my job is to inspire youth to be the change they want to see in the world and bring it back home. I am so beyond passionate about this job! It makes my heart shine! That and rescue animals and my family and friends. Heh - the biggest soft spots in my heart!!
Thanks for the interview!
Thank YOU for the interview Michael! It's been such a pleasure speaking with you.