Your upcoming movie Faces - in a few words, what is it about?
Faces tells the story of a man named Frank Walker who struggles with serious social and mental issues on a daily basis. There are hints of a checkered past that heís trying to put behind him in his efforts to live a normal life. One night when Frank begins to feel like heís at wits end he makes a life-changing decision. That decision takes us all on a very dark journey.
What were your inspirations when writing Faces?
The concept originated about 20 years ago. My college roommate Jeff Mason and I were discussing the idea that actually led to us writing a song about it. We had just formed the band Vlad the Inhaler and it was one of our first tunes. We recently reformed that same band and recorded the song on our first studio album. After Iíd completed my first short film, I was looking for ideas for a new script. The song and the concept behind it was something I always thought would make for a great horror film so I started to develop the idea and get more in depth with the story.
What can you tell us about your film's approach to the horror genre (as in suspense vs sudden shock, atmosphere vs all-out gore and the like)?
This film is very heavy on the suspense. I would classify it as more of a thriller. That doesnít mean we shy away from the blood and guts but we definitely utilize them in a more climactic way. I think overusing gore in a thriller reduces the shock value and overall effect on the story.
Do talk about the film's look and feel for a bit!
For this question Iím punting the ball to Christian Santiago who served as the DP on this film. Chris handled the camera duties, editing duties, and designed the layout for the score that is so important to the film.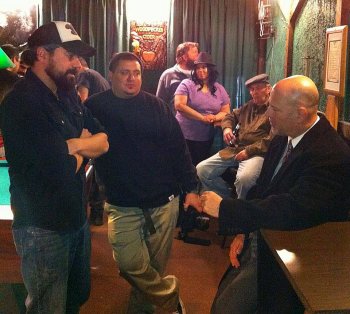 Thomas discussing a scene with Christian Santiago, Joe Parascand
From Chris:
"As far as the look of the film I wanted the approach to shooting to develop as I got to know the characters. At first it starts very steady and calm but as it builds things began to get a bit unstable and shaky just like the characters. I like to think that my lens sympathized with Frank early on in the film but by the end it's as if I was afraid to be in the room with him... The shots come off desperate and anxiety driven. As far as the feel of the film I wanted to make people feel sorry for Frank. When you strip it all down Frank just needs some help, love, financial stability and security. These are things all humans need and to me this really humanized him, so the approach visually was to project depression, sadness along with a greenish gloom that stretches throughout the film. In many ways I think Tom and I wanted to play on people's emotions and sympathy only to reveal a demented, tortured, self destructive and psychopathic serial killer that technically knows exactly what he's doing. To say the least Faces looks exactly the way I imagined it to be when I read the script the first time. Tom and I were really in each other's heads."
You also play the lead in Faces - so have you written the character with yourself in mind, what did you draw upon to bring him to life, and how much of Thomas Ryan can we find in Frank Walker?
I didnít write Frank with myself in mind but more with a collection of behavior we see in people every day. Introverted, self-conscious, depressed, socially awkward, and uncomfortable. It was a difficult role for me because on set I am active, outspoken, and involved with everything. I was so hyped up coordinating the shoot and then suddenly I had to turn off all my energy and become this dark, quiet, bland person. To become that person is to understand those characteristics and where they come from. I think weíve all experienced those things in our lives at one point or another so you take those feelings and multiply them to an extent that makes this character so dark.
What can you tell us about the rest of your key cast, and why exactly these people?
As I was writing the script almost every one of my key cast members immediately came to mind for each character I created. These are indie actors and friends I met while filming and then promoting my first short film on the festival and convention circuit. I wanted actors whose work Iíd seen before and I wanted to take them to another level where I felt they could really show off their talents. But I also wanted to build a cast of indie film veterans and new faces alike. Indie staples Edward X Young, Deana Demko, Bradley Creanzo [Bradley Creanzo interview - click here], Joe Parascand, and Jason Greco. Newcomers Paul Gmitter, Caroline Pozycki, Tom Schorr, and Michele OíReilly. The mixture was magical to put it in simple terms. I can never imagine any other actors filling these roles because of the performances I got from this group. And for the veterans I think we got some of their best work ever filmed.
A few words about the shoot as such, and the on-set atmosphere?
Energy, excitement, and professionalism. This was a very involved shoot with lots of extras, characters, dialogue, locations, and effects. Every single person from cast and crew was a volunteer so no one was on the payroll yet the enthusiasm they brought to the shoot could compare to the largest Hollywood set. When people who work for free have that much passion about making a film you know youíre doing something special.
The $64-question of course, when and where will the film be released onto the general public?
Early October 2014 for sure. Weíre looking at the first two weeks of the month and if all goes according to plan it will be in the town where we filmed, Jersey City. There is a very special venue weíve been working hard to lock up but until thatís finalized we can say no more.
Any future projects you'd like to share?
Only on the acting front. Iím currently playing a character in a project called Case at Midnight with Mass Grave Pictures alumni Louie Cortes which stars Bradley Creanzo. Iím also set to reprise a role I had in Zombie Hunters: City of the Dead - Episode X playing an FBI agent early next year. As far as my next film, Iím not even thinking about it yet. Faces took up a year of my life so right now Iím all about getting it out there and promoting the hard work everyone contributed to it.
What got you into the filmworld to begin with, and what can you tell us about your training as a director, writer, actor?
Iíve always wanted to direct. I grew up in the 70ís-80ís so I was exposed to some of the greatest horror and sci-fi films that will ever be made. That led me to VHS shoulder cams and backyard horror. In college I majored in the media arts but never got to finish. Over the years life happened and I got away from the medium. Then, one day because of the wonderful world of Facebook, I got involved doing make-up for an indie zombie web series called Dead Road. The director Corrado Gadaleta drafted me to play a character in the series. On set I met the creator of the Zombie Hunters series, Patrick Devaney who was playing a cameo role. He gave me the first two seasons to watch on DVD. After seeing all the creativity and the crew these guys put together I realized my dream again. And in this day and age of editing and camera technology I knew I could do it and make it look good without a lot of money.
What can you tell us about your filmwork prior to Faces?
Well I covered my acting experience but my directorial debut was a short zombie apocalypse film called Day 9. Another film I wrote, directed and starred in. It was a fantastic experience and definitely the platform that allowed me to meet and become friends with so many great people involved in the scene. We won the Audience Choice Award at the 3rd annual Macabre Faire Film Festival last year and it really inspired us to do more.
How would you describe yourself as an actor, a writer and a director?
In terms of strengths I would list director, then writer then actor. As a director Iím pretty easy going and I like to allow my actors to own their characters. However I do have a vision and Iím not so flexible with on-set changes. If something works though, I will embrace it. As a writer Iím very focused on my dialogue and story-telling. Bad dialogue leads to bad acting which leads to a bad film. As an actor I have so much fun. Iím easy to direct, I do my own stunts, and Iíll play any character without hesitation. Itís the one chance I get to pretend to be somebody else and explore that person in a deep and creative way. Getting lost in a character can change your perspective on the way you might normally see them.
Actors, filmmakers, whoever else who inspire you?
Directors Ė I really dig Zack Snyder, George Romero, David Cronenberg, Stephen Spielberg.
Actors Ė Joe Parascand. This guy is one of the hardest working actors Iíve ever met. When I see how seriously he takes his parts and how much he invests in the characters I can only hope that one day someone will see me as professional and reliable as I see him. The indie scene needs more people like Joe.
Your favourite movies?
I canít say I have a favorite because I love so many movies.

Feeling lucky ?
Want to
search
any of my partnershops yourself
for more, better results ?

The links below
will take you
just there!!!

Find Tom Ryan
at the amazons ...

amazon.com

amazon.co.uk

amazon.de
Looking for imports ?
Find Tom Ryan here ...
Something naughty ?
(Must be over 18 to go there !)

I loved the Watchmen and the Dawn of the Dead remake. I can watch The Howling a million times. The Mad Max films. Reservoir Dogs. Give me 10 minutes to think about it and the list can would go on forever.
... and of course, films you really deplore?
Only oneÖthe 1990 film Hardware.
Your/your movie's website, Facebook, whatever else?
You can find us on Facebook on the Theatre of Terror page.
Anything else you are dying to mention and I have merely forgotten to ask?
Yes the sound track was provided by three incredible bands you need to check out:
Sylvia platypus, Polyabuse and Vlad the Inhaler!
Thanks for the interview!
Thank you for the exposure!