Your new movie Hayride - in a few words, what is it about?
Hayride is about Steven, a college student who comes home with his girlfriend Amanda in tow to visit his Uncle Morgan who raised him. Uncle Morgan (Richard Tyson) has always been a Halloween fanatic and has been having a Halloween party and hayride annually since Steven was a kid. Morgan based the main villain of the hayride off of a local legend about a farmer who went crazy and killed a bunch of people. The towns people called him "Pitchfork" before and especially after the massacre. It's only after an escaped con ends up in the area that the legend of Pitchfork starts to look real.
What can you tell us about your personal experiences with "haunted hayrides", and thus are there any autobiographical traits in your movie?
Absolutely... my Aunt and Uncle used to actually have an annual Haunted Hayride when I was growing up, and it always amazed me that even though I saw them putting it together and all the details that went into each scare, I was still terrified to ride it when Halloween came.
Likewise, your film has certain "urban legend"-uncercurrents. Any actual urban legends that Hayride is based on?
Not exactly. "Pitchfork" is certainly not a real legend or anything but there are definitely elements of "actual" stories that my grandfather used to tell me growing up. There's a lot of my grandfather in this movie and the way he would tell us stories just to spook us - and if it didn't work he would just keep adding to the story until it did. I think Steven had the same relationship with uncle Morgan growing up. It also helps that Richard naturally likes to press people's buttons to get that relationship across to the viewer.
Your film pays hommage to the slashers of old in more scene than one - a genre at all dear to you, and why (not)? And what do you think sets your movie apart from other slashers?
I grew up with a fondness for slasher movies and as you mention, there's plenty of nods to some of my favorites in the movie that can be picked out. There are also many subtle ones that some won't even notice - but those movies are so ingrained in my love for the genre that it didn't feel right not to include them in some way. The first slasher (or horror) I ever saw was a VHS copy of The Texas Chainsaw Massacre 3 when I was probably 10 years old. I wasn't allowed to watch it and me and a friend had to watch it in like 10 minute installments while my dad mowed the lawn. We'd eject it every time he'd cut the engine off so it took the better half of a whole Saturday to actually finish it. The copy that I had was warped and it made the opening credits play in a weird way. We actually based the opening titles to Hayride off the way that the warped VHS played them.
Other sources of inspiration when writing Hayride?
I can say that the structure of Stephen King's novels definitely influenced the way that I wrote it. I mean I love the way that he starts his stories with something scary or interesting and then builds his characters up before throwing them into said situation... That way you care about them a little more before they face whatever their ordeal happens to be. And with Hayride, I wanted to focus more on the family that is involved in the movie rather than just the typical teenagers at the party or random good looking young people who wander off by themselves. We've joked around that if you take the killer out of the movie, Hayride is a romantic comedy because it is all about the character Steven's relationships with his girlfriend and uncle. I mean everybody in a relationship brings some sort of baggage - but most people's baggage isn't a six foot five crazy pyscho farmer, I guess...
What can you tell us about your directorial approach to your subject at hand?
I've had the opportunity to direct a lot of comedy scenes, which has its own challenges of course but this was really my first time ever working with any type of action. I realized pretty quickly that we didn't have the budget to get as much coverage for the action scenes as I'd like to get for dialogue scenes obviously - so I definitely had to learn on the job a little bit as far as keeping to the schedule, but also getting enough footage to make the scene the way it was written. I ended up enjoying the action slash kill scenes way more than I thought I would, just simply because of how much time and effort went into them.
As I happen to know there are quite a few gorehounds in my audience, you have to talk about your gore effects for a bit, and was there ever a line you refused to cross?
Not really that there were any lines that I didn't want to cross but I did want to show some restraint in the way that we put the movie together. I'm not a huge fan of the overly gory films of late that we call "gorgies" but I've always liked the more tame slasher movies. Don't get me wrong, I think Hayride had some pretty great gore scenes and there are a couple of parts I dont mind saying that I think are pretty intense. But my favorite part of any good horror film is the build up, I tried to focus on that as much as possible in Hayride. There is an amazing effects artist who lives in my area named Bruce Larsen who we tried to get for the movie but unfortunately he was unavailable during principle photography so we ended up having to go a different direction, but Bruce was very helpful in talking out some of the gorier scenes and even donating some props to the cause. His contribution went really far with some of the kill scenes in the movie. I'm also happy to say that Bruce is officially working with us on our next project!
What can you tell us about your key cast, and why exactly these people?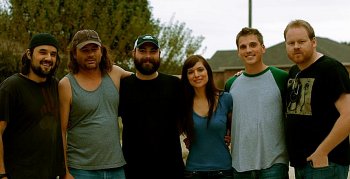 Jonathan Kelly, Richard Tyson, Thomas Hatchett, Sherri Eakin, Jeremy D. Ivy, Terron R. Parsons
Well, Richard Tyson came on first. I actually had written the part of Detective Loomis with Richard in mind in an early draft of the script but tossed that eventually and tailored Uncle Morgan for him.
Corlandos Scott, who does play Loomis, is a close friend that I met while casting for another project years ago. He came in and shined the brightest out of the 500 people who auditioned!
The rest of the cast we found through an online casting call. Everyone that we cast was absolutely perfect. I was literally blown away by their professionalism. We picked about 90 people to submit their auditions online and found all of our leads out of that. Jeremy Ivy and Sherri Eakin were both perfect in their video submissions and I could pretty much tell the first time that I watched both of their videos that they were strong candidates for the parts.
You just have to talk about your locations for a bit, and about the actual shoot!
You know funny thing is that ten years ago, I could have shot Hayride anywhere in the county I live in but we've kind of hit a population boom in the last few years and its getting harder and harder to find long stretches of road with fields on either side. Or even large sections of woods for that matter. Most of what was once farm land in my area is now really nice subdivisions, so we had to really look for the areas that conveyed that "lonely isolated feeling". I think we did a pretty good job and I even recently had a random person that screened Hayride comment on how they loved the middle of nowhere horror movies and that we really captured the isolated feeling with it.. Ironically some of the scenes they mentioned were in the "busiest" areas we filmed in.
What can you tell us about audience and critical reception of your movie so far?
We've screened the movie in front a few audiences so far and even showed it on a large outdoor screen at a "Haunted corn maze". I love hearing the audience's take away from the movie. Everyone has a different favorite character or favorite part. Some people seem to really respond to the humor in the movie, where others talk about how serious it is in tone - so it's interesting to see how people respond to it. The only "bad" reviews I've heard were from people who clearly just don't like the genre and so I really didn't take it as criticism towards our film in general. At one of the corn maze showings, the temperature dropped unexpectedly and it was freezing. A few people left during the showing as expected but when I came back to tell the audience thanks for coming out at the end, everyone that was left at the screening was standing and huddled together in a group watching the last scene. It wasn't until it was over that I learned that the group didn't know each other but huddled together so they didn't have to miss the ending. So far that is my favorite moment of screening the movie for an audience.
I've read somewhere that there might some day be a Hayride 2 - is there any truth to this? And other future projects you'd like to talk about?
Yeah, it's a definite possibility... I'll say coyly. I will say for sure that anyone that wished there was more blood in Hayride will be more than satisfied with part 2 if we make it. Hayride was MY slasher film and I felt that we needed to show some restraint to produce a movie that lived up to my own standards - but Hayride 2 would be MY straight up ´horror.
Let's see, I just finished a TV pilot with producer Josh Ridgway and Richard Tyson that is being shopped around right now, that focuses on time travel.
The next feature is with co-prodcuers Thomas Hatchett and Jon Kelly again, after which I plan to jump straight into a bigger budget comedy that I wrote sometime next year. I'm extremely excited about that project and have been working on it for a couple of years now.
What got you into filmmaking in the first place, and how did you learn the trade?
The first time I ever even thought about it was while watching Back to the Future when I was probably 8 or 9 years old. It was one of the scenes where Marty is in 1955 Hill Valley and I had that sudden realization that EVERYTHING in the shot was supposed to be there. That all the extras, cars, artwork was all placed there by someone for the specific purpose of fooling us into believing it was 1955. For some reason I literally couldn't wrap my head around that and became fascinated with the thought. I started watching more movies, paying close attention to every detail in the scene and my desire to work in the industry was born around that same time. Except I wanted to be the person who dreamed up the world and then wrote it down. I had no desire to be a director or producer at first, that came much later.
Could you talk about your filmwork prior to Hayride for a bit, and what can you tell us about your evolution as a director?
Yeah as I mentioned before, my background was mostly in comedy. I started the typical way of making short films for anyone who would watch them and eventually saved up to buy a digital camcorder and some editing software. That led to some actual paying jobs like commercials and whatnot, and eventually I made a side business out of it. A few years ago we shot a TV pilot to air on a regional television station and that was my first time producing and directing. The show didn't go anywhere but I learned a lot and met actor Corlandos Scott whom as I mentioned later cast in Hayride. I learned through the years that you cant be a director if you don't love people. When I first started, I didn't realize this yet and had a tough time working with actors, especially in commercials. But thankfully I eventually came to love the process and really do love working together with the actors to come up with the best scene possible.
How would you describe yourself as a director?
Besides incredibly handsome?... Oh as a director, I thought you just meant in general. (Laughs.) I don't know, minimalistic maybe?... I really like to shoot in natural ways, like lighting the room and putting the actors in it. With Hayride I worked closely with Mark Sarubin, our police consultant, to try and make the police scenes as real as possible. And the same goes for blocking the actors in other scenes, I like to watch them move naturally before specifying marks for the scene, I think it looks better that way.
Filmmakers who inspire you?
I've always been a huge fan of Steven Spielberg for obvious reasons but also because he seems to reinvent himself for almost every project he does. He's not like Tim Burton where five seconds into the trailer and you're like "cool, Tim Burton's new thing"... and I mean visually, not just because Johnny Depp and Helen Bonham Carter are in it...
Your favourite movies?

Feeling lucky ?
Want to
search
any of my partnershops yourself
for more, better results ?

The links below
will take you
just there!!!

Find Terron R. Parsons
at the amazons ...

amazon.com

amazon.co.uk

amazon.de
Looking for imports ?
Find Terron R. Parsons here ...
Something naughty ?
(Must be over 18 to go there !)

I have a bunch of course but for some reason right now The Truman Show comes to mind... it's definitely one of my favorites, Phillip Glass's score is incredible.
... and of course, films you really deplore?
There's not really many movies that I actually hate, if it's decent at all there should be enjoyable moments in even the worst of movies. I'd say my least favorite genre is romantic comedies though.
Your/your movie's website, Facebook, whatever else?
Anything else you are dying to mention and I have merely forgotten to ask?
Just that the movie is available on DVD through Acort International on May 7th! And can be added to your DVD instant que on Netflix.com.
Thanks for the interview!
Thank you!