Your two new movies Quad X: Rise of the Beaver Slayer and Quad X: The Porn Movie Massacre - in a few words, what are they about, and what can you tell us about your character Ginger Snap?
Well, both movies are mockumentaries!
Quad X: Rise of the Beaver Slayer follows the Adult Film company XXXX (Quad X) as they deal with interpersonal relationships on set, outside-of-work relationships, and face being shut down by various outside forces. Itís a satirical piece that revolves around issues like free speech and equality. Ginger Snap is a veteran adult film star who is trying to also balance being a mom. She deals with a lot of rejection and opposition throughout the movie as she tries to get past the stigma of being a, well, porn star.
Quad X: The Porn Movie Massacre follows that same company, but this time the genre skews to comedy slasher horror. Crazy killer goes after porn stars. Lots of hilarious deaths! Ginger Snap is the head honcho this time around, having taken a more behind-the-scenes role in the Quad X company. She juggles trying to make the next greatest adult film and figuring why all her actors are keeling over.
What did you draw upon to bring your character to life, and how much Terissa Kelton can we find in Ginger Snap?
I watched tons of porn. JUST KIDDING! But I did watch a lot of interviews with adult film actresses. Since the focus of the film was on the everyday lives of adult film stars, I wanted to get a good idea of how they operated off-set. How they carried themselves, etc. Iíve actually watched interviews with some of these ladies in the past and thought they were really interesting, so I definitely wanted to channel that for Ginger. I also had a few conversations with women I know who are exotic dancers. When I went back to the script, all of this helped me to focus on Ginger Snap as a person just trying to handle her work-life balance. That is a struggle we ALL have, and can all relate to, which is something really important to find in a character.
There is definitely a lot of Terissa going on with Ginger Snap. Iím extremely blunt and sometimes oblivious that my forwardness can be somewhat awkward. I wanted to really drive home that Ginger Snap at many points, has no concept of how odd she is compared to people around her, especially people who arenít in the adult film industry. Essentially, I tried to really bring my own personal awkward to the role.
To what extent could you identify with the film's humour, and also its approach to sex and violence?
Iím a big fan of satire. I watch a lot of strange British comedies that are really awesome at capturing the hilarious in situations, while also presenting a statement about the topic at hand, SO I was really thrilled to be a part of something in the same vein.
I think the approach is done well. The subjects of sex and violence are both treated very hyperbolically via the dialogue. I think it basically creates a caricature of the whole situation and I think that speaks to people in a way that makes it more relatable. A mockumentary style is meant to do just that and Quad X is spot on with it.
How did you get involved with the project in the first place, and how did you end up on the producing side of things as well? And honestly, what were the first thoughts that went through your head when you heard the titles?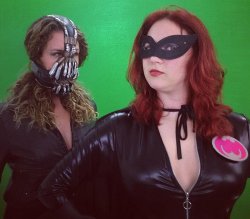 with Mallory Larson
Iíve been on the Twitchy Dolphin Flix team since early 2009. I stayed on the acting side through the first few. In 2011, they produced a movie called Goin' Guerrilla. It had been cast well before I had come along, so the director asked if Iíd like to come on and help produce. I had very little experience, but I jumped in! I ended up being surprised and cast in the movie about 2 days before principal shooting, so that was even better! Based on that experience I decided to produce anything theyíd let me - which has turned out to be every feature since!
Quad X had been in the works for a while before we actually produced it, and actually, before I even entered the picture. Over the first few years, I kept hearing about this premise of Quad X, and I loved it. I knew the story before I knew the titles, so I wasnít shocked by them like some people are. I knew I was going in to a mockumentary and that, while graphic in dialogue and the blood and gore factor, this wasnít going to be about getting girls naked on set. I think people tend to jump to that conclusion without doing their research and it sells the entire thing short.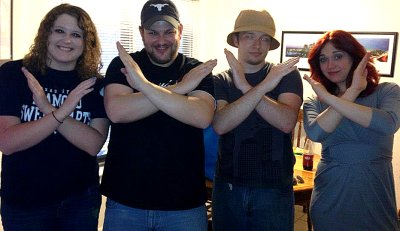 Lauren Shelton, James Christopher, Chris Copple, Terissa
What can you tell us about your director James Christopher [James Christopher interview - click here], and how did you two first hook up? And what can you tell us about your past collaborations, and your collaboration on this one?
Jimís great. Iíve known him for years now and his interest on telling a great story is refreshing.
We met on set of Look At Me Again, my first feature with the company. I showed up several times to be an extra in the movie and I think he saw that I was in it to win it. I was studying acting in school, actively seeking out roles beyond college, and about to study Shakespearean acting in England. I was really dedicated and professional, even when my role was small. I think that can be difficult to find, especially on an indie level.
Iíve had a role in every Twitchy Dolphin movie since! Once I had produced on Goiní Guerrilla, I started being involved in deciding what projects Twitchy Dolphin should focus on next, the social media strategies, and script reviews.
Thatís basically what happened with Quad X. Twitchy Dolphin went over the pros and cons of making this kind of movie. Weighing in on the film festival aspect, marketing, etc. We go through a pretty thorough process when deciding on which projects to proceed on.
What can you tell us about the shoot as such, and the on-set atmosphere?
Very fun, very laid back. A lot of the cast and crew had worked together before, so it was easy to be on set. Sometimes it was difficult to not just stop shooting for a few minutes while everyone got their laughs out on certain scenes.
Any future projects you'd like to share?
Well, Iíll be making my feature film directorial debut in November!! Iíll be directing Sorority Slumberparty Slaughter, a horror anthology that will include several other Twitchy Dolphin short films. Weíre running an IndieGoGo for it until November 6th, and weíll be going in to principal shooting shortly there after. Very excited!
http://igg.me/at/sororityslumberpartyslaughter/x/25936
https://www.facebook.com/pages/Sorority-Slumberparty-Slaughter/648685875179081
Iíll personally be starting to work more on the West Coast toward the end of the year. Splitting my time between Los Angeles and Austin! Iím really excited!
Iíll be working on the next Twitchy Dolphin project in the next year and Iíll definitely be attending the Austin Revolution Film Festival 2015 to see the latest indie films on the festival circuit!
What got you into acting in the first place, and did you receive any formal training on the subject?
Well, I was a very shy kid. I was home-schooled up until 11th grade, but I was 2 years younger than my peers. Soon I found out I was pretty good at public speaking. As I went through my first year in public high school, I was really fascinated with people and society. I took what I had learned in my speech classes and applied it to acting. While there were a lot of differences, I began to really enjoy telling stories through other points of view. I auditioned for a show my last year in high school, got a role, and I havenít stopped since.
I trained in Stratford-Upon-Avon, England with the Royal Shakespeare Company and I received my BFA in Acting and a BA in Mass Communications from Texas State University. While I donít think you HAVE to go to a 4-year college for training, I definitely enjoyed my time there and without it, it would have been a lot more difficult to break into the industry.
Can you still remember your first time in front of a movie camera, and what was that experience like?
Terrifying. I did a couple filmed skits in high school and felt completely unequipped. In college, I did my first short film, which was a great flick, but I cringe when I watch myself now. I remember it being really nerve-racking. While I still get weird about watching myself on screen, I think that with enough practice, you get used to the dynamic that is being on camera. Those few first times though, I know I felt like I had to move like I was in a 2x2 glass case of emotion.
What can you tell us about your filmwork prior to Quad X: Rise of the Beaver Slayer and Quad X: The Porn Movie Massacre?
Comparatively, I hadnít done anything quite like these. I had done several films, but they all were drama, horror, or rom-com. This was a whole new ballgame.
The Quad X movies were my 8th & 9th feature. Iíve been really fortunate to get the experience and the versatility from them all. Iíve been able to play a wide range of characters. Learning how to relate to all of them has been a growing experience for me, even just as a human being. People arenít just promiscuous or awkward or evil or altruistic, etc. for no reason. Portraying that person whole-y is the hardest part of bringing a character to life. My previous filmwork has been an exercise in learning how to do that and Iím very excited to see what that lends me in the future.
How would you describe yourself as an actress, and some of your techniques to bring your characters to life?
Iíd like to say that Iím a thoughtful actress. I try to go into different roles in different ways that I think are better suited for the character Iím playing. For my role in Turkey Day, for example, I play a college student who goes on a semester long study abroad trip and comes back a very different person. After really digesting what information was given to me through the script, I went in and applied my own experiences I had in college, studying abroad, coming home to change, etc. I drew from those experiences and played with that throughout her story. Some choices were tweaked by the director eventually, but I felt like that particular exercise was my doorway into that character and that story.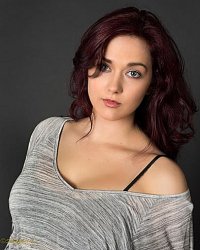 In Quad X, I did a lot of research. Public perception of the adult film industry wasnít something I was interested in diving into. You canít judge the characters you portray. Cruella DeVille doesnít think sheís evil, sheís just who she is because of various factors. She just wants that Dalmatian coat. The minute you play her as simply evil, you sell that character short.
I wanted to hear real women talk about their experiences in this particular industry. Or just about their lives. What they aspired to be when they were young, how they got into the industry, what they thought of the industry, their personal struggles and achievements. I wanted to hear their stories. Eventually, after applying what I learned from that to the character of Ginger, I moved on to more public discussions of the industry and the people in it, since that is part of their world.
Iím constantly changing and learning as a person and I really try to carry that into my professional work.
Actresses (or indeed actors) who inspire you?
So many, some well-known, and some not.
Inspiration for me comes from knowing that not only did these artists work hard to gain the momentum in their careers, but paid forward the help they had to have gotten to succeed. No one gets anywhere alone.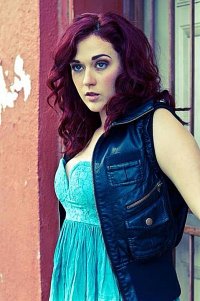 Feeling lucky ?
Want to
search
any of my partnershops yourself
for more, better results ?

The links below
will take you
just there!!!

Find Terissa Kelton
at the amazons ...

amazon.com

amazon.co.uk

amazon.de
Looking for imports ?
Find Terissa Kelton here ...
Something naughty ?
(Must be over 18 to go there !)

I hear so many stories of the famous and well-known being completely rude and ungrateful to people for no reason. And while I canít imagine the pressure of being a celebrity, I donít know that it ever should overpower your ability to be a compassionate person. And there are a few out there that exhibit that it doesnít have to.
Your favourite movies?
Again, too many to name!
I go through periods of time when I really love horror, then rom-coms, etc. It just changes.
... and of course, films you really deplore?
I mean, there are some weird ones out there. Really, if you can tell a good story, Iím in no matter what. But even if I hear a film is bad, Iíll watch. Someone took the time to make it, so why not give it a shot?
Your/your movies' website, Facebook, whatever else?
My personal pages:
IMDb: http://www.imdb.com/name/nm3344404/
Facebook: https://www.facebook.com/terissalkelton
Twitter: @TerissaKelton
Instagram: TerissaKelton
Facebook: https://www.facebook.com/twitchydolphin
Twitter: @TwitchyDolphin
Instagram: TwitchyDolphin
Sorority Slumberparty Slaughter:
Facebook: https://www.facebook.com/pages/Sorority-Slumberparty-Slaughter/648685875179081
Anything else you are dying to mention and I have merely forgotten to ask?
You covered it! Thanks again for having me!
Thanks for the interview!