Your new movie Cut! - in a few words, what is it about, and what can you tell us about your character in it?
It's about a couple of young filmmakers who set out to make a horror film and discover REALLY killing the actors will make it the scariest horror movie ever made. I play an independent horror film director.
Since your character name in Cut! is "Susan Lanier" - how much of it is based on the actual you, and what did you draw upon to bring your character to life?
I play "Susan Lanier", former star (actor) of the original, The Hills Have Eyes, made in 1977. Now working as an independent horror film director in present time, I am integrated into the storyline because of my past history of playing Brenda from the original cult classic.
In terms of character development, when one plays themselves, there's not a ton of research that needs to go into it, besides learning the lines & following the direction. I'm playing myself so it's not that big of a stretch.
How did you get involved with the project in the first place, and to what extent could you identify with the film's horror theme?
David Rountree [David Rountree interview - click here], the director of Cut!, is represented by Eileen O'Farrell, owner of O'Farrell Talent Management. David wanted a "horror name" in the film, and Eileen suggested me. At that time, she represented about half of the leading actors in the film and encouraged David to use them. She played an important role in the packaging and casting of the film.
I think the name is very clever. Most people would assume Cut! refers to slashing. It's actually a double entendre; it's also referring to the word "cut" used in filmmaking, you know, like "rolling, action, and cut."
What can you tell us about your director David Rountree [David Rountree interview - click here], and what was your collaboration like?
David started out and still is an actor. One day he got tired of waiting for his "ship to come in" and decided to create his own project. Smart actors are figuring that out these days. David plays one of the leads in the film.
He is a dream to work with. He is respectful and listens his actors' own ideas and contributions they want to bring to the character, but it has to fit with his own vision. His set is professionally run, and I would love to work with him again. I have suggested him for other projects that I might become involved with this coming year.
According to my information, you and your late husband Delaney Bramlett were also responsible for some of the music of Cut! - how did that come about, and what can you tell us about your music used in the film and your musical career as such?
Delaney passed away at the end of 2008. On one of the shoot days, I handed David a copy of Delaney's last released CD, A New Kind Of Blues. David asked to use a couple of the songs in the film, and I was delighted. Over the many years that we were together, we co-wrote and collaborated on many projects together, starting as early as 1977, the year we met.
I had my own band in the 1980's but at some point, I got tired of playing in clubs; it was tough singing engulfed in all that smoke, and I quit playing out. I was devastated when Delaney passed, so in the early part of 2009, I decided to pick myself up and do something I enjoyed which was playing music. I put together a cabaret show with some of my old band and Delaney's and started occasionally playing clubs again...where now there is no smoking allowed. I wrote a new batch of songs and dusted off a couple of old ones. I threw in some humor and true stories into the show and voilà. My show and CD is called Swamp Cabaret, and there's a brief scene of the band and myself performing in Cut!.
Do talk about the shoot as such for a bit, and the on-set atmosphere?
I enjoy working with directors who have done some acting themselves. They understand and can relate to the sometimes hours of sitting around and waiting for "the" take. The set was so kicked-back and fun. I'm usually pretty quiet when I'm hanging around a set, but David & his wife, Rosie, had just had a baby, and this precious little thing was there some of the time. I love playing with babies.
Dee Wallace played my sister in The Hills Have Eyes, and her real-life, daughter, Gabrielle Stone [Gabrielle Stone interview - click here], is also in Cut! and in my scenes. I was fascinated about how much alike they are, even in their acting. It was a trip meeting and working with her.
Any future projects you'd like to share?
I have two new films in the can that are in post-production: Betrothed and No Solicitors, both in the horror genre. I'm attached to a wonderful script called The Witness, which is a Southern piece, written by screenwriter, Jerry Lee Davis, that will also star Bill Oberst jr [Bill Oberst jr interview - click here]. I really hope that it can get off the ground in 2015. There's another film that's coming right up, but I always feel it's kind of bad luck to talk too much about them until the deal is made and I already have footage in the can. It's about the art world, and I love my character who is a gallery owner.
What got you into acting to begin with, and what can you tell us about your training on the subject?
I acted in my first play at the age of 13. I won a citywide contest in Dallas, and after that I was hooked. After high school I moved to New York City and studied with some of the great acting master teachers; Uta Hagen, Sanford Meisner, and did some work at the Actor's Studio.
None of this training prepared me for being on a film set, however. The best training for that is to actually do it. My second TV project in Hollywood was on the TV series Barnaby Jones starring Buddy Ebson. I had a number of scenes with him and the late great, Pat Hingle. Pat took me under his wing and taught me how to match my blocking and hit my marks. I was truly blessed to be working with such amazing actors at the beginning of my career.
As far as I know, you started out as a stage actress - so what can you tell us about that aspect of your career, and how does performing on stage compare to acting in front of a film or TV camera? And which do you prefer, actually?
Ummm... prefer!?... That's not fair. I love aspects of both. I am an actor who loves to rehearse. In many ways I'm a perfectionist. These days, films (especially low-budget ones) and TV, are shooting so fast, that the pressure to get it right on the first or second take is the norm. There's no time to experiment or to explore the nuances and depth of the character. Generally, that work is done at home by oneself or maybe with a coach. The beauty of film, though, is that your performance is captured forever. That aspect of it makes it quite rewarding, particularly if I like my work in the film.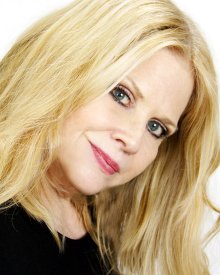 Working in theater is completely different. You have the luxury of developing a personal relationship with your fellow actors, as well as exploring the character connections on stage. Often these friendships last a lifetime. I love every aspect of the theater; the smell of the sets; the rehearsal process; and most of all, the connection with a live audience. Theater, in my opinion, is much more challenging than film work. It requires incredible focus; perfect timing; and the ability to go with the flow if something should go wrong. The only time I remember ever breaking character was when a member of the audience fell onto the stage while having a heart attack. We stopped the show, of course.
My most treasured theater experience was landing the role of Charlotte Goodall in Night Of The Iguana at the Ahmanson Theatre in LA. Tennessee Williams, the playwright, was involved in the production, as well as, Richard Chamberlain, Dorothy McGuire, and the late, great, Raymond Massey. It was a dream come true for a young actress who had just gotten to town.
I would hate to have to pick one or the other. I love both.
How did your transition to television actress come about eventually? And do you still remember your first time in front of a TV camera, and what was that experience like?
In the early 70's, I was doing tons of theatre. While starring in a play with the late, talented comedian Pat Paulsen, who had become a big name from the hit TV series Laugh In, I got discovered by his big Hollywood agent. We were doing a national tour of Neil Simon's Last of the Red Hot Lovers and the agent invited me to move to LA and promised to rep me. He followed through on his promise, but I actually got my first job, myself.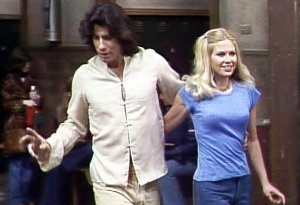 with John Travolta in Welcome Back, Kotter
When I first arrived to LA, I called a dear friend from high school, William S Bickley, who was one of the head writers and producers of Happy Days, created by Garry Marshall. He invited me to the Paramount set my first week here. I met all of the cast and crew including Henry Winkler. Henry and I hit it off, and they offered me a role on the show the next day. I will be forever grateful. I remember being scared, overwhelmed, and so excited to be working on a TV show. It was great.
During your TV-days you, among other things, had a recurring role on Welcome Back, Kotter - now what was it like working on that show and opposite John Travolta?
I worked on that show on its first season. John was not a huge star by then. Most of the cast had started out in the theater, like myself. Everyone was super friendly, and helpful. John is one of the sweetest people I've worked with in Hollywood.
You also have to talk about your experiences on working on the original The Hills Have Eyes for a bit, otherwise I fear my readers would tar and feather me!
My agent at the time did not want me to appear in a horror movie, but when Wes Craven offered me the starring role of Brenda in The Hills Have Eyes, I decided to accept it anyway. I really wanted to make a transition from television to film, and I figured this would be a good opportunity. It was low budget, and I didn't have any expectations of it becoming a success and certainly not a horror classic; I accepted it because I thought it would help me get other film jobs.
This was Wes's second film. He was reserved and quiet, and at the same time, knew what he wanted. He had been a teacher, and that requires a great deal of patience. He brought that to the set. I found him fabulous to work with.
I am extremely close friends with Michael Berryman, to this day. Dee lives in my neighborhood, and we run into each other frequently; we are good friend, as well. Many of the cast from the original film were invited to Cinema Wasteland horror convention in Cleveland Ohio at the end of 2013. It was a The Hills Have Eyes reunion. It was great seeing everyone again for the first time in over 30 years.
Any other films and TV shows of yours you'd like to talk about?
A year and a half ago I took up writing. I currently have a treatment being shopped, as well as I am halfway through a thriller novel based on my own life experience from my young days in New York City. I love writing and wish that I had discovered it earlier. I have high hopes that my project will eventually become a film.
In the meantime, as an actress, I certainly would not turn down any television work that would come my way. There just aren't that many roles for females of a certain age and many of the big stars are vying for those. I met the amazing actress, June Squibb, at a Christmas party this year. She got nominated for an Oscar in her 80's. Just goes to show you that you never know what's going to happen in this business!
Besides all that, you also work as a stand-up comedian - now what can you tell us about that aspect of your career, and your own brand of humour?
In the mid-70's, I was a series regular on the variety show Tony Orlando and Dawn as a standup comedian. I worked in comedy sketches with George Carlin, Freddie Prinz, Sr., Alice Cooper, and many others. Carlin has always been my favorite. I love his sarcasm and dark humor about life. I'm not quite that dark on stage. I'm more of a storyteller with a bit of dark satire thrown into the mix about my own life experiences, as well as current trends & events. I generally add some of my own music compositions in, as well. Some of my songs are written with that same, dark satirical flavor.
How would you describe yourself as an actress, and some of your techniques to bring your characters to life?
I've always loved Spencer Tracy's quote about acting; "Know your lines and don't bump into the furniture". Seriously, I prefer playing characters with whom I share a common ground... colorful characters, like artists, musicians, drunks, women who have lived life. I made the mistake once of accepting a role on the soap opera Days Of Our Lives, playing a corporate executive. I had a ton of technical dialogue. None of the lines connected with anything. It wasn't even a large role, but definitely the hardest part that I ever did, and the result was pretty disastrous.
Actresses (and indeed actors) who inspire you?
Since I met her only a couple of days ago, I've got to say June Squibb, if for no other reason but for hanging in there all these years and never giving up. Meryl Streep can do no wrong; I don't think anyone can touch her. I love Helena Bonham Carter and Cate Blanchett, too.
As for men, this year, I thought Eddie Redmayne was flawless in The Theory Of Everything, but my all time favorite male actor is Daniel Day-Lewis.
Your favourite movies?
This year, I would have to say The Theory Of Everything. A couple of my all-time favorite's would include Forrest Gump, The Birdcage, Harold and Maude, to name a few. When I was very young, I preferred the independent art films, like Fellini's, Juliet Of The Spirits, and I believe Hitchcock was a genius... loved Psycho, The Birds, etc.
... and of course, films you really deplore?

Feeling lucky ?
Want to
search
any of my partnershops yourself
for more, better results ?

The links below
will take you
just there!!!

Find Suze Lanier-Bramlett
at the amazons ...

amazon.com

amazon.co.uk

amazon.de
Looking for imports ?
Find Suze Lanier-Bramlett here ...
Something naughty ?
(Must be over 18 to go there !)

I can't get into the big budget, contrived action or disaster films that have little or no story at all. I hate slasher films, as well. The best horror films have a good storyline. I do not consider cutting people up for the shock of it an art form in any stretch of the imagination, nor will I watch them.
Your website, Facebook, whatever else?
IMDb: http://www.imdb.com/name/nm0486839
My Facebook, Twitter & Instagram are all under my name: Suze Lanier-Bramlett.
Website: www.suzelanierbramlett.com
Anything else you are dying to mention and I have merely forgotten to ask?
I would just like to thank my friends and fans for being so supportive and fabulous over the many years. None of it is easy, but the fans are what make it all worth it.
Thanks for the interview!
Are you kidding? THANK YOU. This is the fun part of the business!!!!