As far as I know, the movie The Scarehouse was shot almost entirely in your haunted house attraction, the Scarehouse Windsor - well, first of all, bring us up to speed, what is the movie about?
The Scarehouse is a horror/thriller in which two friends open a Halloween fun house on Devilís Night, an elaborate party for their former sorority sisters. As these six sisters arrive one by one they are confronted by a troublesome past. When their hostsí true intentions are revealed everyone inside the Scarehouse will find out that, indeed, revenge is a bitch.
So what can you tell us about your Scarehouse Windsor as such, its origins, history and attractions? And what inspired you to run a haunted house to begin with?
Scarehouse Windsor was predominately a creation out of necessity. My background is in bars, nightclubs and restaurants. I have owned and operated many over the years. In 2008 we had a bar called Bentleys Roadhouse on Ouellette Avenue. It was a very successful bar with about 90% of it clientele from the USA (Windsor, Ontario is directly across from Detroit, Michigan) because our drinking age is 19 and in America it is 21. Then the US government passed legislation that all US citizens needed a passport to get back into their country. American culture doesnít really dictate that they travel abroad. And prior to the rules, all you needed was a valid driverís license or birth certificate. So as you can imagine after the law came into effect we lost pretty much all of the customer base. So we had an empty bar that we knew was eventually going to be handed back to the bank.
So in a situation where there is nothing to lose, you have that freedom to go outside the box, try something different. The timing was perfect for a crazy venture like a haunted house. And we had been bouncing around this type of attraction for the last 6 years.
How did your scarehouse become a movie location in the first place?
Scarehouse Windsor became a movie location because my good friend Gavin Booth [Gavin Michael Booth interview - click here] is cheap motherfucker! Nah, thatís not true. He wanted to make this movie and it just made sense that an indie film could be done inside a real haunted attraction. It saves tens of thousands of Dollars. Plus he is a good friend and you always want to help out your friends. Come to think about itÖ ya, Gavin is a cheap motherfucker. His movies, not being funded by large studios have always started as ideas that he has access to film on the low-budget side of things. His first brainstorm for the concept of the film was while touring inside Scarehouse Windsor. I was setting up one year and he dropped by in the afternoon, all of the lights on; none of the actors in position. It was just the bare bones of the hallways set-up. I was showing Gavin where all the hidden doors are, how we operate the space with minimal staff and still have a lot of scare points throughout the maze. He asked if people ever get rough with the staff or try to be tough and push around the staff. I told him you donít want to mess with us in the dark Ė we control your destiny getting out of there! That was it Ė boom! I watched the switch in his head click. He starting saying that you could get away with murder in here and hide the bodies in plain site and people would just think they were props. That was it. A movie idea in a very raw form.
You also did the production design on The Scarehouse, right - so what can you tell us about some of your designs, and how much creative freedom were you given? And to what extent could you identify with The Scarehouse's approach to horror?
Yes I did the production design. It was actually really easy. The building we were in, was the 2nd year, we were in it. So Gavin was already familiar with it. He had shot eight or nine music videos and other projects inside the space. The building was a piece of shit building. It was soooo perfect for a haunted house. The roof leaked, the electrical was fucked (decades of rewiring and cross-wiring), and there was a rotten ass smell throughout the whole building. I had actors in my haunted house that couldnít work in certain parts of the building because of the mold and it irritated their eyes. It was everything that you would think a haunted house should be.
As for creative freedom, it honestly wasnít hard at all. Because the building was so dilapidated. We were really just dressing the scenes with props that directly related to the movie. Some of the sets were built in areas that we didnít really have any use for in our actual haunted house. I mean they just didnít fit into any logistics for the walk thru in Scarehouse Windsor. Donít get me wrong, most of the movie was right into our hallways but about 20% was done so that Gavin could get the right look for his film. Some of the movie was filmed in what we call the ďworking spaceĒ. This is the area that our workers would run around in, setting up scares. For the movie the space was huge but in reality it would be wasted space if we used that up to scare people. When you need to fit camera gear and crew plus stage fights Ė the halls had to be designed a little wider; so those sort of adjustments were necessary.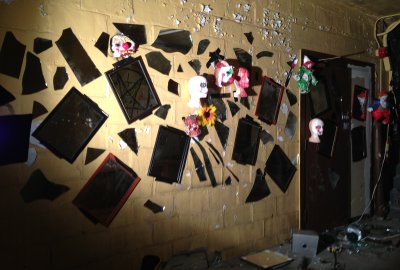 It was actually pretty cool that customers were walking right through actual working sets from a horror movie. Anybody that went thru our 2013 Scarehouse Windsor and has watched the movie, will recognize things for sure. When we saw it as a group for the first time, our Scarehouse crew was pointing to the screen and giggling at things that we did that we could relate too on a personal level. We give props nicknames and we have certain areas of the production that had personal touches too. That makes you feel good, when things that you design are used in a practical way. Even in, when making a movie.
What can you tell us about your director Gavin Michael Booth [Gavin Michael Booth interview - click here], and what was your collaboration like?
It was really fun working with him. Gavin is like my brother. We grew up watching the same TV shows and movies. We have very similar interests. I think with those same interests he basically knew that he could trust me to build cool shit. With my background in business, I knew he was the boss. When I am a boss, I just want to ask once, to get it done, so that is how I approached that dynamic when I was on set. I never really wanted to say no to him on set. But if we were laying around his house and he asked me to grab a Pepsi out of the fridge and he was closer, I would tell him to go fuck himself.
He partnered me up with Kelly Chmilar during production. She was in charge of props. She and I bonded on the set. There was a lot of egosÖ well basically assholes on that set but she was grounded and very easy to get along with. We had a lot of fun dressing the sets. Not once did I feel like laying her out with one good leg sweep. That couldnít be said about other dicks on that set.
During the summer, Gavin came down and gave me a lot of direction on his vision and we used that as the road map for the basic build. The film pre-production happened very quickly. Gavin was green-lit in May and we shot starting late August. When The film was green-lit it was on concept. Much of the building was concurrent with the script being written. There were logistics of figuring out exactly how much of the movie scarehouse we needed to see on screen and from what angles each room or hallway would be look at from. Remember when I said Gavin was a cheap motherfucker? Well that comes into good use on an independent film. You would never know it looking at the finished film but sometimes a hallway you are looking at for six different locations or in a chase scene, well thatís all the same hallway redressed with the lighting changed slightly. My team at Scarehouse Windsor put in lots of hours setting up the basic bones for most of the sets. Our Scarehouse Windsor family has been growing over the years and I really trust them to put out a good product year to year.
But I will tell you one story. I was so mad that day. There was a stunt scene where a character was to fall down a set of stairs. At the bottom of the stairs there was a brick wall. So they asked me to remove the wall at the bottom and all the railings along the incline. I spent about 6 hours prepping that set. They were to film that scene late at night. I would do all my work during the day, and then the crew would come in to film from 6PM to 6AM. I decided to come in to watch this scene. When they started filming the scene, they went to another set of stairs because I guess the stunt coordinator didnít like the incline and felt it was too dangerous. I was standing there thinking, ďWhat the fuck!?Ē I spent 6 hours prepping that set. I was livid. But I bit my tongue.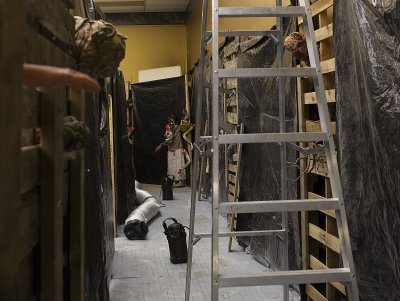 Gavin would ask for my opinion and I will always give him an honest answer. One time he called me down to the set at around 11PM. I was at home with my wife Colleen. He said there was a problem and that he may need me to work on a set in a hurry because the schedule would be changed. So I grabbed my shit and I went down there. Colleen came with me to help. When I got there I went upstairs and he pulls out (actress) Emily Alatalo who is standing there naked with prosthetic breasts. He says, ďWhat do you think of these?Ē They were fucking horrible. I said, ďThose tits look like shit.Ē And they honestly did. Who ever made those prosthetics looked like they were blind and had Parkinsonís. The gag had to be scraped and in true Indie film fashion, we solved the problem and the whole scene looks awesome on film. I then went back home with my wife and finished watching The Voice. The best part about that story was driving back with my wife and she says, ďInteresting life you live, hun. Not any women would understand going down to look at titties at midnight from a phone call out of the blue.Ē God I love that woman.

That sums it up for Gavin and I. We get each other and Iím no stranger to being surrounded by ego driven assholes. The least I could do is be one of the people wanting to solve problems instead of create or sustain them.

A few words about the shoot as such, and the on-set atmosphere?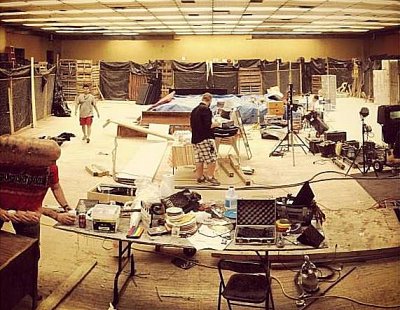 I probably could go on for days about the set atmosphere. That was the thing, nobody knew who I was. Nobody knew that Gavin and I were best of friends. I was just that guy that would fix shit and build sets. So cast and crew would talk freely around me. And I have ZERO interest in making movies. I just wanted to help my friend make a cool flick. I actually met Gavin for the first time when he called me to use one of my bars as a location for a music video. It just sounded like fun instead of a regular old Thursday night at the bar! So being an outsider looking in I could see most of the personalities for what they were. I sometimes felt in danger because the floor was going to give way to the weight of the EGOís of some of these clowns. Listening to them complain was hilarious. I get it, it was hot and miserable in that building but come on, everyone was in there getting paid to make a movie. How cool is that? Itís not like they were on a roof laying out shingles in July. Nobody had a lunchbox because the fucking set was CATERED every day. You could tell that a lot of the people working this thing, it was the first time they had jobs or that they were in charge somehow. Not all were like that. The people that I enjoyed I still send a message out of the blue to say hello. But some of them, I never care to meet again. For example, one of the crew guys on set had a problem with the way I put out a TV stand that had a fake TV on it. He wanted me to bolt this thing down so that it could withstand a nuclear explosion. He said it was for the safety of the actors. I knew he just was fucking with me. I could tell by his tone he saw me as a grunt. I told him to go fuck himself and of course that started a heated argument. Gavin asked me politely to just do it because he just wanted to get the shot done. So I obliged because how could I not. But then I would see this same crew guy drunk as fuck, climbing a ladder and drilling into a ceiling so that he could run electrical. The set was just full of situations like this. It was very tense and it was hard to see the stress on Gavin. Because I know that is not his demeanor. He would rather have a professional set but have it be fun. Iíve been on his music video sets; plenty of them. Not a single set prior to The Scarehouse, in my experience, has had even a remote scent of tension. This time around Gavin and Mike (Carriere, Gavinís co-producer) are being asked to spend other peopleís money and deliver a film that has been promised to NBCUniversal and he has the added stress of disrespectful crew to a level I havenít seen before. I just tried to put out as many fires as I could and keep things off the producersí plates.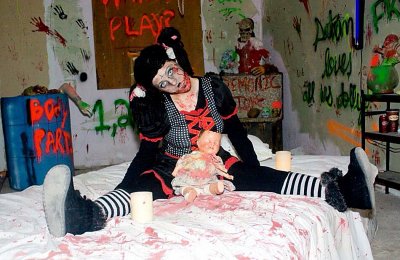 Any future film projects after your experiences with The Scarehouse?
No. I am not interested in making movies. But I will do them with Gavin. I would do it to just spend time with him. I have no idea as to how a movie is made. I donít know the first technical thing about them. But I know what works and doesnít when watching them. I am really ignorant to that process. But Gav knows that shit like the back of his hand. He lives in Toronto now and I live in Windsor. Itís hard to see each other. We will text pretty much every other day. We are both huge South Park fans, so most of the texts are littered with Cartman references.
As far as I know, while The Scarehouse was your first feature film, you have worked on quite a few music videos - so do talk about your experiences on those for a bit?
Itís not that I work on them. I think Gavin likes making me do shit. Fun stuff. I used to do this blog called Life of a Bar Owner. He and I turned it into a weekly YouTube clip about drunk people on the street. I would help produce it on the street. We would go home and I would fall asleep on the futon while he would edit. The fucking guy would spend an hour on one damn font. It would drive me crazy. He still to this day will spend an ungodly amount of time on a font selection. I guarantee that the Scarehouse movie font was a fucking process that took probably a week. In all seriousness that is why I believe the movie is so good. Come on let's be real. Itís a movie about hot chicks killing people in a haunted house. Anybody would want to see that. But he made the movie with such attention to detail. Everything was scrutinized, the plot, the look, the characters, the lighting, the production. His wife (Scarehouseactor Sarah Booth [Sarah Booth interview - click here]) is the same way. She is a phenomenal actor. She puts everything into her roles. You can see it in Scarehouse. She steals the show easily as Corey. She does so many little things in that movie that crack me up. I adore her. I am so happy that Gavin married her. They are perfect for each other. They complement each other perfectly. Gavin doesnít want to just bang out a pay check. He wants to contribute to his craft in a well thought out way. Once you put out a movie, itís there forever. So it better be good. Too bad Lucas didnít think of that before he gave us The Phantom Menace.

Feeling lucky ?
Want to
search
any of my partnershops yourself
for more, better results ?

The links below
will take you
just there!!!

Find Shawn Lippert
at the amazons ...

amazon.com

amazon.co.uk

amazon.de
Looking for imports ?
Find Shawn Lippert here ...
Something naughty ?
(Must be over 18 to go there !)

Iíll do whatever he needs me to do to help him. If thatís a music video or full-fledged horror flick. Of course Iíll do it. We currently have a Google doc that we update of story ideas from the 20 years I have worked in the bar business. He says that will lead to a raunchy comedy one day. Whether it happens or not, it's fun to do.
Your/your scarehouse's website, Facebook, whatever else?
https://www.facebook.com/scarehousewindsor
Thanks for the interview!